My recipe for Chocolate Peanut Butter Cheesecake first appeared on Grumpy's Honeybunch where I am a contributor. Chocolate Peanut Butter Cheesecake is a delicious way to have your Valentine's Day dessert. This mini low carb cheesecake is also a keto ice cream cake.
It's a chocolate peanut butter ice cream cheesecake drizzled with a delectable peanut butter sauce and sprinkled with delicate chocolate shavings or your choice of chopped chocolate—it may be an easy keto dessert, but it will look like it took you hours to make!
This post may contain affiliate links. As an Amazon Associate I earn from qualifying purchases.
A quick note about the macronutrients for Chocolate Peanut Butter Cheesecake: the serving size as indicated is huge. It's a really rich, indulgent cake. I can generally only eat one serving, which would be 1/4 of the cake. So that makes 2 servings each for 2 people.
It feels rich and overly indulgent, but isn't. Only 10 grams of carbohydrates per serving (or 8 net carbohydrates)!
This particular ice cream cheesecake was inspired by a friend's birthday. It has everything my friend loves: ice cream, cheesecake, and a chocolate-peanut butter combo.
It turned out so great the first time that I had to make it again to be sure.
Success! And now I get to share it with you and you can share it with your honey for Valentine's Day. Everyone wins!
Related: No Bake Keto Cheesecake Cups
Which Peanut Butter for Your Keto Cheesecake?
I just want to make a note about peanut butter. It's not keto.
(Have I scared any peanut butter lovers out there?)
Okay, so that's up for debate. There are different types of keto, some that avoid legumes. I do not.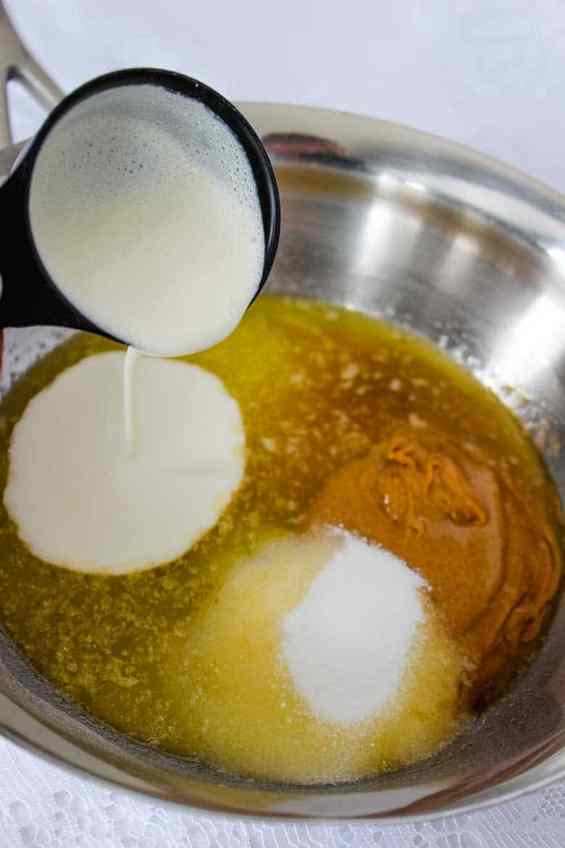 What foods are keto friendly? Get your FREE keto foods grocery list!
And honestly, I don't know what I would do without my occasional dip into the peanut butter jar, which I was doing long, long before I heard of the keto diet.
However, I'm careful about what goes into my peanut butter. Is there a keto peanut butter? Just ask these questions when looking at the label:
Are there added soybean or vegetable oils? What about added sugars? Most peanut butters do include those ingredients. (There's also debate about whether palm oil is okay, so you'll have to decide for yourself if you see it on your label.)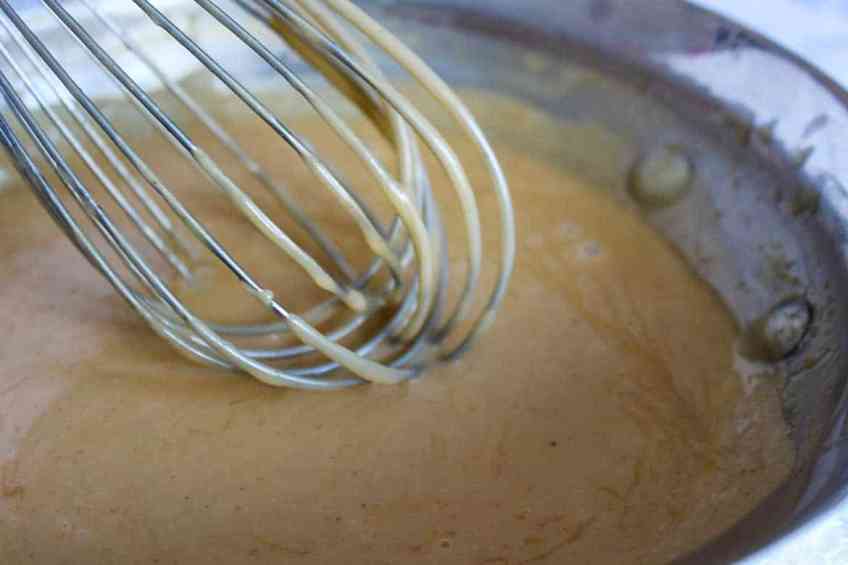 If you're going to use peanut butter on a ketogenic diet, be sure to get "natural" peanut butter, the kind that separates from its oil and you have to stir it back in.
The only ingredients should be peanuts and maybe salt. We'll be sure to link you to a good natural peanut butter below the recipe.
Related: Keto Peanut Butter Cheesecake (no bake!)
Mini No Bake Chocolate Peanut Butter Cheesecake for Two
Part of the draw to this sugar free cheesecake is that it's the perfect no bake dessert for two with its tiny size. If you need help finding a 4" mini cheesecake springform pan, look at the links below the recipe.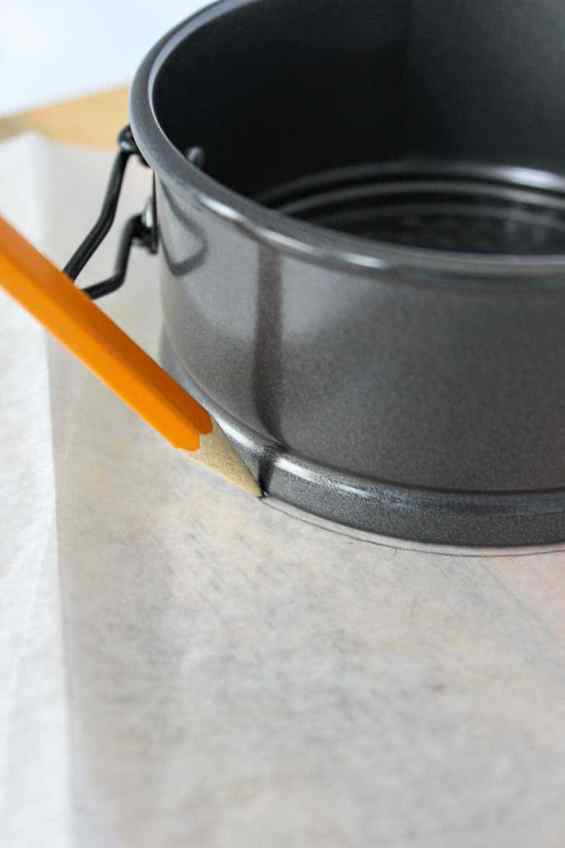 Or you can use any 4" sized dish you might have in your cupboards, like a glass pyrex dish.
Just be sure not to skip the part where the recipe tells you to use waxed paper. Springform pans make it really easy to take a cake out without damaging the cake.
Love chocolate and peanut butter desserts? Try these keto Double Chocolate Peanut Butter Cupcakes with Peanut Butter Frosting.
With any other dish, you can use the waxed paper and then use a butter knife to gently scrape along the inside of the pan to get the freezer cake out.
Personally, I'm lazy and a bit of a perfectionist at the same time, so I'd rather just use a springform pan. But it's definitely doable without.
If you're looking for something more akin to a regular cheesecake, you should definitely try these yummy Salted Caramel Cheesecake Bars!
More keto cheesecake recipes!
Tips For A Softer Ice Cream Cheesecake
This cheesecake will taste great no matter the temperature and won't get rock hard because of the high fat content.
However, it's much tastier if it's a little softer. There are a couple options to achieve this.
I've found that the best way to eat this chocolate peanut butter cheesecake is to allow it to freeze for just two hours. After two hours, make the peanut butter ice cream sauce, decorate your cake, and serve immediately. Alternatively, you could make the sauce ahead of time, refrigerate it till you're ready and just warm it up to pour just before serving the cheesecake.
The other option is to allow it to freeze for however long you need and then take it out of the freezer and allow it to sit on the counter for 20-40 minutes (depending on how hard or how long it's been in the freezer). I've set one out for an hour before after being in the freezer all night and that was perfect for mine. Because the structure the whipping cream gives the freezer cake, it won't melt into a puddle and will still be cold like ice cream.
Try this delicious Keto Strawberry Ice Cream recipe! Or this Keto Butter Pecan Ice Cream!
Notes for Easy No-Bake No-Churn Chocolate Peanut Butter Keto Ice Cream Cheesecake
Use natural peanut butter with no vegetable oils or sugars. The ingredients should read "peanuts" or "peanut butter" and maybe "salt"
Use a 4" springform pan for your chocolate peanut butter cheesecake if possible. I promise, it just makes it so much easier to remove!
Line your pan by tracing the bottom onto a piece of waxed paper. Cut out the circle about ⅛ inch smaller than the circle you've drawn. Trim as needed to make it fit.
And just a reminder, if at all possible whenever dairy (or meat!) is included in a recipe, do your best to get the grass-fed version. If you're keto and relying on fats for fuel, you want them to be the best ones, and mostly omega 3's since our diet normally has plenty of omega 6's.
This is probably the most important tip of all. This cheesecake will taste great no matter the temperature, and won't get rock hard because of the high fat content. However, it's much tastier if it's a little softer. See the above section for more details.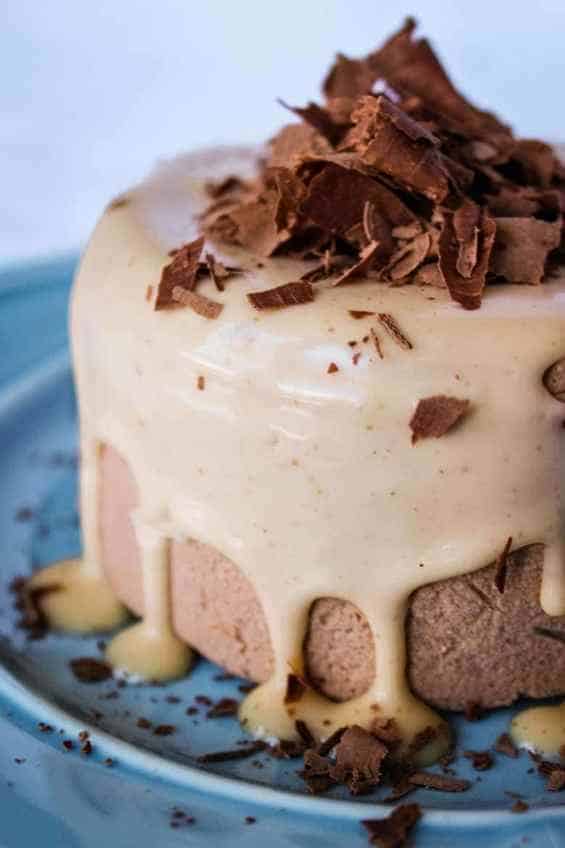 We know that not everyone is fond of erythritol. And that other people can't stand stevia. So we've made this dessert for two both ways and noted it in the recipe so you can use whichever you like better. Jenn (Keen for Keto) likes it with stevia and Shelby (Grumpy's Honeybunch) likes it with erythritol. Try the cheesecake both ways and let us know in the comments which keto sweetener you prefer!
Cover and eat the keto cheesecake within 3 days so it doesn't get freezer burned or stale-tasting.
Enjoy any extra peanut butter sauce on other desserts, ice cream, or even keto pancakes! Save it in the fridge and warm it up later when you need it.
You should also try this Keto Licorice Ice Cream!
Chocolate Peanut Butter Cheesecake Recipe
And now to the good part! Let's get started making the best low carb cheesecake you'll ever taste!
If you're like me and just couldn't decide between a cheesecake, ice cream cake, or ice cream, this Chocolate Peanut Butter Cheesecake recipe might just be what your taste buds were looking for.
I know I can't resist this creamy freezer cake with its sweet peanut butter sauce (oh, that sauce!) and chocolate shavings delicately sprinkled on top!
I hope you and your Valentine LOVE this no bake keto cheesecake dessert for two as much as we do!
If you like this dessert recipe please give it a 5 star rating!
Chocolate Peanut Butter Cheesecake
Total Time:
2 hours
30 minutes
This Chocolate Peanut Butter cheesecake is a no bake chocolate peanut butter ice cream cheesecake with a peanut butter sauce that is out of this world. Sprinkle on some sugar free chocolate shavings and you're in heaven!
Ingredients
Chocolate Peanut Butter Cheesecake Base
4 ounces cream cheese, softened
1/4 cup heavy whipping cream
1/2 cup heavy whipping cream
Peanut Butter Sauce (Makes 1 Cup)
1/4 cup butter (grass fed, if possible)
½ cup heavy whipping cream
¼ cup water
Instructions
To make the cheesecake:
Line a 4" springform pan with waxed paper or parchment paper.
Add cream cheese, 1/4 cup whipping cream, peanut butter, erythritol (or stevia), cocoa, vanilla, and salt to a medium mixing bowl.
Beat with an electric mixer until thoroughly combined and smooth. Continue beating for about 3 minutes. This will help the sweetener dissolve nicely. There should be no bits of cream cheese showing and the batter will be smooth.
In a separate bowl, using a mixer beat the remaining 1/2 cup of whipping cream until stiff peaks form.
Gently fold the whipping cream into the cream cheese mixture.
Spread the cheesecake mixture into the lined 4" springform pan and smooth over the top with a rubber spatula.
Freeze for 2 hours.
To make peanut butter sauce:
Melt butter in saucepan over medium heat.
Add remaining ingredients and whisk until dissolved.
Bring sauce to a simmer and stir constantly until thickened to preferred consistency.
Putting the cake together:
If you freeze the cheesecake longer than 2 hours, allow the cake to sit on the counter for 20-30 minutes prior to decorating.
When pouring sauce over cake, be sure the cake has set in the freezer for two hours so the warm sauce doesn't melt the top. You must work fast when pouring, because the cold cake will harden the sauce quickly.
Using a measuring cup, pour about ¼ cup of the peanut butter sauce in the middle of the top of the cake. Using the flat bottom of your measuring cup, quickly spread the sauce over the entire top of the cake, allowing some to dribble down the sides for decoration.
While the sauce is still warm, sprinkle chocolate shavings, scrolls, chopped chocolate or chopped peanut butter cups on top. Enjoy with your honey!
Notes
Refreeze any leftover ice cream cake and allow to sit at room temperature for 20-40 minutes prior to serving again.
Nutrition Information:
Yield:

2
Serving Size:

1/4 of cake
Amount Per Serving:
Calories:

583
Total Fat:

58g
Cholesterol:

149mg
Sodium:

188mg
Carbohydrates:

10g
Net Carbohydrates:

8g
Fiber:

2g
Sugar:

3g
Protein:

8g
Check out these other Keto Desserts!
Still want MORE KETO DESSERTS?