Crock Pot Creamy Keto Tuscan Chicken is the ultimate easy creamy comfort food dinner. Tender, flavorful chicken thighs in a creamy sun dried tomato and basil sauce are so soft they pull apart without effort.

Crock Pot Keto Tuscan Chicken
Can you believe this will be my first crock pot recipe on Keen for Keto?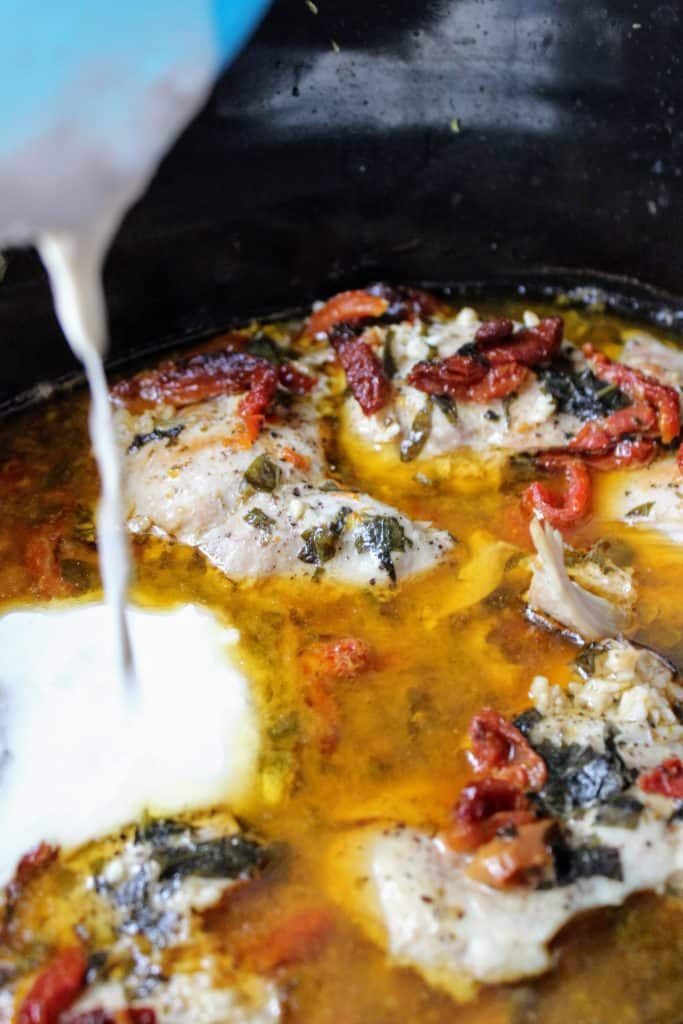 If you only knew how often I actually use a slow cooker, you'd probably be baffled as to why I don't have any other keto recipes here yet. Frankly, it's baffling to me, too, and I hope to change that situation very soon. My
Stay tuned, folks!
Find Caprese Baked Avocados here!
Tuscan Chicken in Crockpot
This recipe is complements of my best friend in Wisconsin (hi, Dawn!). She's one of the best cooks ever. Really. She could probably steal all of my blog traffic if she chose to start her own food blog.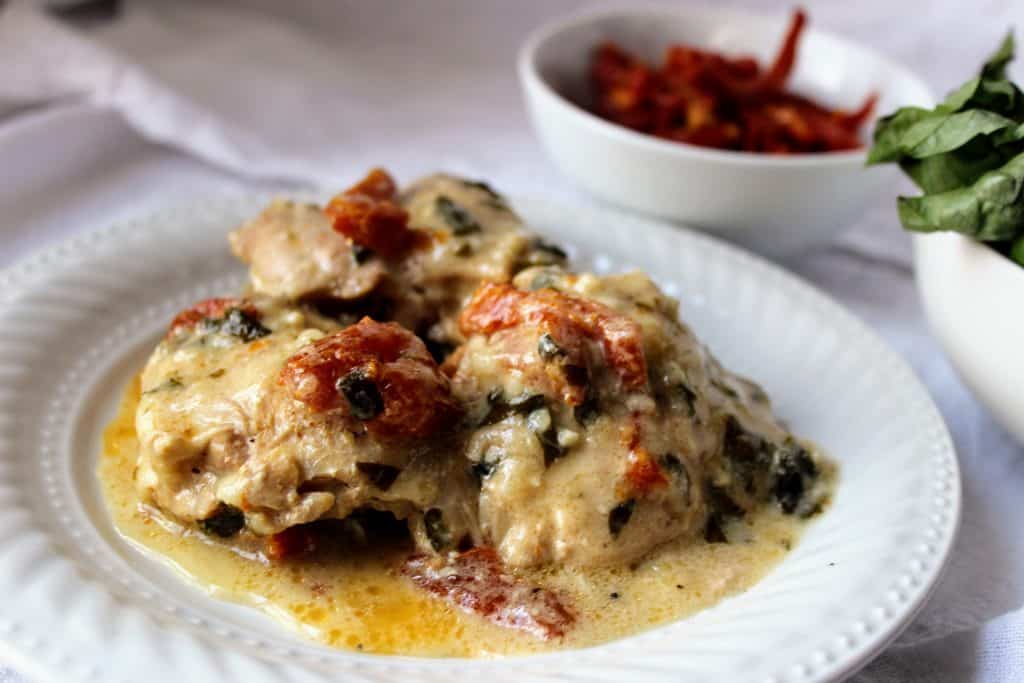 Lucky for me, she hasn't. And lucky for me, she sends me keto recipe ideas from time to time.
Like this Creamy Keto Tuscan Chicken.
More keto dinner recipes!
Dawn called me up one day and told me all the yummy things she was throwing in her crock pot, like chicken thighs, fresh basil, sun dried tomatoes, and heavy whipping cream.
These being some of my favorite ingredients, I knew I was going to make this one and I knew it would be published for you guys, too.
Enjoy your tasty Tuscan chicken!
Try this one-pan easy Turkey Tetrazzini Skillet!
FAQs for Keto Creamy Tuscan Chicken Recipe in Crock Pot
How can I store and reheat this Creamy Keto Tuscan Chicken Recipe?
To store any leftovers, place them in a sealed container and refrigerate for up to 3-4 days. To reheat, just microwave to your desired warmth!

You may also freeze the leftovers for up to 2 months. To reheat, thaw in fridge overnight and then microwave as above.
How do I serve Keto Tuscan Chicken?
Personally, I like to eat this dish by itself, with lots of the creamy sauce poured over top of the chicken thighs. However, you can also serve it on top of a bed of cauliflower rice, a pasta alternative, or with a yummy side salad, like this Caprese Avocado Salad.

I also like to sprinkle some Parmesan cheese and more fresh basil on top before serving.
Can I use chicken breast for Tuscan Chicken?
Absolutely! Chicken breast works well here, too.

However, chicken thighs are one of my favorite cuts of meat for a few reasons. The first is that they cook up so well in a crock pot or pressure cooker! They come out so tender and delicious.

Another reason is that the higher fat content of chicken thighs helps me to get the right macros. But you can totally adjust how you need. If you need more protein, go for breasts. If you need more protein AND fat, go for the thighs.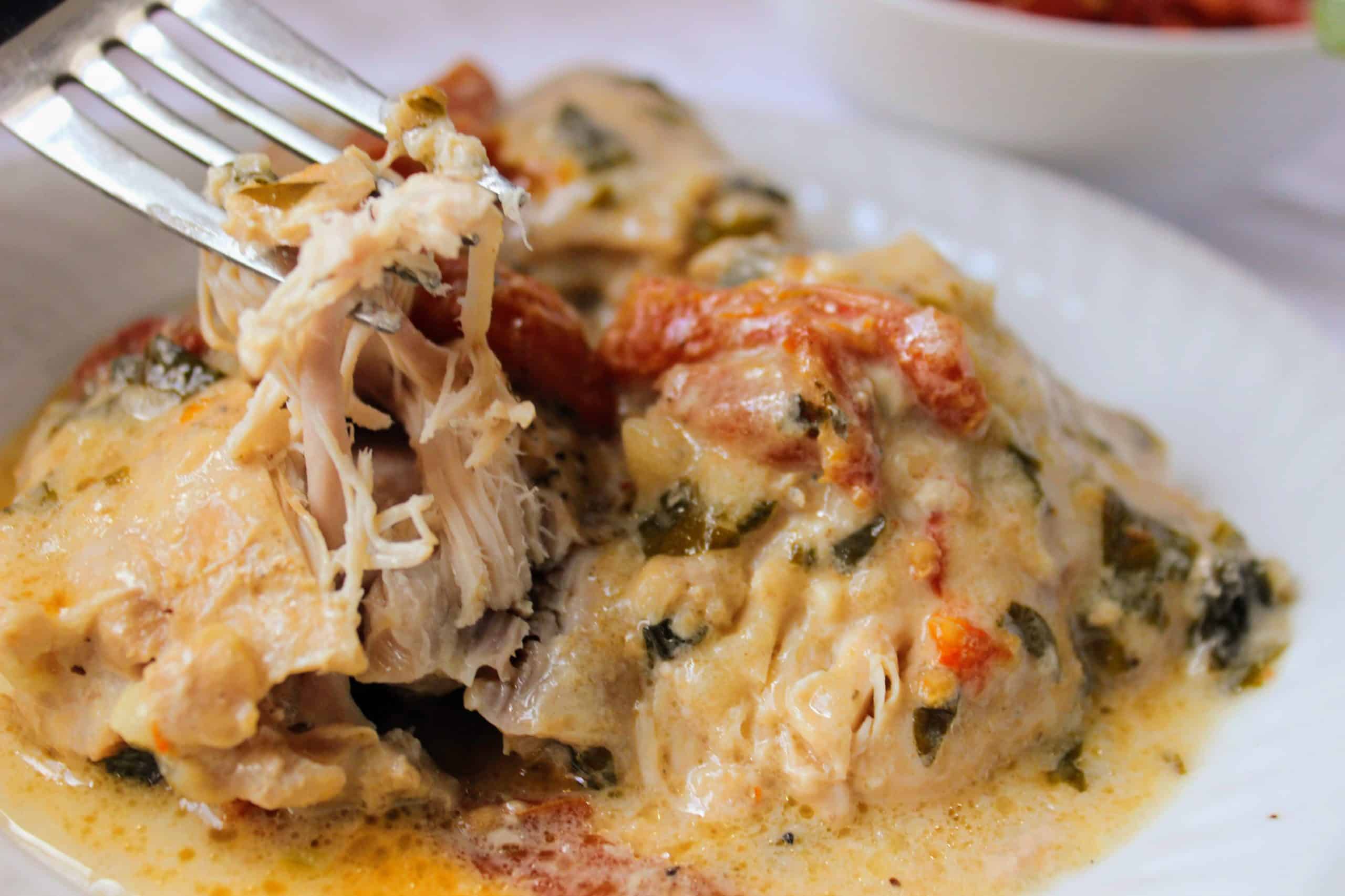 Can I use bone broth instead of chicken broth in this recipe?
I wouldn't recommend only using bone broth, because some bone broths can be very strongly flavored.

But if you want to know one of my secret health tricks, it's that I almost always sub in a little bone broth in my sauces and soups. Bone broth is extremely healthy and I like to get a little bit in where I can!

So for this recipe, I would sub in up to 1/4 cup of chicken bone broth to get some of those extra health benefits of bone broth for your keto diet.
Can I use sun dried tomatoes without oil?
Yes! I've personally used both the sun dried tomatoes with and without oil, and they both work great.

Just take the dried tomatoes and soak them for 30 minutes or so in water or olive oil to plump them up a bit.

If you've never used sun dried tomatoes at all, you should know that these little guys pack a delicious amount of tangy tomato flavor that really makes this dish complete!
These Tuscan-style Shrimp look good, too!
If you like this keto recipe, don't forget to leave a 5 ***** review on the recipe card! Just click the stars below: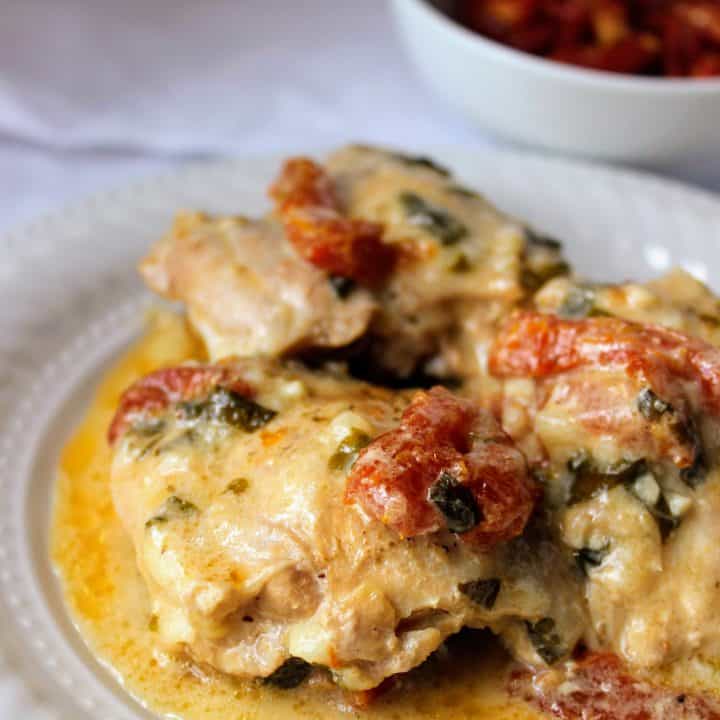 Creamy Keto Tuscan Chicken Recipe
Cook Time:
4 hours
50 minutes
Total Time:
4 hours
55 minutes
Crock Pot Creamy Keto Tuscan Chicken is the ultimate creamy comfort food dinner. Tender, flavorful chicken thighs are so soft they pull apart without effort.
Ingredients
12 boneless skinless chicken thighs
1 cup fresh basil, chopped
1/2 cup heavy whipping cream
Shredded Parmesan cheese (optional)
Instructions
Layer half of the chicken thighs in the bottom of the crock pot.
Sprinkle half of the sun dried tomatoes, basil, garlic on top of the chicken. Add salt and pepper to taste, if you like.
Repeat with the remaining chicken thighs, tomatoes, basil, and garlic. Pour the chicken brother into the side of the pot, being careful not to disturb the chicken and seasonings.
Place the lid on the slow cooker and cook for 4 1/2 hours on low.
Open the lid and pour in the heavy whipping cream. If you like a thicker sauce, carefully sprinkle the konjac root powder in an even layer on top of the liquids. Stir the liquid gently with a fork, without moving the chicken. Omit the konjac root powder if you like your sauce thinner.
Close the lid and cook for 20 more minutes. Turn off slow cooker and serve. You may serve over keto pasta or riced cauliflower or by itself with a side of salad. It's also tasty with a sprinkle of Parmesan cheese on top!
Notes
You really have to watch the carbs on sun dried tomatoes. Check the package every time. Different brands vary wildly in their carb counts. Feel free to use the one I found that has 1 carb per serving.
You may serve over keto pasta or riced cauliflower or by itself with a side of salad. It's also tasty with a sprinkle of Parmesan cheese on top!
Nutrition Information:
Yield:

8
Serving Size:

1 1/4 chicken thigh
Amount Per Serving:
Calories:

441
Total Fat:

13g
Sodium:

245mg
Carbohydrates:

2g
Sugar:

2g
Protein:

47g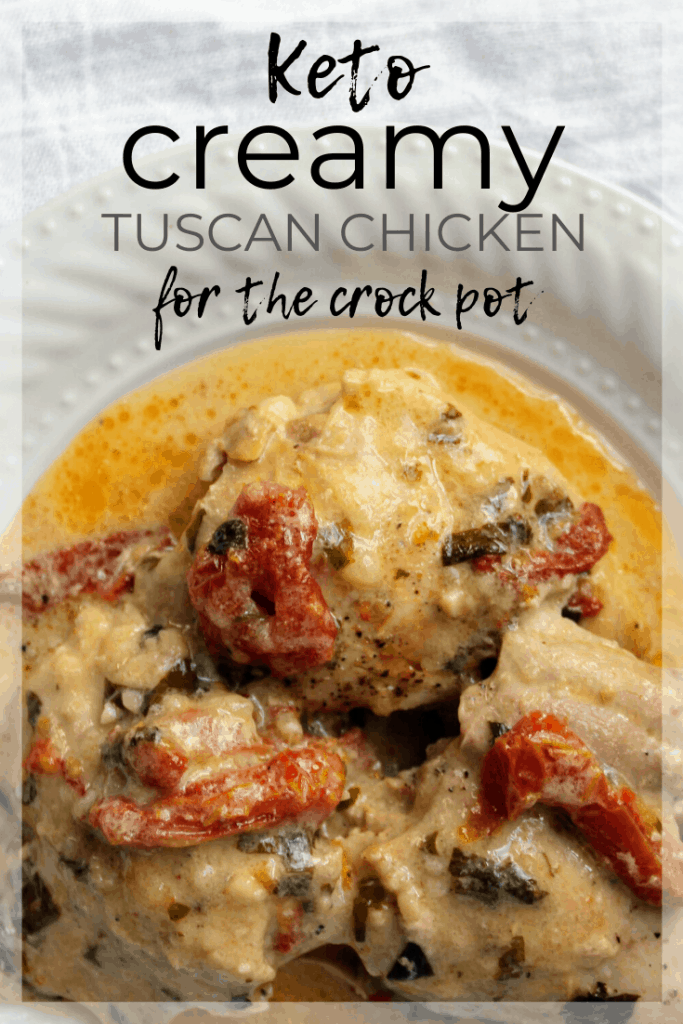 Keto Italian Inspired Recipes
Looking for more keto recipes with an Italian twist? Try some of these!