Edit: I've had adequate requests (and personal curiosity!) to add an easy oven version to this keto noatmeal creme brulee recipe. I love both versions, but I think I have to say I like the oven keto noatmeal recipe version better! Thanks for asking me for an oven version so I could experiment and stuff my face with more of my favorite keto breakfast!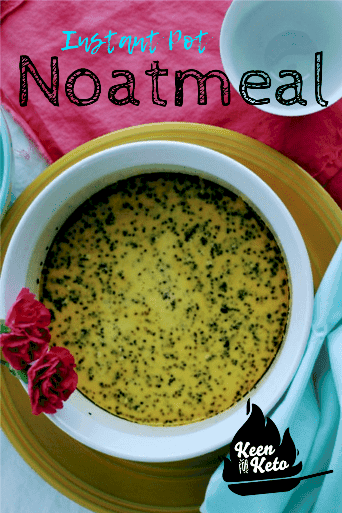 This post may contain affiliate links. As an Amazon Associate I earn from qualifying purchases.
"Noatmeal" is another awesome grain-free keto substitute for a grain-based meal. There are many varieties of keto noatmeal recipes out there, but I haven't tried any of them yet. None.
There are plenty of chia seed oatmeal recipes, flax seed oatmeal recipes, chia oatmeal pudding recipes, and other grain free and low carb oatmeal alternatives and keto oatmeal recipes.
Never miss a new recipe! Sign up for our newsletter and get a FREE Keto Grocery List Cabinet Cheatsheet!
I've never been a huge oatmeal fan. People say oatmeal is hearty, filling, and sticks with you longer. I think the exact phrase is "sticks to your ribs." I haven't found this to be true, and in fact when I eat it, I'm starving an hour later as if I hadn't eaten at all. Like stomach-churning hungry.
I could be mistaken, but maybe it's the 27 grams of carbs per serving, versus 2 grams of hunger-curbing fat and only 5 grams of appetite-satisfying protein. That ratio is way off. Plus, it tastes like soggy cardboard. Unless you add cinnamon and up the carbs with brown sugar.
Mmmmm…sweet soggy cinnamon cardboard…
You'll love these Easy Keto Crème Brûlée Bars!
The Exception: Noatmeal Crème Brûlée
There is one singular exception to my oatmeal aversion, and that's oatmeal crème brûlée.
It's nothing like its homely sister, the traditional bowl of oatmeal. I'm very happy with the changes I'm making with keto, but every now and then an old favorite haunts me, begging me to resurrect it in keto form. I miss my oatmeal crème brûlée!
Oatmeal crème brûlée is exactly what it sounds like: crème brûlée with oatmeal in it that you eat for breakfast. It's delicious. Dessert for breakfast, and–yes–filling, too. Still high on carbs, though.
Related: Is Honey Keto? Read more!
It didn't take long for me to create a keto version once the old craving for oatmeal crème brûlée started pestering me.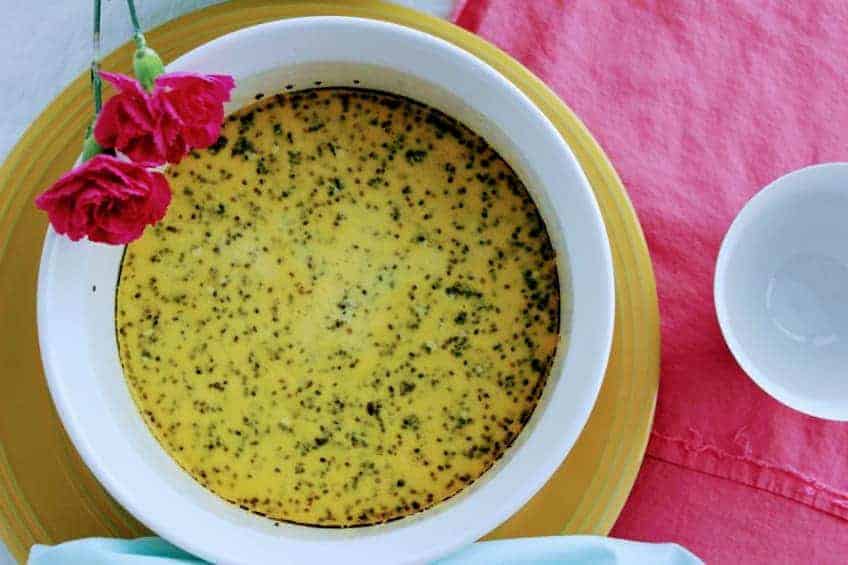 For another amazing low carb breakfast recipe, try this delicious Ketogenic German Pancake.
Easy Chia Flax Noatmeal Crème Brûlée in Instant Pot
If you've tried chia seed pudding and don't like the texture, this is an amazing substitute. It's nothing like chia seed pudding.
In this crème brûlée, the texture of the chia seed baked (or, is it pressurized?) into the custardy crème brûlée is much more subtle, smooth, and integrated than a chia seed pudding.
If you love keto noatmeal, try this Keto Porridge (tastes like cream of wheat)!
When I find a chia seed pudding recipe I like, I'll post it here on Keen for Keto, but for now, this crème brûlée is all I need. It's delicious and decadent and great as a ketogenic treat or for a low carb breakfast.
If you're not a fan of chia or flax, you can omit one or both (this will also reduce carbs). This crème brûlée is amazing on its own or with the addition of the awesome flavor, texture, fiber, and omega 3's of chia and flax.
More Ketogenic Breakfast Recipes!
Ditching Pounds Versus Ditching Bad Health
My aim is for good health and healing—not just to stay in ketosis—though I know that ketosis has benefits all on its own. For those only utilizing the keto diet strictly for weight loss, ketosis is generally the primary goal (and often the sole goal).
There's nothing wrong with that! The goal of weight loss is fulfilling enough to achieve when the results start to be felt.
However, it seems that people are also finding the keto way of life to have a separate multitude of positive effects that they didn't expect beyond losing pounds, and some of my health goals are among them.
My concern about all of the keto substitutes is that while you may not be spiking blood sugar, the sweetness achieved through these sweeteners is still tricking your taste buds into thinking you're getting sugar, which could trigger the same craving pathways in the brain as real sugar.
I'm not sure how I feel about that, or how true it is.
Again, that's what this whole site is about–exploring keto. So I'll be diving into this topic very soon. Read my About Me page if you're curious about my process.
Drink Suggestion for Keto Chia Noatmeal
If you're looking for a hot drink to go along with this Easy Chia Flax Noatmeal Crème Brûlée in Instant Pot, you should definitely try Primal Kitchen's Collagen Fuel.
My favorite flavor (and their most popular) is Chocolate Coconut Collagen Fuel. It's just like hot chocolate, without all the sugar!
Grain Free Keto Oatmeal FAQs (Keto Noatmeal)
Can I Have Honey on Keto?

If you've scanned the recipe already, you'll notice that it uses 1 tablespoon of raw honey as a sweetener. That's 17 grams of carbohydrates for the entire dish of 4-6 servings (not including the carbs from the other ingredients).

However, there's a reason people are careful about honey on the keto diet. In order to understand this, I need to first explain sweeteners.

If you're new to keto, you might be confused by all the different types of sweeteners that are being used on some recipe sites.

Erythritol, monkfruit, stevia, Swerve, aspartame, sucralose, inulin, and allulose are just a handful of the many, many sugar substitutes that are commonly used on the keto diet.

The reason these and other sweeteners are used on the keto diet is because they don't affect blood sugar as dramatically as processed white sugar or even honey or pure maple syrup.

Of course, some of these substitutes are better for our bodies than others, and some are just downright awful.

For me, keto is NOT strictly about glycemic index or staying in ketosis. I'm going for healing and health optimization. Not to mention a more maintainable lifestyle.
Which Keto Sweetener Is Best for Noatmeal?
It's totally up to your preference, but I'm also in the process of doing the research to find out which sweetener is best.

In the meantime, I'll continue to occasionally use natural unprocessed sweeteners like maple syrup and raw honey, but in very small amounts, so I can keep the glycemic impact low.

Also, my general rule of thumb for adding sweeteners is to not follow recipes at all. 1-2 cups of sugar in a batch of cookies is insane.

A great keto beginners tip (for those not ready to jump in full-keto right away), is to add your sweetener till you can just taste a hint of sweet.

Sweet should be an undertone to the awesome healthful flavors in our food like herbs, spices, healthy fats, etc. It should definitely not be the overpoweringly primary flavor we taste.

If you have a different philosophy, please feel free to substitute the honey for your favorite keto sweetener! And if you feel like enlightening me with your own ideas on sweetness, make a comment at the end of this post.
 
What is Noatmeal? Are quick oats keto friendly?
No, quick oats are generally not considered keto friendly. They're a grain and full of carbs.

A great alternative if you're looking to use quick oats for oatmeal, is noatmeal! (Get it, no-oatmeal=noatmeal? Haha!)

Noatmeal is generally grain free, and therefore perfect for the keto diet. There are plenty of versions of noatmeal out there. This one includes chia and flax seeds and is baked in the Instant Pot as a breakfast creme brulee.
Read more about honey on the keto diet!
How To Make Chia Noatmeal Creme Brulee in Instant Pot
Now that you know what keto oatmeal is, let's get started with our keto noatmeal creme brulee!
Gather the ingredients and supplies for the keto Instant Pot oatmeal

Grab your eggs, cream, chia seeds, flax seeds, erythritol (or honey!), salt, and vanilla. Oh, and a pressure cooker, of course! At this step, you can butter your pyrex pan.

Mix the ingredients together

Using a fork, gently mix the ingredients together.

Pour batter into pan

Pour the keto creme brulee batter into the dish. If you made any bubbles while stirring, now is a good time to pop them with a toothpick. Totally unnecessary, but helpful if you're going for "fancy"!

Prepare the Instant Pot

Add 1 cup of water to the bottom of your Instant Pot. Place trivet in pressure cooker.

Cover keto chia noatmeal with foil and place in pressure cooker

Cover your noatmeal tightly with foil and carefully lower the dish into the Instant Pot.

Set the Instant Pot

Set the Instant Pot at LOW PRESSURE for 12-15 minutes. It's VERY important to set the pressure cooker at LOW pressure for a creamy texture.

Slow release, allow to set, remove foil, and cool

When the Instant Pot is done, slow release pressure on the pressure cooker for 5 minutes. It's important not to go over because your creme brulee will continue to cook and might stiffen up too much. It will still taste good, but the texture will be less like a creme brulee. Remove foil and allow the noatmeal creme brulee to cool on the counter for 15 minutes. Refrigerate for at least 2 hours. You may also eat this warm, and that's tasty, too! Enjoy!

Add sugar topping

I normally skip this step for simplicity's sake, but you may also add a caramelized topping if you choose. It should be stated that keto sweeteners will NOT caramelize like sugar, but it's close. I've experimented with several types and found that Lakanto golden was my favorite (link below recipe). Granular Swerve was also close. Sprinkle about a tablespoon on top of the creme brulee and gently heat it with a kitchen torch until at begins to melt and brown.
My Take on Honey on The Keto Diet
As a natural, unprocessed sweetener, not having done my research yet, I feel better about using raw honey than I do using white sugar or other highly processed sweeteners or artificial sweeteners (plus, you get the amazing beneficial enzymes if you remember to use the raw version!).
In 5 servings, that's 2.8 grams of carbohydrates per serving. I'm okay with that. If you are more advanced than me, or have different keto goals, or have a lower GI sweetener, feel free to use the equivalent amount of it in this recipe.
I might also change my mind when I've thoroughly reviewed the science. If I do, I'll update this page. Enjoy your delectable Easy Chia Flax Noatmeal Creme Brulee in Instant Pot!
I hope this low carb oatmeal recipe lives up to all your taste buds' expectations!
Easy Chia Flax Noatmeal Crème Brûlée in Instant Pot
If you've ever eaten oatmeal creme brulee, you know it's one of the most delectable breakfasts ever created. Imagine this homemade breakfast turned healthy! Using Chia and flax instead of oatmeal, we've turned your favorite breakfast recipe into a low carb keto version--"noatmeal" creme brulee! Enjoy!
Ingredients
5 egg yolks
1 cup heavy whipping cream
1 teaspoon vanilla
1 pinch pink Himalayan salt
Instructions
Instant Pot Instructions:
Butter the bottom and sides of a round 1 ½ quart ceramic baking dish.
Pour 1 cup of water into the bottom of the instant pot and insert trivet.
Add all ingredients to a medium mixing bowl. Stir gently with a fork till evenly mixed. Pour batter into ceramic dish. Cover dish with tin foil and gently lower dish into instant pot.
Set instant pot for 13 minutes on LOW pressure. Be sure the pot is sealed. (If you've never used a pressure cooker before, it will take several minutes to reach pressure before it begins counting down from 13 minutes.)
After the 13 minutes, allow the Instant Pot to slow release pressure for 5 minutes. Then quick release the rest of the pressure by turning the knob to "venting."
After pressure is completely released (the Instant Pot will stop hissing and you will see no steam rising from the vent), carefully remove the crème brûlée from the Instant Pot.
Remove the tin foil from the dish and allow the crème brulee to sit for at least 15 minutes. You may eat this after letting it rest for 15 minutes or refrigerate for 2-3 hours to eat it cold (the traditional way). Spoon into individual serving dishes and enjoy for breakfast, dessert, or a snack!
Oven Instructions
Preheat oven to 300ºF. Butter the bottom and sides of a round 1 ½ quart ceramic baking dish.
Add all ingredients to a medium mixing bowl. Stir gently with a fork till evenly mixed. Pour batter into ceramic dish.
Place a 9" x 13" metal or glass pan in the oven. Place the crème brûlée inside the pan. Fill the pan with hot water up to the level of the crème brûlée, being careful not to pour any water into the crème brûlée dish.
Bake crème brûlée at 300ºF for 30-40 minutes, until the crème brûlée is no longer jiggly when you gently shake the edge of the pan. You can also test by tapping the middle of the crème brûlée with your fingertip, being careful not to burn yourself.
Remove from oven and rest on the counter for 30-60 minutes. Refrigerate for at least 3 hours before serving.
Nutrition Information:
Yield:

5
Amount Per Serving:
Calories:

190
Total Fat:

16.1g
Carbohydrates:

7.7g
Protein:

5.1g
There may be affiliate links on this page. This means that when you click a link and purchase a product, I am compensated by that company. This does not cost you anything or affect the price of your purchase, but does help me keep the lights on at Keen for Keto! Thanks SO MUCH for your support!
Example: Primal Kitchen Chocolate Coconut collagen Fuel
Is it chia pudding? Sort of. Is it keto oatmeal? Yep! Better known as "noatmeal", this low carb grain free oatmeal is baked in an instant pot for a special keto noatmeal creme brulee! Instant Pot keto oatmeal for an awesome keto breakfast or keto brunch!