Have a creamy cool bite of summer! Black licorice, or anise, is not a flavor that comes readily to mind when deciding which ice cream flavor to indulge in. But oh. my. goodness–you won't want to miss out on THIS one! Black licorice fans, you are SO welcome!
Just a tip from one licorice lover to the next: you may want to make this keto licorice ice cream recipe when no one is around…you may find yourself reaching for more. And more. And, oops–it's gone!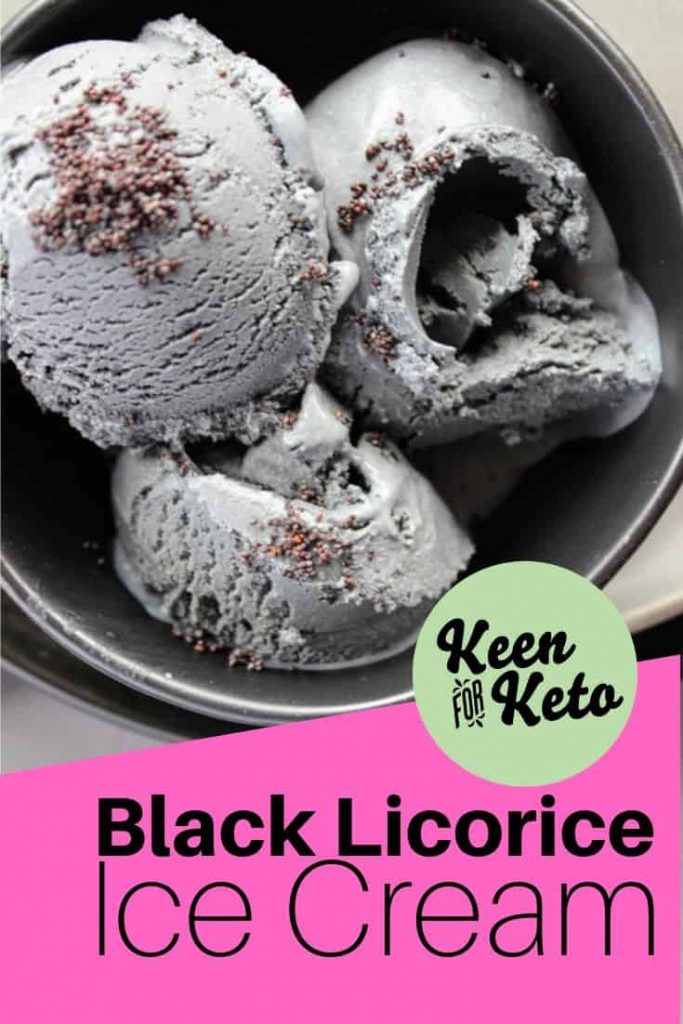 This post may contain affiliate links. As an Amazon Associate I earn from qualifying purchases.
Black licorice is one of those self-assured flavors that never lacks distinct boldness. If you're halfway through the summer and tired of the regular ice cream flavors, you NEED this novel flavor in your life!
Never miss a new recipe! Sign up for our newsletter and get a FREE Keto Grocery List Cabinet Cheatsheet!
For this recipe, you'll need: cream, stevia, erythritol, vanilla, flax milk, egg yolks, activated charcoal, and anise oil. You may also need an ice cream machine or just follow instructions for the no-machine version. Links for purchasing most of these ingredients and supplies for the keto anise ice cream will be below the recipe and in the recipe card. Easy peasy!
If it's more keto ice cream dessert you want, try this CHOCOLATE PEANUT BUTTER CHEESECAKE! It's an ice cream cake and a cheesecake all in one delicious dessert option!
Black Charcoal Ice Cream
I've said it once, twice, a million times! And I'll continue to say it: my favorite part of the keto diet is that you get flavor back!
Okay, I may have also said my favorite part is all the yummy fats…I'm sure you'll forget about my keto confusion as soon as your tongue falls into ecstasy over this amazing ice cream!!
If you love creamy keto ice cream, try this Strawberries and Cream Keto Ice Cream Recipe or this Keto Butter Pecan Ice Cream!
But really, let's talk about both of these (again):
Before the keto diet, what tingled our taste buds? Think about it. Very likely, it was sugar, and sugar alone. Or maybe salt for some people.
So boring!
As long as you put sugar in something, it's guaranteed people will love it. It's another huge reason to stay clear of prepackaged meals. If you find yourself enjoying something more than normal, look at the nutrition facts and you're bound to find sugar among the ingredients.
Now that you've got your ice cream recipe, grab this keto ice cream cones recipe!
Keto Diet Dessert Freedom!
Which is why the ketogenic diet is actually freeing, not restricting. Once the sugar withdrawals calm down, our taste buds are free to do what they were meant to do! We begin to notice and crave flavors that just got pushed out of sugar's way before. Like anise!
Anise seed is where the black licorice flavor comes from. Or black liquorice flavour, if you're British. (Sorry. Had to.)
May other favorite part (the fat!!) features magnificently in this ice cream. I was making ice cream long before I learned about the keto diet. The ratio of milk to cream in normal homemade ice cream is generally 1:1 or close to it.
With keto, we are free to totally ramp up the cream amount and enjoy the dense, rich texture of the heavy whipping cream!
Love creamy desserts? Try one of these keto no bake cheesecakes!
Keto Licorice Ice Cream FAQs
What's a natural black food coloring?
Maybe the coolest part about this ice cream is how it gets its black coloring. It's not store bought food coloring. It's activated charcoal! (See link for purchase below recipe or in the recipe card ingredient list.)
What is activated charcoal used for?
Activated charcoal has been used in hospitals for ages to treat overdoses because of its ability to absorb toxins. Nowadays, activated charcoal has found its way into mainstream by way of facial masks, recipes, bath bombs, nutritional supplements, and yes–keto ice cream!
Is activated charcoal bad for you?
There's a lot of debate over whether activated charcoal is safe for consumption. I've come to the conclusion that with a little education about the properties of activated charcoal, it is absolutely safe to eat. First, you'll need to use food grade activated charcoal, which I have linked to below my keto licorice ice cream recipe and in the ingredient list.

Second, moderation–it is meant to supplement, not to be eaten by the spoonful!

Third, if you take medications, research to be sure there aren't any dangerous interactions. Because charcoal is so good at what it does, it may see your medication as a toxin and reduce its effectiveness by absorbing some of its substances. Other than that, go for it! I've been having a blast experimenting with this healthy natural black food coloring!
Never miss a new recipe! Sign up for our newsletter and get a FREE Keto Grocery List Cabinet Cheatsheet!
Tips for perfect licorice keto ice cream
Be sure to follow the directions for adding the anise oil! For one of my trial batches, I forgot to add the oil till my ice cream machine was already halfway done, and I added it anyway. The oil did exactly what I knew it would do, and hardened into little chunks of pure anise flavor. To avoid this, make sure to add the oil when the milk and cream are still liquid!
Play around with sweeteners. Temperature does different things to different keto sweeteners and everyone's tastes are different. It doesn't hurt to try a combo of sweeteners, too, instead of sticking to one.
Not a black licorice fan? Not to worry! Make it a black vanilla ice cream by leaving out the anise oil and increasing the vanilla to 1 tablespoon.
This ice cream is best served right after churning. That's when it's at its creamiest, softest texture.
If you're saving this keto licorice ice cream for later in the freezer, just be sure to leave it out on the counter for 15 minutes before digging in to soften it up a bit. (Not necessary.)
When handling activated charcoal, try to be tidy. It can stain hands, counters, clothes, etc.
If you'd like some black "sprinkles" on your ice cream or if you crave a bit of crunch, add some poppy seeds to the top of your ice cream! (See photos.)
There are SO many great occasions to use black ice cream! Try this keto dessert out next Halloween, Day of the Dead, Kwanzaa…or Singles Awareness Day (Yep. Had to).
Supplies you may need for keto anise ice cream
The following are affiliate links. We are a participant in the Amazon Services LLC Associates Program, an affiliate advertising program designed to provide a means for us to earn fees by linking to Amazon.com and affiliated sites.
For a more thorough list of supplies, look for links below the recipe card or in the ingredient list in the ice cream recipe.
This is the faithful ICE CREAM MAKER I've used for 10+ years. While you can totally make ice cream without an ice cream machine, in my humble opinion, an ice cream maker is an investment that will pay for itself over and over and over again. In fact, when a roommate transferred their family's daily ice cream habit over to me, I knew we couldn't keep buying cartons of ice cream. It paid for itself very quickly and my kids LOVE the homemade ice cream SO much more!
And of course, you'll need ANISE OIL for this anise ice cream recipe. And for the natural black ice cream color, I used ACTIVATED CHARCOAL. But if you're concerned about drug interactions, please use regular BLACK FOOD COLORING or no coloring.
See more links for supplies at the end of the recipe.
If you're looking for something sweet to drizzle on top of your keto anise ice cream, try ChocZero's VANILLA SYRUP. Don't forget to use my discount code KEENFORKETO for 10% off!
And now for the good stuff! Here's that ketogenic licorice ice cream recipe you've been waiting for!
Keto Licorice Ice Cream
Additional Time:
25 minutes
Bored of the same old ice cream flavors? Give your taste buds a kick in the pants! Rich, creamy, and indulgent, you'll want to give this keto licorice ice cream a try! Flavored with anise oil and colored with toxin-adsorbing natural activated charcoal. Great for a Halloween dessert!
Ingredients
3 1/2 cups heavy whipping cream
1 cup unsweetened flax milk
5 egg yolks
Instructions
Ice Cream Machine Instructions (preferred)
In a saucepan over low heat, warm and whisk 2 cups of the cream and the stevia and/or erythritol. Whisk until the sweetener has dissolved completely. Pour into large bowl and set aside.
In the same saucepan, add remaining 1 1/2 cups heavy whipping cream, flax milk, and yolks. Heat gently while stirring, until mixture coats the back of a spoon.
Pour the egg mixture into the large bowl you've set aside with the cream and sweetener. Add the activated charcoal, vanilla, and anise oil and stir thoroughly.
Cool completely and then pour into ice cream machine and churn according to your manufacturer's instructions (mine usually takes 25-30 minutes depending on how long I've let it cool first).
Serve and enjoy!
No Churn Instructions
Warm and whisk all ingredients except the flax milk, anise oil, and 2 1/2 cups of the heavy whipping cream. (For the no-churn version, you'll leave out the flax milk completely.)
Cool completely in the fridge (this may take an hour or more).
Mix the 2 1/2 cups heavy whipping cream and anise oil and whip until soft peaks form. Fold this mixture together with the cooled mixture and spread in a pan.
Freeze until hardened to your preference (at least 2 hours).
Notes
Careful not to heat the cream, milk, yolk mixture for too much or for too long. The egg will begin to cook and you'll get lumpy ice cream.
If you'd like your no churn ice cream a bit creamier, stir the ice cream every 30 minutes during the freezing time.
Recommended Products
As an Amazon Associate and member of other affiliate programs, I earn from qualifying purchases.
Nutrition Information:
Yield:

6
Serving Size:

2/3 cup
Amount Per Serving:
Calories:

612
Total Fat:

60g
Cholesterol:

387mg
Sodium:

22mg
Carbohydrates:

6g
Net Carbohydrates:

6g
Fiber:

0g
Sugar:

0g
Protein:

4g
More Keto Dessert Recipes You'll Love!
More Keto Dessert Recipes You Will Love!
If you love keto licorice ice cream, try these other indulgent ketogenic desserts from Keen for Keto and others. You absolutely CAN reach your health goals while enjoying a treat from time to time!