Keto Mexican Bubble Pizza and Taco Seasoning Recipe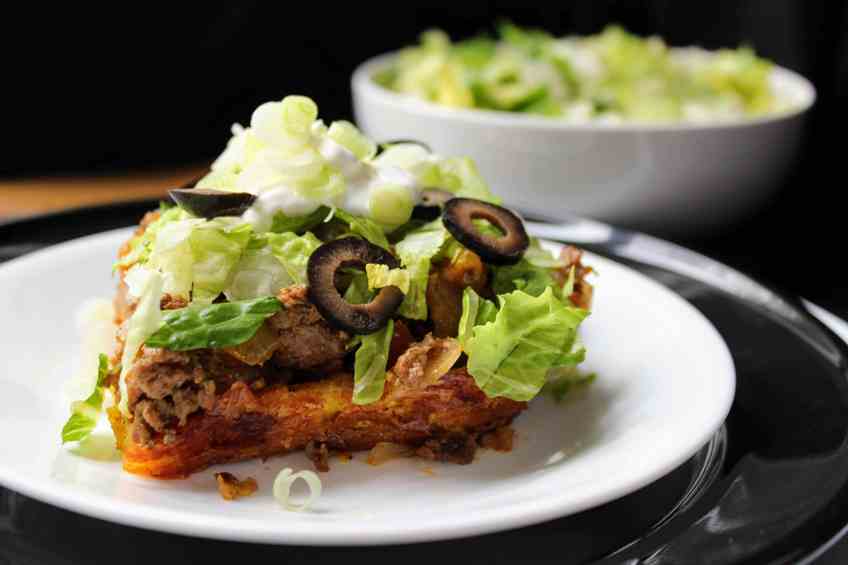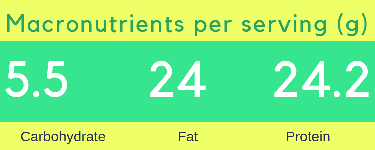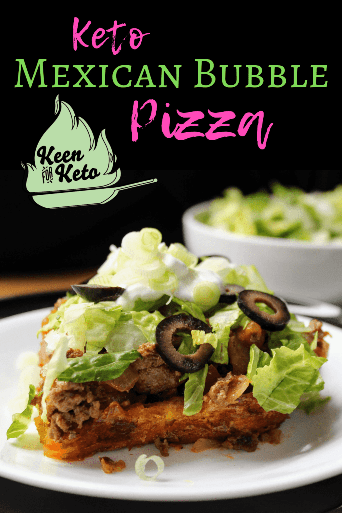 When I got married, my awesome aunts threw me a fantastic recipe bridal shower. They and my mom also sewed bridesmaids skirts for 6 of my roommates. And basically planned and executed my entire wedding open house.
Believe me, I know how blessed I am to have them. I really have an amazing family. The concept of a recipe bridal shower is very popular now, but it was new to me back then and I thought it was the cutest, most practical idea.
I can't remember most of the gifts that we received for our wedding, but I treasured the handwritten recipe cards I was gifted from all my aunts, cousins, friends, church ladies, and other loved ones.
To this day, when I pull out the recipe box I also received at my shower, I get a little wave of nostalgia and give a happy sigh just feeling all that love.
Low Carb Mexican Bubble Pizza Recipe
One of the recipes from my bridal shower that my husband and I immediately loved and added to our regular meal planning was Mexican Bubble Pizza, given to me by a sweet family friend.
It's normally made with those refrigerated biscuits-in-a-can that pop when you unwrap and hit the can against the counter. That's where the "bubble" comes from. It's pretty delicious–and pretty processed, full of carbs, weird oils, and strange ingredients.
Definitely not keto.
But it's so good! And the toppings are keto. How could I give all that yumminess up? I had to try making this family favorite ketogenic.
More Keto Mexican Recipes!
If you're looking for more keto low carb Mexican dinner recipes, try some of these out!
Success with Keto Mexican Bubble Pizza!
I'm so happy to say that this recipe transformation was a complete success! My kids gobbled this up and my husband said it was better than the original. Well then.
Of course I'm not over in the corner madly giggling in secret triumph…
I really don't think it's normal to get this much satisfaction out of creating healthy recipes my family will love. I should probably figure out how to find some legitimacy in that too, somehow.
Hey, I know! I'll create a blog! Sharing your weirdness with the world makes it legitimate, right? AND it has a name. So there's that.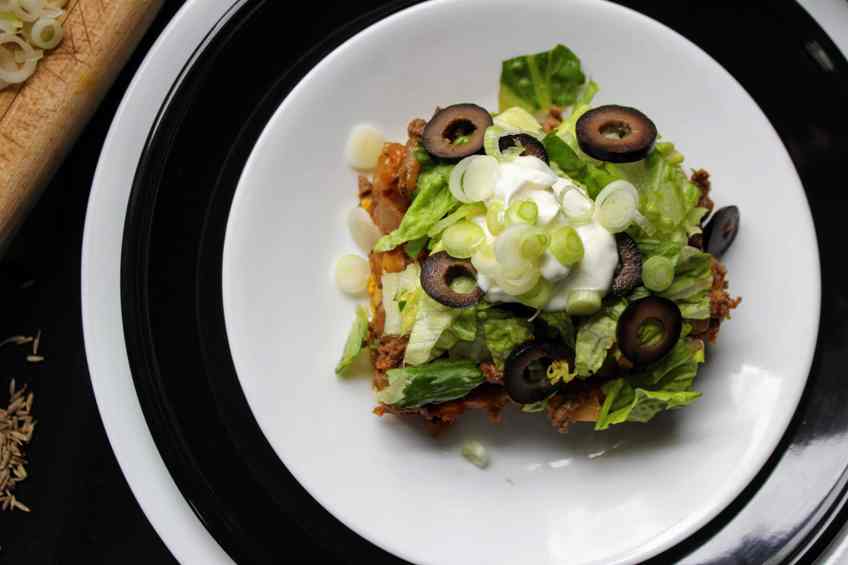 Anywho, I know you'll enjoy this Keto Mexican Bubble Pizza! It's incredibly flexible, too. If you'd like to add certain toppings or leave some out, this definitely lends itself to changes.
And don't forget to think nostalgic thoughts!
A word on spices for this taco bubble pizza…
I tend to be a control freak when it comes to spices. I don't normally use spice mixes unless I really trust the brand and they've come through for me before.
So I create my own spice mixes, often with fresh herbs and spices if available.
It's completely unnecessary to be as controlled as I am (I'm going to pretend you didn't just say "anal" in your head).
You can just use a normal taco seasoning like a normal human being, but I've included my seasoning recipe for those who might be interested.
Flavor for Keto Recipes
Now I'm feeling the need to defend myself a little. Story time. A long time ago, when I realized that sugar was hurting me, I also realized that we rely on sugar for most of our flavor.
When I started reducing sugar I could taste more of the other ingredients, but my food was often still bland and boring.  
So I now focus on flavors other than sweetness to give my food taste. I enjoy mixing and experimenting to find different flavor profiles.
So yes, I'm a bit of an herb and spice fanatic. Quality counts. Fresh is best. But will a ready-made seasoning mix do? Absolutely! You will enjoy this Mexican Bubble Pizza no matter what taco seasoning blend you use!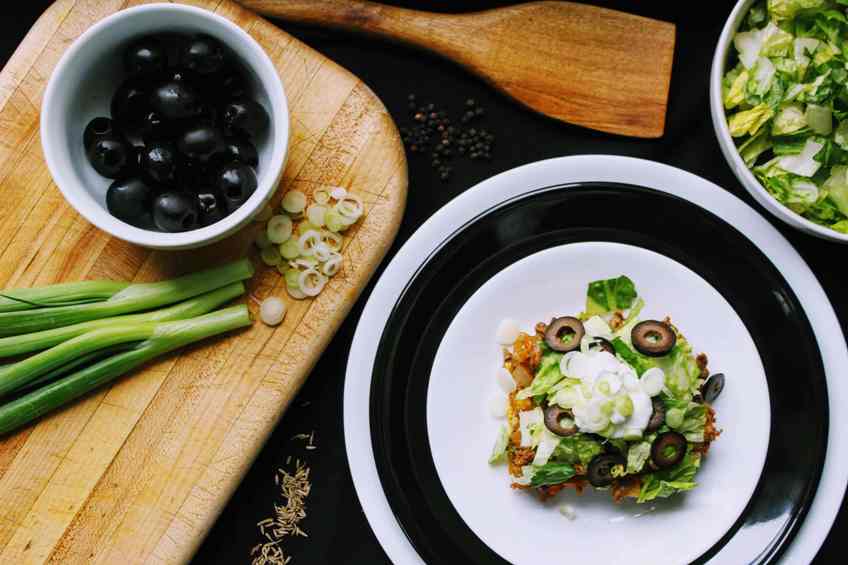 More Mexican Keto Dinner Recipes You'll Love!
Just because we're doing the keto diet doesn't mean we need to leave our favorite dinner recipes behind! Try these awesome variations on your favorite Mexican and Tex-Mex foods!
And we can't forget the Keto Mexican Bubble Pizza! I predict you will be making this Mexican pizza recipe regularly after you make it just once! It's a family favorite. The Keto Super Taco Meat is AMAZING. You'll find the Recipe here, along with a week's worth of other recipes to use it with!
Keto Mexican Bubble Pizza
This gluten free, low carb version of Mexican Bubble Pizza will be an instant hit! It's an easy variation of taco pie or a taco casserole. Don't miss this healthy bubble pizza!
Ingredients
For the "Bubble" Base
2 ounces cream cheese
2 eggs
¼ cup cream
½ teaspoon taco seasoning
Middle Layer:
Toppings:
½ cup fresh tomatoes, diced
¼ cup green onions, sliced
1 cup romaine lettuce, chopped
Sour cream, for serving
Instructions
Preheat oven to 375 degrees. Butter the bottom and sides of an 8" x 8" glass pan.
For the bubble base, place all bubble base ingredients in a blender. Blend for 30 seconds or until there are no little hunks left. Pour into buttered pan and bake for 18-20 minutes until base is slightly golden on top.
For the middle layer, sprinkle the taco meat on top of the bubble base, and then the shredded cheese on top of the meat. Return pan to the oven and bake for another 8 minutes, or until the cheese is melted and bubbly.
For the topping, toss all of the topping ingredients except the sour cream in a bowl. Sprinkle evenly over the bubble base or on individual servings. Top each serving with a dollop of sour cream.
#TacoWeek at Keen for Keto! One of the awesome Mexican casseroles for the family and part of taco week is this keto Mexican bubble casserole—or Keto Mexican Bubble Pizza! Try this Low Carb Mexican Bubble Pizza today!!
---
---