All the delicious sweet and savory flavors in a Monte Cristo sandwich, are now baked up into a gooey, warm keto Monte Cristo breakfast casserole! This low carb breakfast casserole is so worth it!

This post may contain affiliate links. As an Amazon Associate I earn from qualifying purchases.
Never miss a new recipe! Sign up for our newsletter and get a FREE Keto Grocery List Cabinet Cheatsheet!
What's a Monte Cristo Sandwich?
Monte Cristo sandwiches have lots of variations, but there are a few similarities.
Monte Cristo sandwiches have ham and cheese (either gruyere or provolone). For condiments, the bread is normally spread with mustard and mayonnaise.
After the sandwiches are assembled, they're then dipped in beaten eggs and cooked in a pan, sort of like French toast.
The sandwiches are then served with a side of raspberry or black raspberry jam for dipping. Yum!
You'll also love our easy blender German Pancake!
Who invented the Monte Cristo?
I am told (no, pitifully, I don't have personal experience with this) the Monte Cristo sandwich is made in Disneyland.
Someday, I think I need to go to Disneyland just to try all the yummy things I hear about being served there!
However, Disneyland chefs did not invent the Monte Cristo. It's been around for years, but fell out of popularity for a while and is thought to have originated from the croque monsieur sandwich.
Now you know!
And now, we have the Keto Monte Cristo Breakfast Casserole!
There are plenty more keto breakfast recipes to browse! Try these Low Carb Dutch Baby Muffins!
Tips for Keto Monte Cristo Breakfast Casserole
Before you make your low carb Monte Cristo breakfast casserole, you might want to know a few things: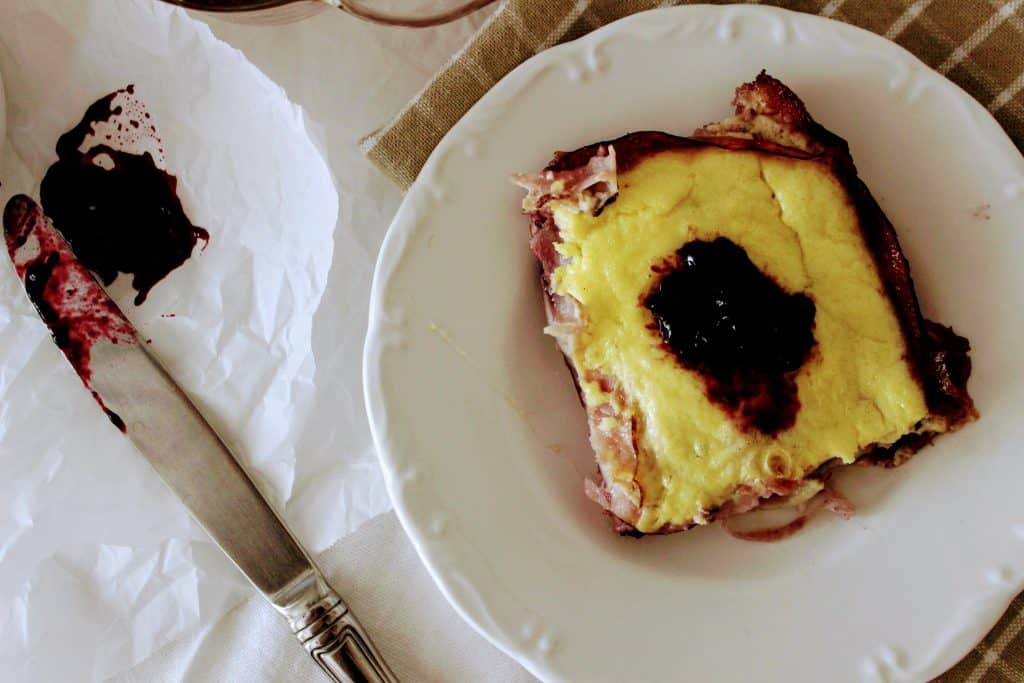 When melting the butter in the oven, be sure to remove the pan as soon as the butter is melted. If left in too long while the oven is preheating, the butter may burn. I may or may not know this by experience…
When you pour the bottom egg layer, be sure to only pour in enough to cover the bottom of the pan. You want it to cook quickly so you're not waiting to finish the casserole.
Don't overcook the bottom egg layer. You're going for a creamy, soft cooked feel. If it's overcooked, it will change the texture and also taste more eggy.
If you prefer gruyere over provolone, use gruyere instead! This recipe is flexible. You can also use any type of jam, but raspberry and blackberry are the typical varieties used. You can also use turkey instead of ham, or a combination of turkey and ham.
If you need a sugar free jam, look for my product links underneath the recipe card.
Add a dollop of jam on the top of each serving if you like!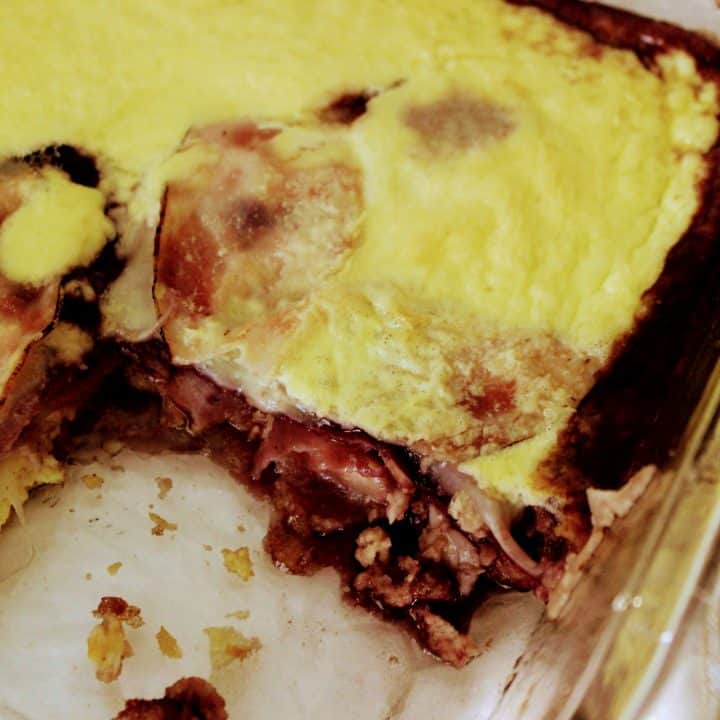 Keto Monte Cristo Breakfast Casserole
Keto Monte Cristo Breakfast Casserole is a breakfast
version of the famous Monte Cristo sandwich. You'll love this low
carb Monte Cristo breakfast casserole with layers of ham, provolone cheese, and
raspberry jam!
Ingredients
4 tablespoons unsalted butter
4 ounces cream cheese
4 eggs
1 tablespoon bacon grease
1/4 teaspoon dried ground mustard
1/4 teaspoon pink Himalayan salt
1/2 teaspoon baking powder
1/2 teaspoon apple cider vinegar
12 deli slices of uncured unsweetened ham
8-10 slices provolone or gruyere cheese
Instructions
Preheat the oven to 400° F. Cut the butter into small chunks and place in 8" x 8" glass baking dish. Place pan in oven to melt butter. Remove the pan form the oven as soon as the butter is melted, so the butter doesn't burn.
Add the cream cheese, eggs, mayonnaise, bacon grease, mustard, salt, baking powder, and vinegar to a blender. Blend until there are no chunks of cream cheese showing and the mixture is completely smooth.
Pour just enough of the batter into the pan to cover the bottom. It should be a little less than half. Bake at 400°F just until set and not browned at all. This should be about 7-9 minutes.
Remove the pan from the oven.
Layering: Layer 8 slices of ham on top of the egg base. Then layer 4-5 slices of provolone cheese. Then spread the jam over the provolone. Layer 4-5 more slices of provolone and 4 more slices of ham.
Pour the remaining egg batter on top of the ham layer and bake at 400°F for 12-14 minutes, or till set and very slightly golden brown.
Allow to rest for 5 minutes before serving. Serve topped with extra jam if desired.
Nutrition Information:
Yield:

6
Serving Size:

1/6th of pan
Amount Per Serving:
Calories:

388
Total Fat:

29g
Carbohydrates:

5g
Protein:

25g
Get a FREE Keto Foods Grocery Shopping List!