Keto Mother's Day brunch recipes, comin' at ya! Yeah, we've all seen the ketogenic brunch options at restaurants. If you haven't, I'll give you some free advice from one mother's child to the next: hard pass.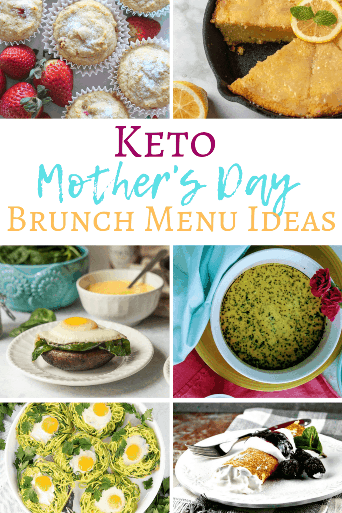 At a restaurant, you'll likely just find scrambled eggs and bacon, something she could easily make at home (and probably has made more than she'd like).
And she would be drooling in envy while everyone else at the table ate their yummy carb-loaded dishes for breakfast.
Don't do that to your mom! That's not the kind of Mother's Day you want to give her!
Keto Recipes for Mother's Day
It's that time of year again where all the good feels come rushing in over how awesome our moms are. (And maybe a few guilt-ridden ones over how we behaved as children–oops!).
If you really want to impress mom and show her your love, a great way to do that is to respect her keto diet lifestyle and give her some home-cooked keto brunch options that will have you at the #1 child spot lickety-split.
If you're not already keto, these yummy Mother's Day keto brunch recipes might just win you over to the keto lifestyle!
How about some more ketogenic breakfast recipes? Or try some of these Keto Waffle Toppings!
Keto Mother's Day Brunch Recipes
Are you ready to show Mom a special kind of love? A brunch is the perfect Mother's Day idea. It's like breakfast in bed without the crumbs. I love brunch because it's later in the morning (yay for sleeping in!!) and it's a step up from breakfast. It's when you get o try out all the fancier breakfast recipes you've been wanting to try. Here's a full list of low carb brunch menu ideas that any mom will love!
How did YOUR keto Mother's Day brunch go?
Let me know down below in the comments how YOUR keto Mother's Day brunch went! I'd love to know which of these keto brunch recipes you used and if you did anything different!
Mom doesn't want to go to a restaurant for Mother's Day brunch and deal with trying to order keto from a carb-loaded menu! Instead, fix her up a nice keto Mother's Day brunch! I've got all the Mother's Day keto brunch recipes you'll need for your keto brunch menu! Try out an easy low carb noatmeal creme brulee, instant pot frittata, or dairy free keto strawberry muffins. Mom will love her home-cooked low carb brunch menu! From Keenforketo.com | Keto brunch recipes | Keto diet | low carb recipes | keto breakfast ideas