Whether you're a salad person or not, a keto dieter or not, you can bet these keto salad recipes will hit the spot! Sometimes you crave a little fresh!
Are you a salad person? I'm not.
But I'm also not a huge meat person. I lean more toward the "tons of low carb veggies" camp rather than the "carnivore keto" camp.
Still, it took me YEARS to figure out some tricks to getting myself to enjoy a salad. One of those tricks is to simply have the right salad recipes! The right combo of ingredients really makes a salad work.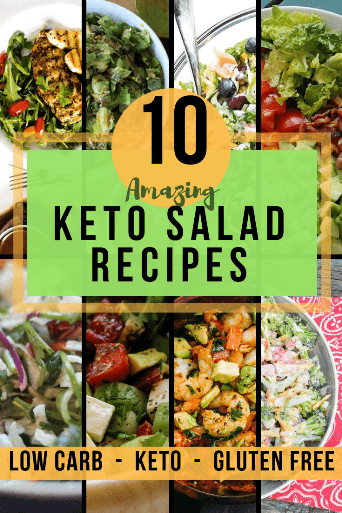 Keto salad recipes are especially difficult to find because we're all watching our carbs and some vegetables are surprisingly high in carbohydrates.
It can be just as easy to throw a salad together doing the keto diet, but it just takes some adjustment and knowing which vegetables are lower in carbohydrates.
Never miss a new recipe! Sign up for our newsletter and get a FREE Keto Grocery List Cabinet Cheatsheet!
Keto Salad Recipes
If you need an easy keto food grocery list, check out my list here. This list is the perfect cheatsheet to tack inside a kitchen cabinet so you have an easy reference of low carb and high fat foods. 
But what do you do once you get those ingredients home? Have no fear! I've put together a list of several awesome ketogenic salad recipes for you to choose from!
Let me know if you try any–I'd love to know what you think! Don't forget to rate this post down below the comments!
Let's get to those keto salad recipes!
If you love Cafe Rio and Costa Vida, you'll love this keto sweet pork salad. It has tender, flavorful shredded sweet pork on a romaine salad with avocado, cotija cheese, cilantro, Mexican cheeses, tomato, and a creamy keto tomatillo dressing.
Enjoy!
This first salad is one of my favorites. If you're anything like me and suffer from salad avoidance, you'll want to try this one.
Maybe it's because it's a little different, maybe it's because there are no leafy greens, but it doesn't feel like your typical low carb salad recipe.
The cucumbers make this salad feel light, while the mozzarella and avocado fill you up. It's agreat combo.Give Caprese Avocado Salad a try!
15.6 carbs per serving
More delicious keto dinner recipes here!
Do you remember Doritos? I know, it's been a while, but think. Do you remember how delicious they are in a taco salad?
Totally unnecessary. The taco meat for this taco salad has a great flavor that is so close to Doritos that you won't miss them at all.
Plus, if you go to this post, you'll find tons of other recipes to use Keto Super Taco Meat! Make a big batch and use it all week long for several different recipes, or freeze some and have it for when you don't feel like doing tons of prep!
3.3 carbs per serving.
This dairy free coleslaw recipe comes to us compliments of Becky over at OMG Keto Yum.
I love Becky's take on coleslaw–no mayo! This is one that even looks beautiful and refreshing! For those of us trying to avoid dairy on the ketogenic diet, this is a great addition to our menus.
I love Greek food. I'm so lucky that so many Greek dishes are keto friendly!
This salad features a delicious Mediterranean-inspired tilapia filet on a bed of Greek Spinach Salad tossed with my version of a basic Greek salad dressing. Chopped spinach, olives, feta, and fresh parsley make an appetizing appearance. 
6.5 carbs per serving.
If you love Mexican food and also love simplicity, this romaine salad is perfect!
It just has a few ingredients, including romaine, avocado, tomato, cotija cheese crumbles, and a tangy creamy tomatillo dressing that's out of this world!
9 carbs per serving, 5 net carbs
This perfectly potluck-ready broccoli salad is from Shelby over at Grumpy's Honeybunch. Shelby tells me it's a family favorite that the internet loved, too–it went viral a few days after she posted it!
Broccoli florets, jalapeno pepper, cheddar cheese, bacon, and a creamy sour cream dressing–yum! Go make this salad and see what the fuss is all about!
6 carbs per serving
How about some keto honey cornbread with your salad?
It cannot get any easier than this salad! If you're looking for something that easily fits macros while being simple to make, this is the one.
This keto salad recipe is from Wendy at her blog, Wendy Polisi.
2 carbs per serving.
I'm not always in the mood for a leafy green salad.
Who can resist the combination of shrimp with fresh avocados and tomato? Not me. This keto salad is also smothered in butter and lemon juice, and tossed with fresh cilantro and feta. Yum!
Thanks Julia, for letting me share your low carb keto cooking brilliance with the world! Julia shares her yummy low carb recipes at Savory Tooth. Click the photo for her keto salad recipe!
12.5 carbs per serving
I know exactly which Costco salad she's talking about! If you love Costco's bagged salads like I do, you need to try this homemade low carb version of one of their most popular salads!
Thanks, Maya! 
10 carbs per serving
Another easy salad for your list! This one has bocconcini (fresh mozzarella balls), fresh basil, grape tomatoes, olive oil, balsamic vinegar, and fresh garlic.
This Keto Bocconcini Salad is an insanely easy Caprese salad packed with healthy flavor!
7 carbs per serving, 6 net carbs
Kelly at Keto on a Dime is a lady after my own heart. How did she know how much I LOVE Greek flavors! Her salad features crisp cucumbers, tangy feta, and is smothered in a creamy Greek herb sauce.
And if you're looking for keto budget advice, she's your resource. Switching to keto is an adjustment that doesn't need to be expensive, but it's helpful to have a good authority to rely on. You'll find all sorts of great frugal tidbits over there! 
9.4 carbs per serving
Soup AND salad? That's a winning combo! Try our Keto Creamy Tomato Soup or Turkey Leek Soup with Bacon and Broccoli.
I'm a huge fan of taking old favorites and turning them into new keto favorites. No, they're never exactly the same as the old ones, but close enough and often even more delicious.
Here's a yummy spin on the old favorite chicken salad sandwich. I think you'll love this low carb ketogenic alternative from Taryn at Joy Filled Eats! 
8 carbs per serving
I'll bet you didn't expect that! I was only going to include 10 salad recipes, but this one was just so lovely in its simplicity. Okay, actually it just makes me hungry.
And I love that the dressing is probiotic! Thanks Naomi, from Almost Bananas!
Pin this recipe list now!