This is simply the BEST low carb taco meat you will EVER taste! Keto Super Taco Meat lives up to it's name–it really is a different kind of keto taco meat! Check it out, along with enough recipes for the keto taco meat to last all week! Get your meal prep on!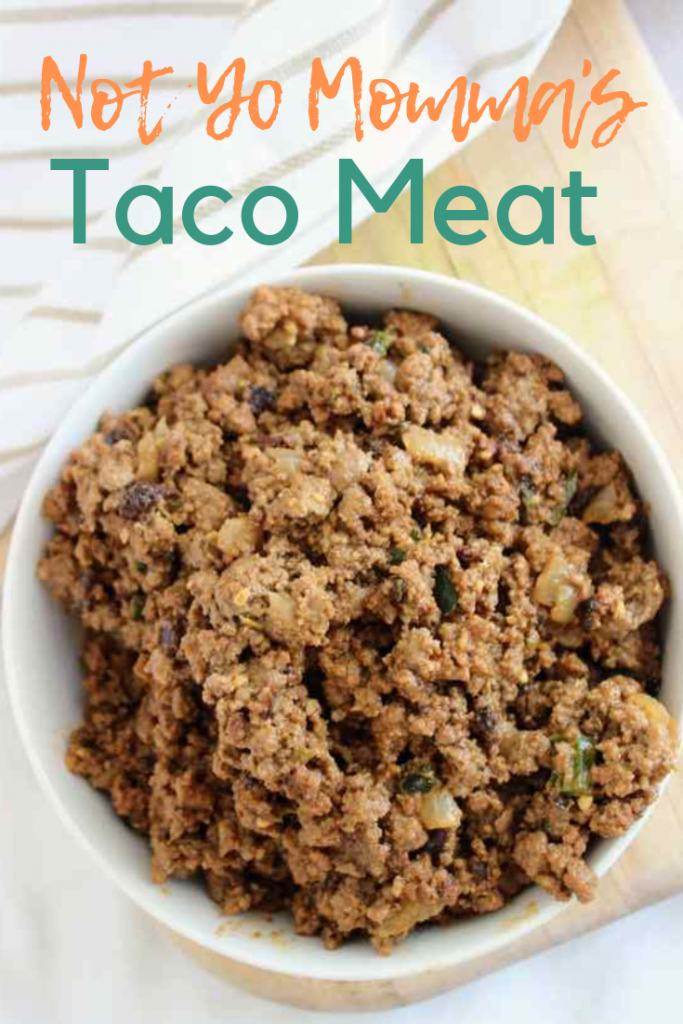 This post may contain affiliate links. As an Amazon Associate I earn from qualifying purchases.
Never miss a new recipe! Sign up for our newsletter and get a FREE Keto Grocery List Cabinet Cheatsheet!
Keto Taco Meat
Forget Taco Tuesday! Why just one day for taco tastiness, when you can have a whole fabulous week of taco glory? From now on, it's Taco Week!
Keep reading for some amazing taco-inspired keto dishes made with Keto Super Taco Meat.
If you're an Instant Pot fan, like I am, I also included the same recipe adapted to the Instant Pot!
This is the best taco meat you'll ever taste! Really. I'm one of those people who just can't leave a good thing alone. Ask my family. Sometimes it's completely disastrous.
Related: Browse our Keto Dinner Recipes!
If I was an artist, well, I wouldn't be one…because I'm the person who is just so excited about every beautiful stroke of the brush and I decide to keep adding them, well after perfection has already been reached (if I were a person who could reach perfection in the first place, LOL).
Keto Diet Tacos, Order Up!
In the case of this Keto Super Taco Meat and all its accompanying meals, I'm superbly ecstatic with my cooking efforts. I was going for a specific taste and hit my taste-target right on with no going overboard.
Easy, yes. Exciting? No.
That's why I love this Keto Super Taco Meat. It's a fancied-up version of the basic ground beef taco meat, still super easy, and is useful in several recipe applications–some will be familiar–but ketofied.
(I can't believe my spellcheck didn't just correct me. Ha!)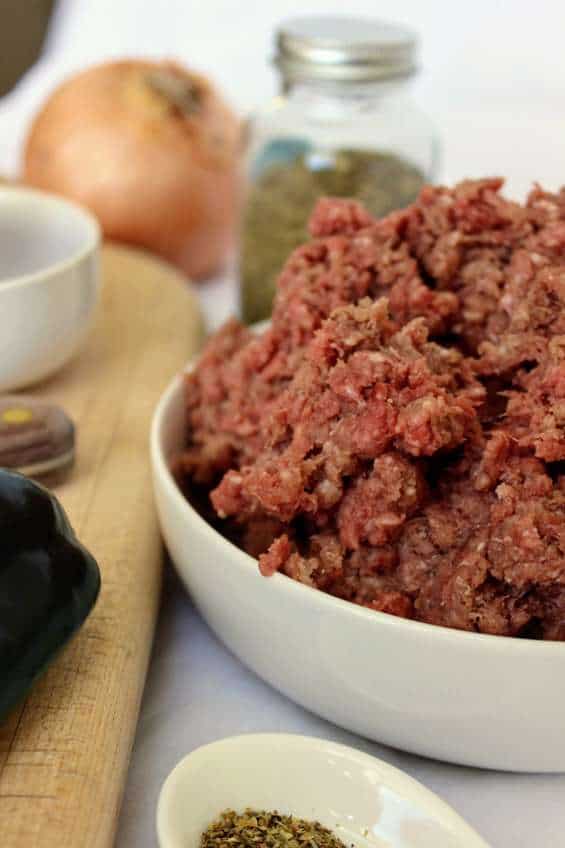 What about tortillas and toppings? Grab some ideas and try some of these keto diet tacos!
Keto Taco Meat Recipes FAQ's
Does taco meat have carbs?
Taco meat can be as basic as you want. Ground beef, spices, and salt are really the only ingredients you need for a very basic keto taco meat with the least carbs. This Super Keto Taco Meat is super flavorful with just a few more ingredients and STILL only has 4 carbs in one cup!
Can you eat tacos on a low carb diet?
Yes!! Honestly, I don't know how successful I would be on the keto diet without my keto tacos. I normally use lettuce for a healthy keto tortilla replacement, but there are so many low carb tortilla options out there! I'll link you to a gluten free tortilla with just 6g net carbs below the recipe.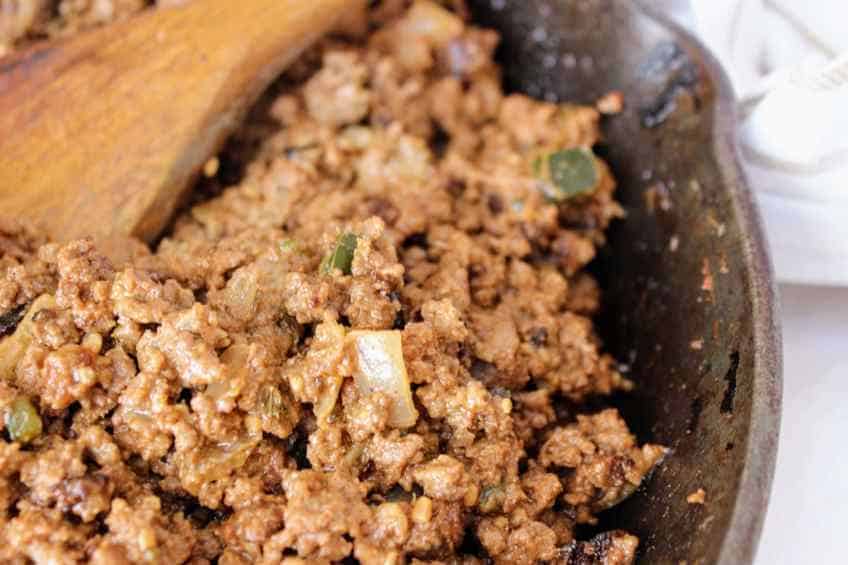 What if I want my keto taco meat spicier?
If you've never used poblano peppers and you're worried about heat, I promise they are not spicy. I'm a weakling when it comes to spicy foods. An acquaintance I know is fond of saying, "Eating should not be painful!"

Poblano peppers are barely spicier than bell peppers. Just a tiny tingle on the tongue.

If you're laughing at me right now, go ahead and sub in those jalapeno peppers in this easy taco meat or whatever tongue-torturing produce you normally use. I'll just be over here admiring you from afar.

My goal is to someday work my way up to your level of greatness. Truly, I think that our society's sugar addiction has diminished our taste for real flavor, including spicy heat.

When we stop relying on sugar's sweetness for our primary source of taste, we open ourselves up to all the other amazing flavors of foods.

Spice goals, people. Until then, it's poblanos for me.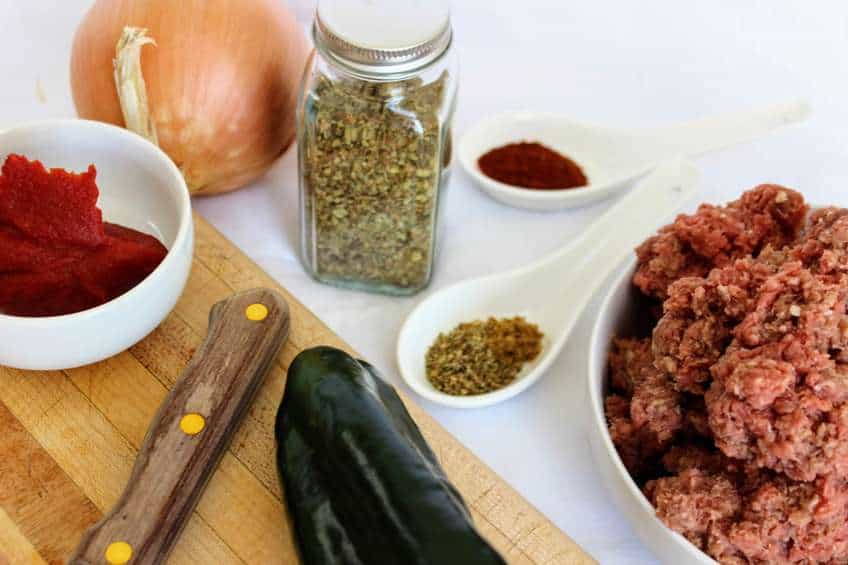 Related: Keto Sweet Pork (Instant Pot or Slow Cooker!)
How to make Keto Ground Beef Tacos
Time needed: 25 minutes.
Now to the good stuff! How do you make this extra special keto taco meat? (For more detailed instructions, skip down to the recipe.)
Saute the onion and poblano pepper

For this step, you'll first decide whether to make your low carb taco meat in a skillet or Instant Pot. For the Instant Pot taco meat, you can use the saute function to saute the onion and pepper.

Add ground beef and toast spices

Add the ground beef to the skillet. Cook until browned and then add spices and toast them. When toasting the spices, make a little well in the middle of the meat so the spices can get direct heat from the bottom of the skillet. If using an Instant Pot, you'll toast the spices first and then add the ground beef.

Cook the taco ground beef

If using an Instant Pot, add water and close and seal lid. Cook for 40 minutes and allow to slow release 5-10 minutes before releasing the remaining pressure.

Add remaining ingredients to keto taco meat recipe

Add the rest of the ingredients to the ground beef and stir.

Enjoy!

Use your keto taco meat for the recipes in this post or store for later. You may refrigerate this meat up to 5 days or freeze for a few months. Thaw completely before use.
Try this Keto Taco Casserole with a yummy cabbage base! Or this Keto Ground Beef Stroganoff Casserole with Cabbage.
Notes and Tips for Super Ground Beef Keto Taco Meat Recipe
You can use a different low carb taco meat recipe for these taco themed recipes, but the flavors complement each other and really work well in those recipes. The recipes just might not taste the same without it. It's pretty special.
You can make a huge batch and eat it all week with these recipes and never get tired of it. ALL of these recipes are easy and simple, too.
If you do plan to use Keto Super Taco Meat for all of these recipes, be sure to double it (or triple it if you like more meat in your recipes). It makes about 5 1/2 cups per batch, so keep that in mind when choosing which of these recipes to make.
This recipe calls for keto mayonnaise. Most mayonnaise from the store contains sugar and vegetable oils (yes, even the olive oil and avocado oil varieties, sadly). If you're looking for a clean keto version, try this easy 2-Minute Keto Olive Oil Mayonnaise. You'll be surprised how easy (and fun!) it is to make your own mayo!
How about an easy Mexican-inspired side dish? Try this Tomato Cotija Salad with Tomatillo Dressing!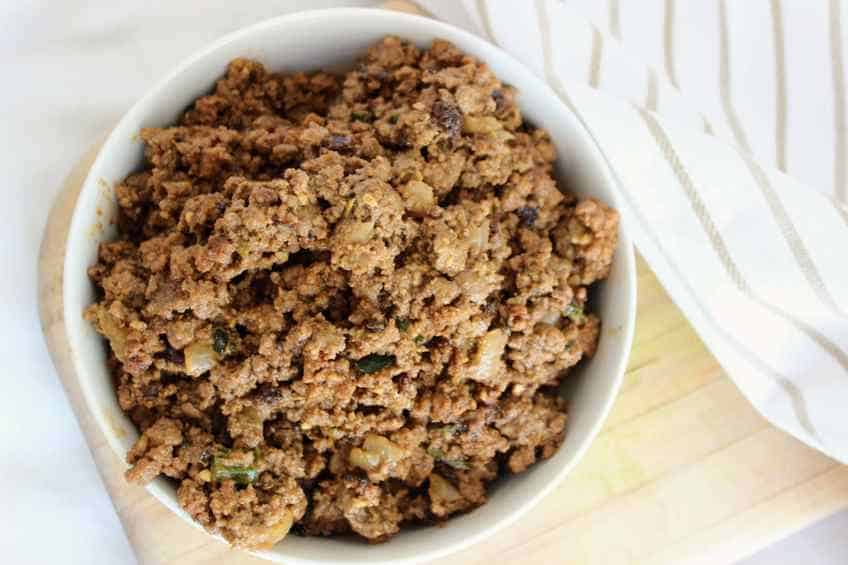 Ready for some pressure cooker ground beef tacos? Let's get started!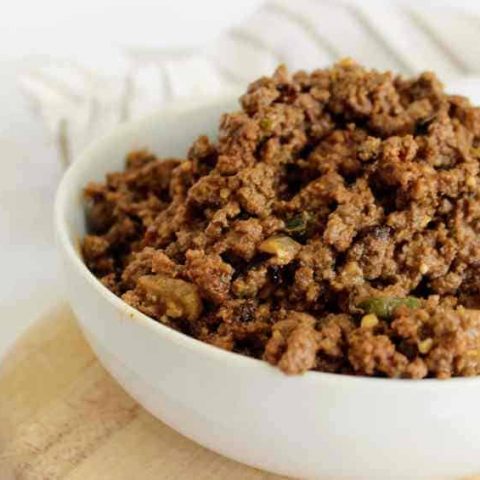 Keto Taco Meat Recipe (ground beef)
Keto Super Taco Meat is the last taco meat recipe you will ever need. Say goodbye to your old boring taco meat recipes. We also include an easy taco recipe for lettuce tacos, as well as several other yummy Mexican recipes to use up your new best taco meat recipe!
Instructions
Skillet directions:
Heat olive oil over medium heat. Add onion and pepper, and sauté until the onion begins to become transparent, about 10 minutes.
Add ground beef and garlic. Cook until ground beef is browned, breaking it apart into crumbles as you cook.
Move ground beef and onions to the sides of the skillet and add cumin seeds, oregano, and chili powder all at once to the center and toast for 2 minutes, stirring constantly. Stir all ingredients together.
Add beef base paste, mayonnaise, tomato paste, vinegar, and salt and pepper. Stir until heated through. Add water if you prefer yours thinner.
Instant Pot Directions:
Add onion, pepper, garlic, and olive oil to the Instant Pot.
Press the "sauté" button and sauté until onion begins to be transparent and slightly golden. Be sure to stir at least every two minutes, as the sauté temperature on the Instant Pot is rather high. Add a tablespoon of water from time to time if it begins to stick to the bottom. Do NOT allow food to stick to the bottom of the pressure cooker pot. It burns and then the pot won't pressurize (speaking from experience--this is why we don't add the mayo and tomato paste till later).
Add the oregano, chili powder, and cumin to the pot and stir constantly for two minutes, toasting the spices.
Add 1/2 cup water and stir.
Add the ground beef and beef paste to the pot, secure the lid, turn the pressure valve to "sealed" and cook for 40 minutes at high pressure.
Naturally release pressure for 5-10 minutes and then quick release (or allow to slow release till pressure is released if you prefer).
Open lid and push "cancel." Break ground beef into crumbles.
Press the "sauté" button and add mayonnaise, tomato paste, vinegar, salt, and pepper. Stir thoroughly for 2-3 minutes till heated through. Remove from Instant Pot and use in your recipes, refrigerate for a week, or freeze!
Nutrition Information:
Yield:

5.5
Serving Size:

1 cup
Amount Per Serving:
Calories:

421
Total Fat:

34g
Cholesterol:

85mg
Sodium:

338mg
Carbohydrates:

5g
Net Carbohydrates:

4g
Fiber:

1g
Sugar:

2g
Protein:

25g
Keto Super Taco Meat Recipes!
And here's what you've been looking for to use this keto taco meat recipe! The list of recipes to use with your new batch of keto taco meat. Enjoy!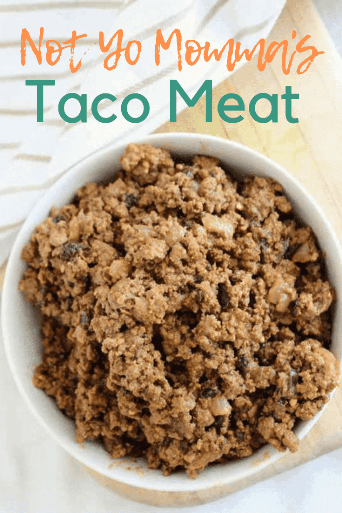 Looking for a ground beef casserole? Try this Keto Tamale Pie!
—Everything on Keen for Keto is gluten free, low carb, high in (healthy) fats, and full of fresh vegetables.—
This post may contain affiliate links. As an Amazon Associate I earn from qualifying purchases.