If you've had Cafe Rio's sweet pork, you know it's something special that you NEED to replicate for the keto diet. This easy keto sweet pork can be made in the Instant Pot OR crock pot and pulls apart so tender either way!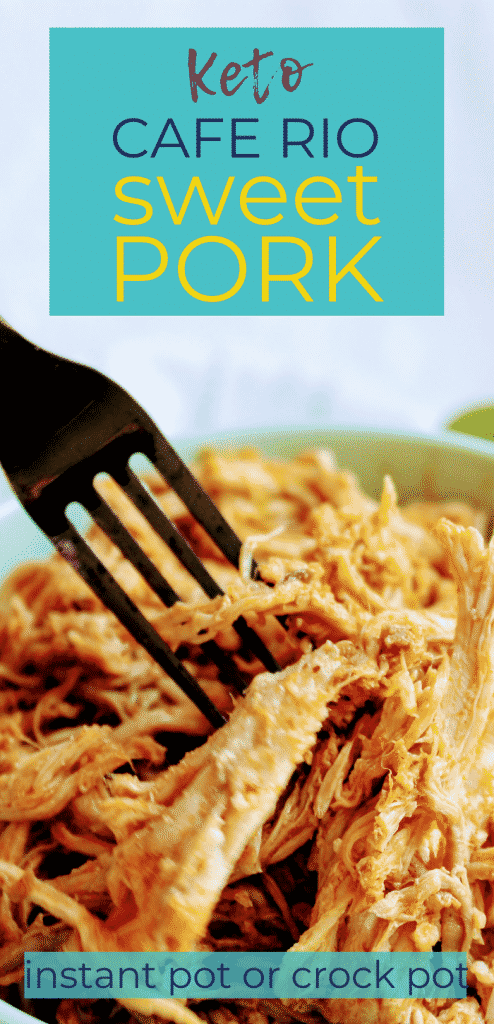 Keto sweet pork is a pulled pork that is sweetened with a sugar free brown sugar replacement and flavored with yummy ingredients like garlic, bacon grease, cumin, liquid smoke, green chiles, and worchestershire sauce. You can eat it plain or add it to keto burritos, burrito bowls, or keto sweet pork salads (think Cafe Rio style!). There are so many ways to use this sugar free sweet pork!
This post may contain affiliate links. As an Amazon Associate I earn from qualifying purchases.
Get your FREE Keto Approved Grocery List Printable!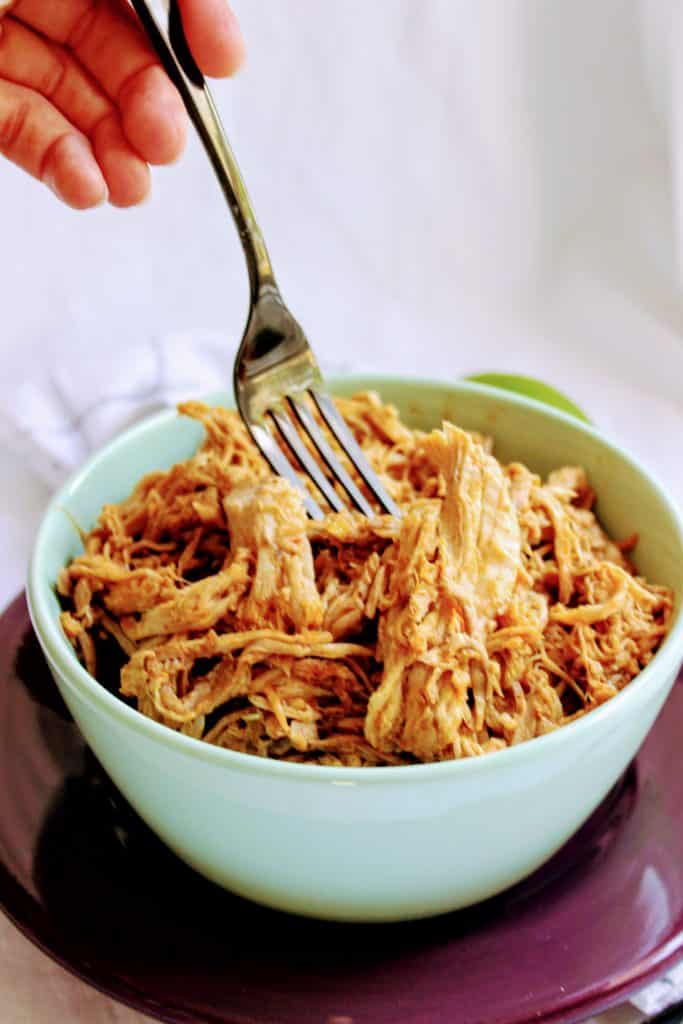 How To Cook Sugar Free Sweet Pork and Quickly Shred It Using a Mixer
***If you're looking for the plain recipe card, scroll down below these pics and instructions.

This is your lucky day. Yes, you can absolutely shred your sweet pulled pork on a plate with two forks. Sure. Go for it.
OR, you could try this super easy mixer method for shredding your meat and have a big ol' pile of keto Cafe Rio style sweet pork in just two minutes! Your choice. ;)
Get the Saucee Ready

Add the sauce ingredients to the Instant Pot or Crock Pot and stir together.

Add the meat to the Instant Pot or Crock Pot

Quarter your pork tenderloin and add to the Instant Pot or slow cooker. Spoon some of the sauce on top.

Cook the pork tenderloin

Cook the tenderloin in the Instant Pot for 50 minutes or in the slow cooker for 8 hours on low or 6 hours on high. It will shrink slightly.

Shred the sweet pork tenderloin

Remove one of the quarters of the pork tenderloin and place in the bowl of your mixer (you can also use a hand mixer). Turn the mixer on low for a few seconds at a time until pork is shredded. You may need to reposition the pork from time to time so that it shreds evenly. Do NOT over-mix or the pork will become pulverized.

Remove the shredded portion from the mixer into a large bowl. Do this with each of the quarters till the pork tenderloin is completely shredded.

Add the sauce back into the sugar free sweet pork

When the pork is shredded all the way, add some of the sauce back into the pork while tossing the pork with tongs. You may add more if you like yours with more sauce, or less if you like yours drier.

Serve and enjoy!

Add your sweet pork to salads, burrito bowls, tacos, or just eat plain!
Related: Find more of our keto Instant Pot recipes!
FAQs for Keto Sweet Pork
What mixer did you use to shred the keto pork?
To shred the sweet pork, I use my trusty Kitchen Aid Mixer. I've had mine for over 15 years and it's still going strong!
What are some ways I can use keto pulled pork?
There are so many awesome ways you can use this sweet pulled pork in your cooking! My favorite is in a Cafe Rio style sweet pork salad (see pic below to commence drooling–also, if you're wanting to try this salad, use this Keto Tomatillo Dressing!). You can also use it in a keto breakfast burrito bowl, in tacos, chili, casseroles, soup, sandwiches, on pizza, or with your eggs in the morning.

I also like to eat mine plain, with a veggie side like Steamed Keto Brussels Sprouts with Parmesan or Sautéed Yellow Squash and Onion in Butter.

How would YOU use your keto sweet pork? (Comment under the recipe if you have a great idea!)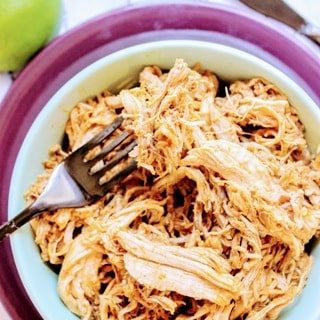 Keto Sweet Pork
Pressure Build and Release Time:
20 minutes
Total Time:
1 hour
15 minutes
This Keto Sweet Pork recipe for Instant Pot or Crock Pot is a dead ringer for Cafe Rio's Sweet Pork, but it's sugar free and so much healthier! Enjoy this sugar free sweet pork on a sweet pork salad, burrito bowl, or on a taco!
Ingredients
1 Tablepsoon bacon drippings
3-4 pounds pork tenderloin, loin, or pork belly (pork belly and loin will be the fattiest)
Instructions
Add all ingredients to Instant Pot or Crock Pot EXCEPT for the pork. Stir.
Cut pork into quarters and place inside Instant Pot or Crock Pot. Spoon some of the sauce on top of the tenderloin.
Instant Pot (see Crock Pot instructions in #4): Close and seal lid. Cook on high pressure for 50 minutes. Natural release pressure for 10 minutes, then vent till pressure is completely released and the floater goes down.
Crock Pot: Place lid on Crock Pot and cook on low for 8 hours or high for 5 hours.
Remove pork from sauce and shred the pork with forks or in a mixer (see tutorial photos in above post). Add sauce back in as desired. Enjoy!
Nutrition Information:
Yield:

10
Serving Size:

3/4 cup
Amount Per Serving:
Calories:

251
Total Fat:

7g
Cholesterol:

117mg
Sodium:

274mg
Carbohydrates:

3g
Net Carbohydrates:

2g
Fiber:

1g
Sugar:

1g
Protein:

42g