A traditional Tex-Mex style casserole dish is turned low carb in this Keto Tamale Pie recipe! A flavorful ground beef filling with bell peppers, onion, garlic, tomato sauce, and toasted spices is topped with cheddar cheese and then with a sweet "honey" cornbread, basted with butter, and baked to perfection.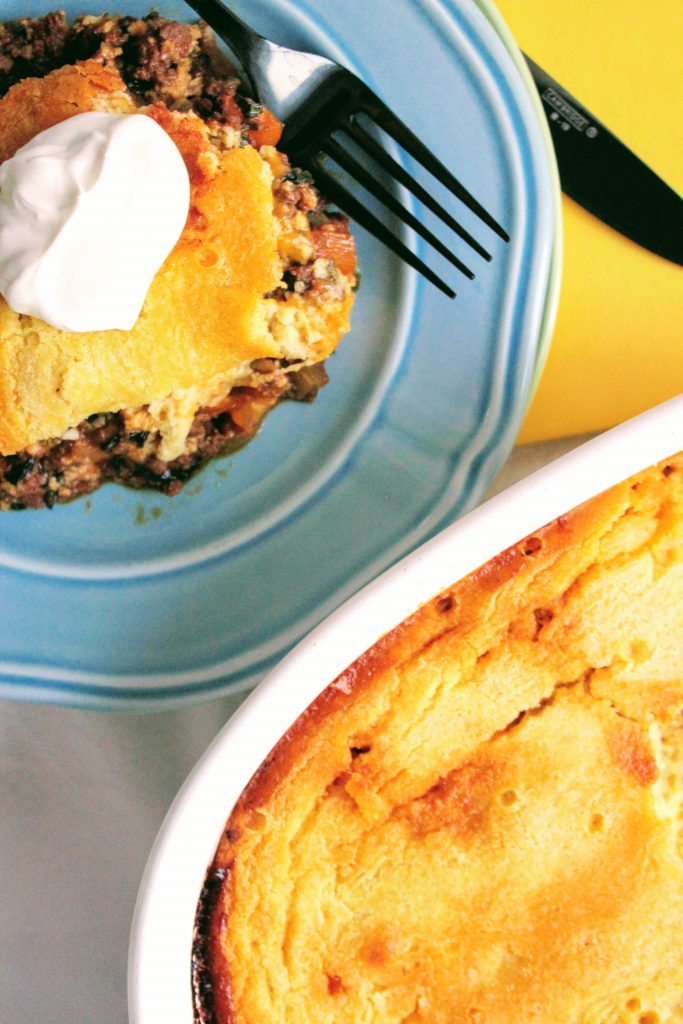 This post may contain affiliate links. As an Amazon Associate I earn from qualifying purchases.
Never miss a new recipe! Sign up for our newsletter and get a FREE Keto Grocery List Cabinet Cheatsheet!
What is Keto Tamale Pie?
\My version of tamale pie is basically a keto chili with cornbread topping. That's it!
The bottom layer is a keto chili made of seasoned ground beef, bell peppers, onions, garlic, cumin, cinnamon, and tomato sauce. I also like to add spinach for bulk and nutrition. Top that with a nice thick layer of cheddar cheese. Then, a low carb "cornbread" crust is added to the top of that, and voila! Keto Tamale Pie. Let's talk about that topping next…
Keto Tamale Pie with Almond Flour Cornbread Topping
Almond flour makes a great substitution for masa flour in a low carb keto tamale pie recipe. You get the soft but gritty texture of a corn meal flour, along with masa's slightly sweet flavor.
In order to get the full corn and honey flavor, I like to add sweet corn extract and honey oil. Both are optional, but you'll be glad when you try it!
On a keto tamale kick? Try these Keto Tamales with Almond Flour! And check out these Keto Mexican Dinners.
FAQs for Keto Tamale Pie Casserole
Why use almond flour in the tamale pie topping?
As mentioned above, the almond flour gives a slightly sweet flavor and soft, yet gritty texture, just as masa flour does. The almond flour gives the cornbread topping a more authentic taste.
What goes with keto low carb tamale pie?
You may be wondering now what to serve with tamale pie. Where normally a person might serve something like beans and rice with tamale pie, those are a no-go for a low carb diet. So what can you serve as a side dish with tamale pie instead? A sugar-free salsa or guacamole would both be delicious complements to this casserole. Or try this Keto Chopped Taco Salad.
Why add spinach?
The spinach is optional, but I like to add it in. It adds bulk to the filling, as well as nutrition. If you're a person (like me) who has to try hard to enjoy salads but you still want the benefits of greens, you can be sneaky and add a bit into your casseroles instead, without noticing they're even there!
Try Some of These Other Keto Tex-Mex Dinner Recipes!
Toppings for The Best Keto Tamale Pie with Almond Flour
Now that your keto tamale pie is dine, you'll be reaching for some toppings. Which tamale pie toppings go well with a low carb version of tamale pie? I like to add chunks of avocado, a big dollop of sour cream, and some may add a bit of hot sauce.
Keto Tamale Pie
Your search for a low carb tamale pie alternative stops here! This keto tamale pie is full of flavorful bits of beef, bell peppers, onion, spices, and gooey cheddar cheese that bakes into the bottom of the buttery honey cornbread topping. Yum!
Ingredients
1 medium onion, diced
1 medium yellow or orange bell pepper, diced
1 pound ground beef
1 cup spinach, finely chopped (optional)
1 cup grated cheddar cheese
Cornbread Topping
2 eggs
2 tablespoons almond or coconut milk
2 tablespoons butter, melted
1 teaspoon honey oil
1/2 teaspoon Sweet Corn Extract (optional)
1/8 teaspoon pink Himalayan salt
1/4 teaspoon baking powder
2 tablespoons melted butter, for basting
Instructions
Preheat oven to 375°F.
For the tamale pie filling, heat the oil in a large skillet. Add the onion and sauté about 10 minutes, or till the onions start to become transparent and darken. Add the bell pepper and continue to sauté till tender. Add the garlic and stir.
Add the chili powder, cumin, and cinnamon and cook for two minutes while tossing.
Add the ground beef. Crumble the ground beef while browning. Continue stirring the vegetables while you do this. Add the beef base paste and stir it in.
Optional: Add the spinach and turn the heat off. Allow the spinach to wilt for 2-3 minutes.
Stir in the tomato sauce.
Pour filling into an 8"x8" glass pan or similar size (I've also used a ceramic casserole dish like this gorgeous one).
Sprinkle the cheddar cheese over the filling.
For the cornbread topping, add all ingredients except the last 2 tablespoons of butter to a medium bowl and stir till smooth. Gently spread evenly over the top of the filling. Baste the remaining melted butter evenly over the top of the cornbread topping.
Bake in preheated 375°F oven for 25 minutes. Allow the casserole dish to sit for 10 minutes before serving. Enjoy!
Recommended Products
As an Amazon Associate and member of other affiliate programs, I earn from qualifying purchases.
Nutrition Information:
Serving Size:

1/6th of pan
Amount Per Serving:
Calories:

448
Total Fat:

35g
Sodium:

621mg
Carbohydrates:

11g
Net Carbohydrates:

8g
Fiber:

3g
Sugar:

3g
Protein:

26g
We try our best to be accurate with nutrition facts, but they will vary depending on the calculator used and the individual ingredients and brands used, as well as other factors.