Easy, comforting, warm, gooey. If these are all YOUR favorite things, too, you'll LOVE this Keto Turkey Tetrazzini Skillet!
Sauteed onions and mushrooms are mixed with flavorful herbs and diced turkey in a creamy, cheesy sauce, and then baked till slightly golden.
If you have leftover turkey, this is a great keto recipe for using up that Thanksgiving turkey!

This post may contain affiliate links. As an Amazon Associate I earn from qualifying purchases.
Never miss a new recipe! Sign up for our newsletter and get a FREE Keto Grocery List Cabinet Cheatsheet!
Keto Turkey Tetrazzini in a Cast Iron Skillet
One of my favorite things about my cast iron skillet is how heavy it is. Ha! You know I'm kidding.
I love, love, love that I can start a meal in the skillet, LEAVE it in the skillet, and put the whole shebang in the oven to finish it off, including the lid, if needed!
If that's not a testament to my laziness, I don't know what is.
Seriously, though. I LOVE my cast iron skillet. Hence my awesome Keen for Keto logo in which I asked my designer to use my clunky, heavy friend.
Sometimes I feel like my cast iron love is a little weird. Like the way people love to love abandoned puppies with half of their tails missing, a limp, and unknown goop dripping from their eyes.
Sorta like that.
Related: Turkey Leek Soup with Bacon and Broccoli (Instant Pot and stove top instructions)
My cast iron pan gets to lay its greasy self on its stovetop bed all night and day, while my nice, matching, stainless steel pots and pans get hidden away in the cupboards.
I can't help it. That's what love does to you.
If you want to get your own (no, you can't have my greasy old lovable pan), here's a link for my cast iron pan. And you'll want a lid, too.
BUT, you totally don't need a cast iron skillet for this low carb turkey tetrazzini recipe.
You can start it in any old skillet, pour into a baking dish, and bake it that way. Congrats for not being as lazy as me.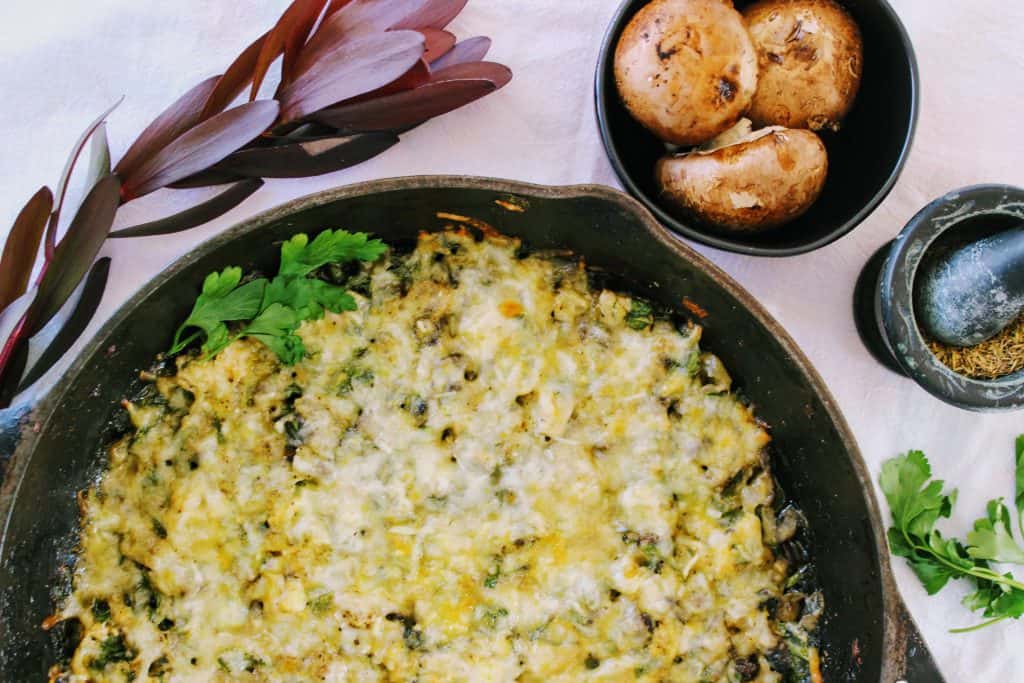 Low Carb Turkey Tetrazzini Skillet Recipe
So, what about the keto Turkey Tetrazzini Skillet recipe?
This is probably one of the most accidental recipes I've ever posted here. No, really.
It was one of thos days: "Well, I have this half chunk of mozzarella, and leftover turkey from Thanksgiving (or Easter or whatever it was), a bunch of parsley that won't make it past tomorrow, and some mushrooms my kids won't eat anyway…"
And then some Pinterest searching that ended in just making something up. When I searched again later, I saw that there was something called turkey tetrazzini that used similar ingredients, plus pasta.
Never miss a new recipe! Sign up for our newsletter and get a FREE Keto Grocery List Cabinet Cheatsheet!
So there you have it. Now you know my wackadoodle process of creating recipes for my site.
Making Keto Recipes
Truth be told, that's only part of the story. I'm a single mom of 4 kids, going to school full time for my master's degree.
So, yeah, I really just have to throw things together sometimes and see what sticks. My kids love me. Ha!
Have more leftover turkey? Here are more keto recipe ideas for using up leftover turkey: Baked Southwest Stuffed Avocados, Low Carb Leftover Turkey Casserole, and this Crunchy Healthy Turkey Salad (leave out the carrots and red pepper if you're wanting to make it more keto friendly).
But when I have time, I spend hours and hours on one recipe, and that's normally what makes it into Keen for Keto.
This turkey tetrazzini recipe in a skillet really couldn't be easier. And instead of finding a replacement for the pasta, I of course just left it out. You won't miss it. It's THAT good.
I'm not against keto pasta variations, I just don't use it much. I love swiching pasta out for spaghetti squash, like in my Keto Spaghetti Squash Alfredo Recipe with Chicken.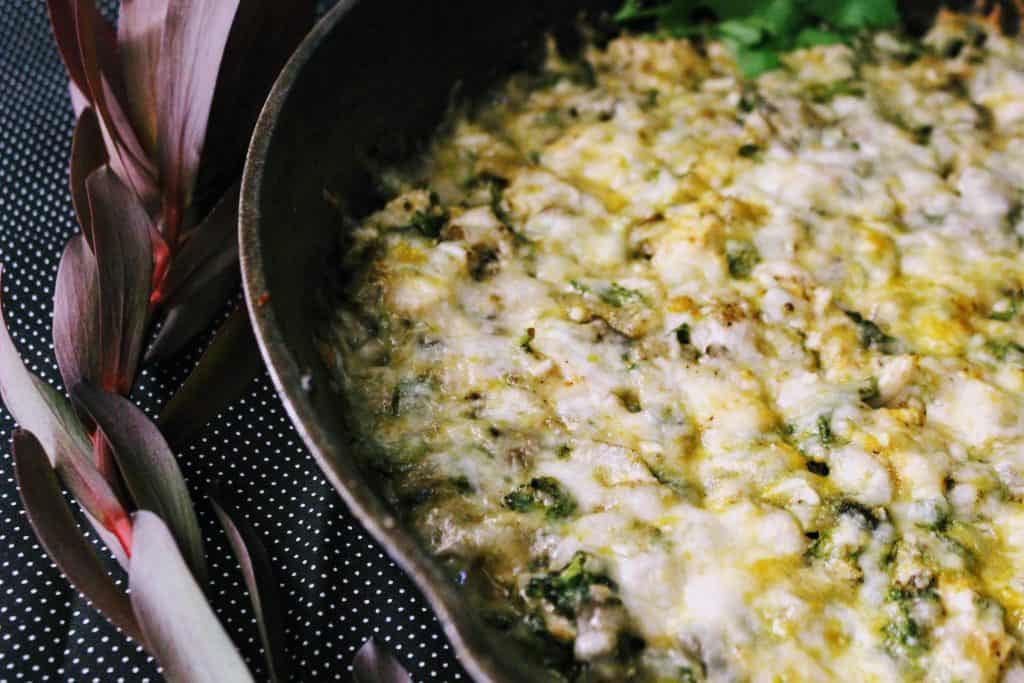 FAQs for Keto Tetrazzini Skillet
Do I have to have a cast iron skillet to make this keto turkey tetrazzini skillet?
Nope! You just have to have some sort of skillet. If yu're not using an oven-safe skillet, like a cast iron, you can start it on the stove, pour it into a baking dish, smooth it over, and then bake it the same way.
What's the nutritional yeast for?
If you've never used nutritional yeast, you need to. Okay, so it's not an essential part of this recipe, but if you're a nooch aficionado like I am, you're always looking for places to put it.

Nutritional yeast goes really well in savory comfort foods like this turkey skillet recipe. It's an umami flavoring that's similar in flavor profile to cheese.
Keto Turkey Tetrazzini Skillet
Ingredients
1 large onion, diced
1 1/2 cups sliced mushrooms, sliced
1/3 cup butter
1/3 cup heavy whipping cream
3 cups turkey, diced
1/2 cup fresh parsley, chopped (optional)
Instructions
Preheat oven to 350° F.
Melt butter in cast iron skillet. Add onion, mushrooms, and chicken paste. Saute for about 20 minutes, until onion and mushrooms begin to caramelize. If you prefer more caramelization, you may caramelize for up to 40 minutes.
Add sage, garlic, thyme, and pepper. Stir for one minute.
Add cream and nutritional yeast (optional) and stir occasionally at medium heat until thickened, about 5-10 minutes.
Stir in turkey, parsley (optional), and 1/4 cup Parmesan cheese and remove from heat.
If using a non oven-safe skillet, pour ingredients into an oven-safe baking dish (an 8" x 8" dish should work).
Sprinkle mozzarella and remaining Parmesan on top.
Place skillet or dish into oven and bake at 350° F for 12-15 minutes, until bubbly and slightly golden. Garnish with more parsley, and serve.
Recommended Products
As an Amazon Associate and member of other affiliate programs, I earn from qualifying purchases.
Nutrition Information:
Yield:

6
Serving Size:

3/4 cup
Amount Per Serving:
Calories:

344
Total Fat:

28g
Trans Fat:

1g
Cholesterol:

109mg
Sodium:

387mg
Carbohydrates:

5g
Net Carbohydrates:

4g
Fiber:

1g
Sugar:

1g
Protein:

29g
Keen for Keto is a participant in the Amazon Services LLC Associates Program, an affiliate advertising program designed to provide a means for sites to earn advertising fees by linking to Amazon.com. We appreciate your support!