Holidays are full of good cheer, friends and family, festive decorations, and delicious food. Some of that food includes candy. If you're doing the keto diet and you don't want to fall off the wagon around Christmastime and other holidays, you may need a little help. Which is why I've decided to create a list of sugar free Christmas candy.
I've divided the list into two separate sections:
Sugar free Christmas candy recipes
Keto candy that you can buy, along with links where you can purchase them.
I'm so excited about this list! Let's get started.
Keen for Keto keto recipes blog is a participant in the Amazon Services LLC Associates Program, an affiliate advertising program designed to provide a means for sites to earn advertising fees by linking to Amazon.com, as well as other affiliate programs. We appreciate your support!
Never miss a new recipe! Sign up for our newsletter and get a FREE Keto Grocery List Cabinet Cheatsheet!
Keto Sugar Free Christmas Candy to Make
Who doesn't love homemade Christmas goodies? Homemade Christmas candies are like the shining jewels of a Christmas treat platter! Try adding some of these to your dessert table or your cookie plates to give out this year. They're great for diabetic, gluten free, and sugar free guests.
Or just make them to enjoy! I know our family gets a box of chocolates every year around Christmas. Maybe this year we'll do sugar free chocolates and make it healthy and homemade!
Related: Keto Thanksgiving Side Dishes
And if you're looking for baking supplies for your keto treats, check out ChocZero's sugar free chocolate chips. They even have white chocolate peppermint chips now! I love that they use monkfruit sweetener as a sugar replacement. Don't forget to use my discount code keenforketo for 10% off of this and anything else on their site!
Now let's get to those treats!
First up–the classic traditional stocking stuffer: sugar free dark chocolate oranges! These cute little orange slice truffles are made with a mold and I like to add orange foil to a full set of slices to make it even more authentic. Why do anything half way, right? You can find the mold and the orange foil squares if you follow the link to the post.
These truffles have a chocolate orange ganache filling with a sugar free chocolate coating.
These gorgeous sugar free chocolate raspberry truffles look so festive all decorated in red and gold! If you want to decorate them exactly like the photo, check out the post for the special chocolate mold and decorations.
These truffles have a chocolate raspberry ganache filling coated with more sugar free chocolate. If raspberry isn't your thing, you can leave it out and add 1/2 teaspoon more vanilla, or use another flavoring of your choice.
These truffles are suitable for any crowd–my non-keto friends even rave about them!
Keto Chocolate Peppermint Bark: four simple ingredients come together quickly to create a beautiful crowd pleasing treat you will be proud of. Bark is one of the easiest things to make!
Looking for more holiday-friendly keto treats? Check out these Keto Cheesecake Recipes!
These peanut butter cups are appealing to a broader amount of readers, and it's not just because of their taste (which is so good!), which also makes them great for a Christmas cookie platter that will be going out to multiple families with different food sensitivities.
They happen to have 3 things going for them (4 if you want to count the taste!): 1. they're sugar free, so they appeal to the keto/diabetic crowd, 2. they're gluten free and grain free–great for celiac and gluten-sensitive people, and 3. they're vegan for the vegans and vegetarian keto friends.
AND, if you need these keto peanut butter cups to be peanut-free, they also work great with almond butter!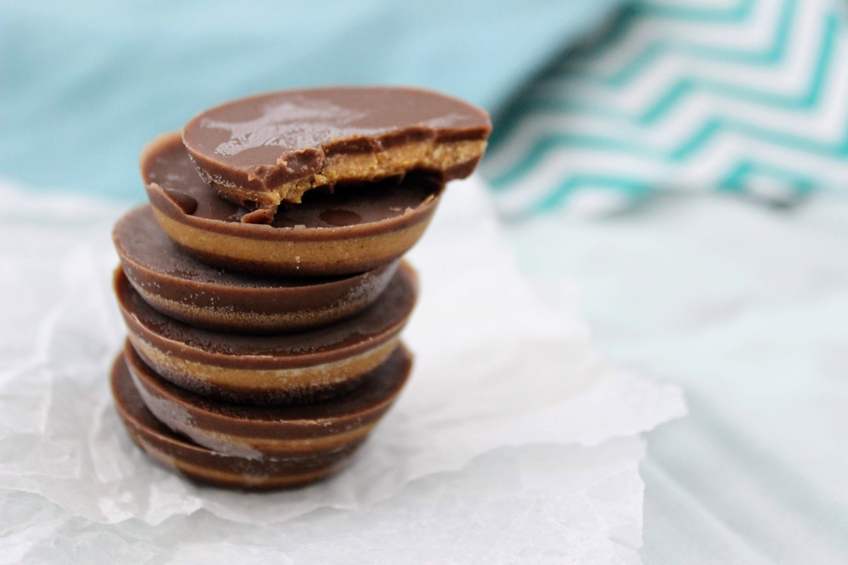 These Keto Samoa Fudge Bombs are made with flavors inspired by the Girl Scout Cookie. A low carb, chocolaty fudge truffle bomb with a caramel coating and coconut sprinkles.
These easy truffles are actually the same recipe as the raspberry truffles, but you make them without the chocolate coating. If you don't want to mess with a mold or spend time decorating your truffles, this is the easy way to do it. My kids LOVE helping me make them this way!
Just make the chocolate ganache in whatever flavor you want, and then roll it into balls and roll the balls in whatever topping you like: coconut flakes, freeze dried crushed raspberries, powdered sweetener, cocoa, chopped nuts, etc. Just follow the link to the raspberry truffle page and follow the directions in the post to skip using the mold.
A delightful peanut butter candy with nuts and coconut, all dipped in chocolate. These will soon become one of your favorite Christmas candies!
With just 6 simple ingredients, this keto fudge is super easy to make!
Want to browse our keto dessert recipes? Go for it!
If you need easy and simple, these haystacks pass the test! These are also paleo and vegan.
These Keto peppermint patties will hit the spot while keeping you feeling festive this holiday season! Just 1 net carb per 3 patties.
This toffee will keep you on the keto diet while allowing you to still indulge in a Christmas favorite. Add some pecans or other nuts for extra crunch!
Never miss a new recipe! Sign up for our newsletter and get a FREE Keto Grocery List Cabinet Cheatsheet!
No need to worry about the naughty list with this keto peppermint fudge! It's less than 1 net carb per serving! See the section below to grab a bag of sugar free peppermint hard candies for this fudge.
If you love the combo of sweet and savory, you'll love these nut clusters!
Related: Keto Pumpkin Spice Cream Cheese Danish
Keto Christmas Candy to Buy
What's Christmas without the classic peppermint hard candy? You don't have to miss out just because you're doing keto. These are great for crushing to put in keto treats liek the peppermint bark in the list above or in your keto hot cocoa!
Whaaat? Are you serious? A keto-friendly advent calendar??
Yes my friends, this is fo'real. ChocZero created an adorable advent calendar this year so you can fa la la la la right along with your non-keto friends. And you have the choice of dark or milk chocolate! Don't forget to use my discount code keenforketo for 10% off of this and anything else on their site!
I'll be honest, I haven't tried these cherry cordials, and there are no reviews yet on Amazon, but cherry cordials are such a Christmas staple, I wanted to include them in case my readers wanted to take a chance on them. They look super yummy, and the other sugar free candies from this company get good reviews.
Never miss a new recipe! Sign up for our newsletter and get a FREE Keto Grocery List Cabinet Cheatsheet!
I had to include a keto-friendly candy cane in this list! These red and white candy canes are 3.5″ tall and perfect for dunking in your cozy keto hot chocolate.
If you're not in the mood for making your own bark, you'll want to grab a bag of this ChocZero Peppermint Bark instead. ChocZero sent me a bag a while back and oh. my. goodness–it's amazing! It's quite easily one of my favorite keto treats, Christmas or not.
Don't forget to use my discount code keenforketo for 10% off of this and anything else on their site!
For my family, a box of chocolates around the holidays is a long-held tradition. These ones are just 5 carbs per truffle and the box comes with a pretty card if you want to grab a second one to give as a gift!
These squares of white chocolate are infused with peppermint for a creamy melt-in-your-mouth Christmas-on-your-tongue taste! They're also made with real cocoa butter, so you're getting the real deal here. ChocZero uses my favorite sweetener, monkfruit. So if you're also a fan, you'll love these high-quality chocolate treats!
Don't forget to use my discount code keenforketo for 10% off of this and anything else on their site!
Wow, these candies really bring me back! I love all the old-fashioned candies that seem to pop out of nowhere around the holidays. These cinnamon discs are keto-friendly!
Don't feel like baking? Try one of our keto no bake desserts!
Caramel fans, this one's for you! These keto caramel cups are sugar AND sugar alcohol free and are only 1 net carb per piece!! Excuse me while I add these to my Amazon cart…
Have you found any really fun Christmas candies that are sugar free and keto-friendly? Let me know in the comments and I might add them to the list! Happy holidays!
This post may contain affiliate links. As an Amazon Associate I earn from qualifying purchases.
Never miss a new recipe! Sign up for our newsletter and get a FREE Keto Grocery List Cabinet Cheatsheet!