These Keto Taco Stuffed Avocados are definitely one of the easy meals on my Keto Super Taco Meat meal list. Make the taco meat, mix in some cheese, add toppings, and voila! Easy low carb gluten free keto lunch or dinner.
If you've been wanting to try stuffed avocados, this is a great stuffed avocado recipe to start with!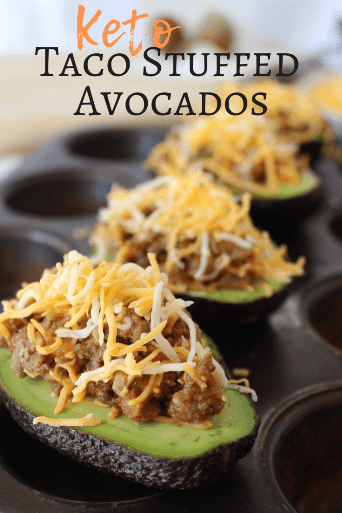 This post may contain affiliate links. As an Amazon Associate I earn from qualifying purchases.
Never miss a new recipe! Sign up for our newsletter and get a FREE Keto Grocery List Cabinet Cheatsheet!
You May Love These Keto Stuffed Avocados If…
If you're new to keto or just have an aversion to using lettuce for your tacos, these taco stuffed avocados are the perfect alternative.
(But if you also love lettuce tacos, try this recipe!)
If you're obsessed with avocados. If you're that person, the person who hogs the guacamole.
You know who you are.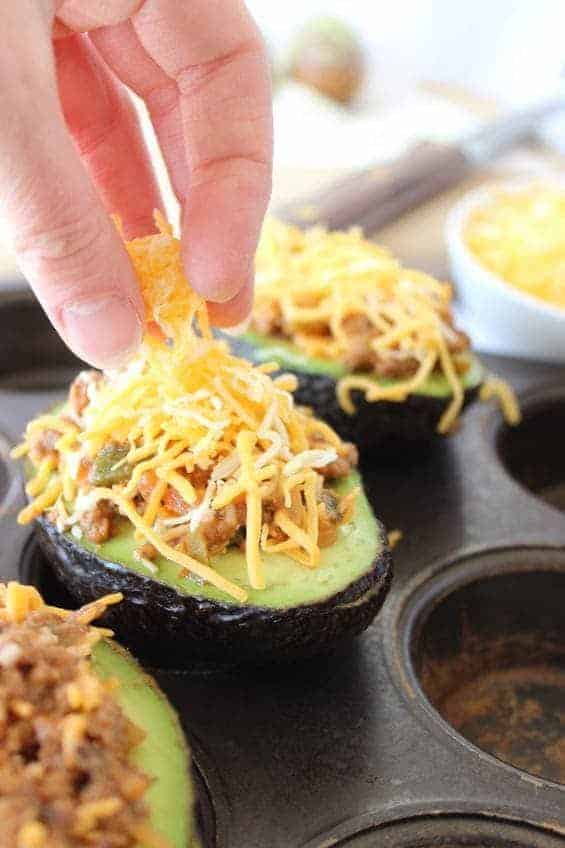 If you LOVE to try new things. I'm one of those weird health fanatics who likes to try everything, so I was using lettuce for my tacos for years before I stopped eating gluten and before I heard of the keto diet.
You might love these avocados if you're into quick and easy keto meals. These stuffed avocados are great for those nights when you don't have the energy or time to plan ahead. Especially if you already planned ahead and made a big batch of Keto Super Taco Meat.
Wondering what else you can use for tortillas, filling, and toppings?? Check out my post on Keto Diet Tacos!
Avocado Nutrition
The biggest reason people love avocados on the keto diet is because they are packed with healthy fats while being fairly low in carbs.
One cup of avocado has 21 grams of fat and 12 grams of carbs. With 10 grams of fiber, if you're counting net carbs, that comes to just 2 net carbs per cup!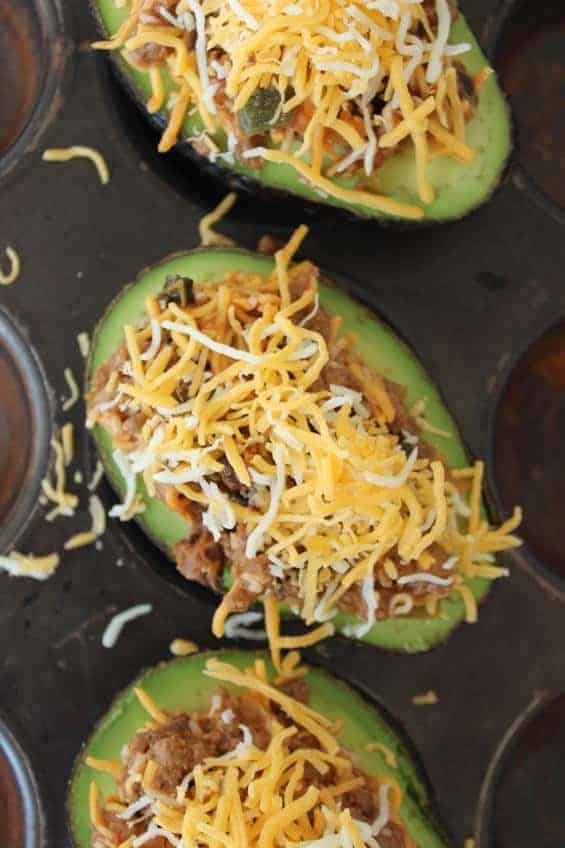 Avocados have some great micronutrients, too. 10% magnesium, 24% vitamin C, 4 % iron, 20% vitamin B6.
Avocados are also high in folate, vitamin K, potassium, and vitamin E. I found it interesting that they're also high in copper, which is pretty low in the western diet.
They also contain high amounts of carotenoids, antioxidants, and compounds that help assist in blood sugar control. What an amazing fruit!
More taco recipes here! And check out this outstanding Keto Tamale Pie recipe!
Tips for Keto Stuffed Avocados
I normally use a hass avocado, but I don't see why other avocado types wouldn't work.
As I've said before, you can absolutely use whatever taco meat recipe you like to use. BUT I really recommend trying my Keto Super Taco Meat recipe.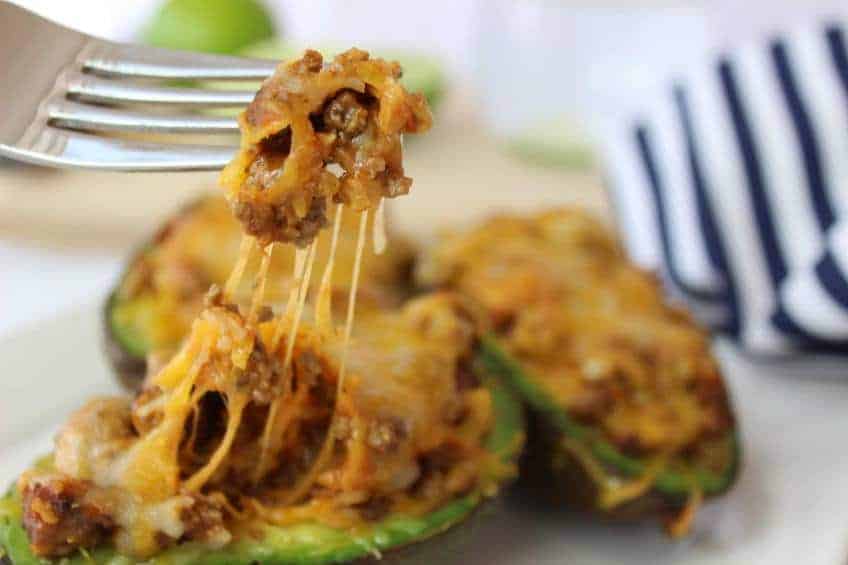 There are a few extra tweaks in that meat that just make your taste buds sing! You might never go back!
These Mexican stuffed avocados aren't difficult if you know a few tips.
The best tip I can give you for avocado baking is to use a muffin tin. Avocado halves are so wobbly when placed on a baking tray.
There's nothing more frustrating than making a delicious taco filling and stuffing your avocado, only to have the avocado halves tip over and spill all that yumminess on the tray. Not cool.
Placing the avocado halves face up on a muffin tray will help cradle these keto stuffed avocados carefully, so they don't make a mess in your oven and spill the filling.
If you love stuffed avocados, don't forget to try our Keto Southwest Salad Stuffed Avocados!
Related: Keto Stuffed Peppers with Cream Cheese and Sausage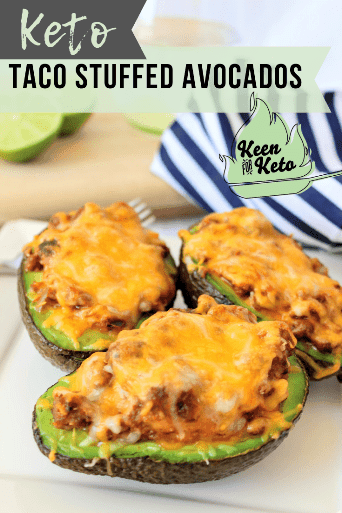 Another tip is to stuff these babies as full as you can.
Okay, maybe that's just personal preference. But if you like your filling to avocado ratio to be pretty even–like I do–I'm here to tell you that's A-OK!
You might have to take extra precautions (like using a muffin tin) to be sure the avocados don't spill. But once the stuffed avocados are baked, the cheese melts and holds it all together like glue, no mess.
I hope you love these taco stuffed avocados as much as I do!
Click here to get the Keto Super Taco Meat recipe to use with these stuffed avocados!
If you're looking for more keto avocado recipes, try these!
California Sushi Roll Stuffed Avocados
Keto Southwest Salad Stuffed Avocados
Tomato Cotija Salad with Tomatillo Dressing
Keto Taco Stuffed Avocados
These Keto Taco Stuffed Avocados are definitely one of the easy meals on my Keto Super Taco Meat list. Make the taco meat, mix in some cheese, add toppings, and voila! Easy low carb gluten free keto lunch or dinner.
Ingredients
2 ripened avocados, cut in half and pit removed
¼ cup diced fresh tomatoes, or salsa
½ cup shredded Mexican or cheddar cheese, divided
Instructions
Preheat oven to 400 degrees.
Place Keto Super Taco Meat (or other taco meat of your choice), tomatoes, and ¼ cup cheese to a medium bowl and stir together.
Divide the filling between the avocado halves and stuff filling into the halves.
Sprinkle with remaining cheese and place on a baking sheet. Tip: Use a muffin pan instead of a regular baking sheet to keep the avocados from tipping in the oven.
Bake for 8-10 minutes, or until cheese is melted. Serve warm. To eat, scoop out with a spoon or fork.
Nutrition Information:
Yield:

4
Serving Size:

1/2 avocado, stuffed
Amount Per Serving:
Calories:

259
Total Fat:

22g
Cholesterol:

29mg
Sodium:

153mg
Carbohydrates:

9g
Net Carbohydrates:

6g
Fiber:

3g
Sugar:

0g
Protein:

11g
Pin this recipe to your keto board now!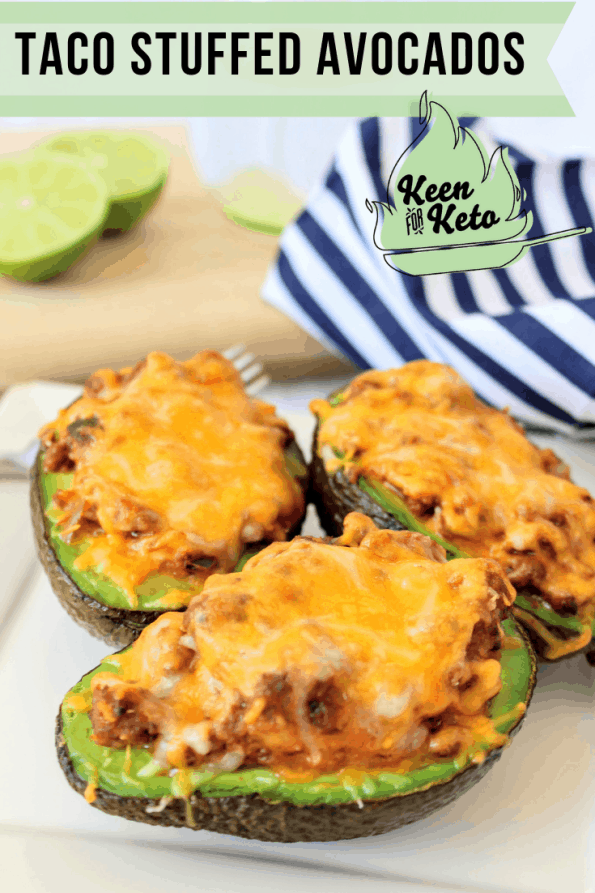 Keto Super Taco Stuffed Avocados are yet another way you can use Keto Super Taco Meat. Awesome! Make keto dinner quick and easy. keenforketo.com | low carb stuffed avocados | keto baked avocados | low carb taco avocados recipe | keto dinner recipe