Nothing beats a fresh chocolate truffle. These Keto Sugar Free Dark Chocolate Orange Truffles could fool even the staunchest keto diet denier. Smooth dark chocolate is molded around a creamy chocolate truffle center for one of the easiest low carb indulgences you will ever taste!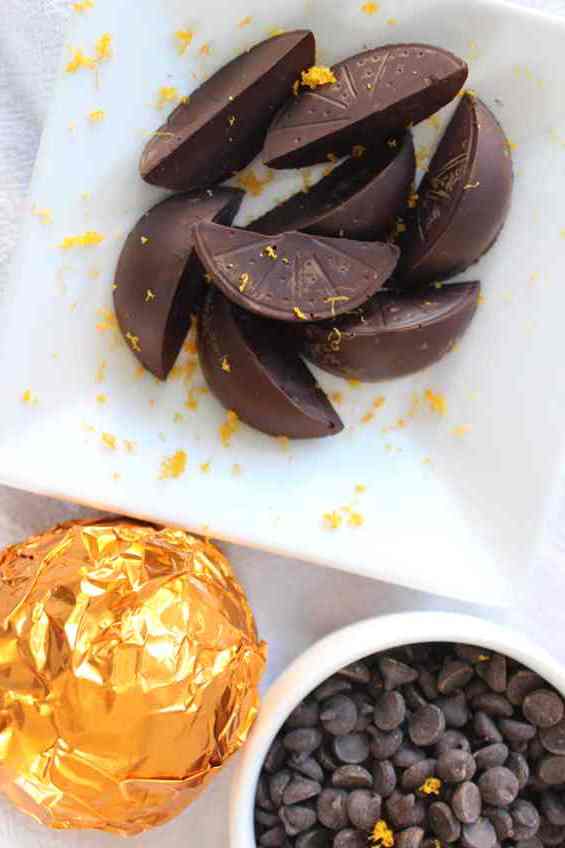 This post may contain affiliate links. As an Amazon Associate I earn from qualifying purchases.
Never miss a new recipe! Sign up for our newsletter and get a FREE Keto Grocery List Cabinet Cheatsheet!
If you'd like to see the products I used to make these truffles (silicone orange slice mold, orange oil, etc.) please scroll down to just above the recipe card. These are all affiliate links, and I do make a commission off each purchase price (thank you!!), without costing you anything extra.
If there is one tradition alteration most of us can approve of, it's changing something from its original form into a new and improved chocolate version. Which is what we've done with the Christmas orange. We went from oranges, to chocolate oranges and now we've turned the chocolate oranges into truffles. Oh, yes.
And can I just stress before we start, that this is truly an easy, easy, easy treat? I was nervous about attempting this, but when it was over, I had to admit it was just about as easy as making cookies!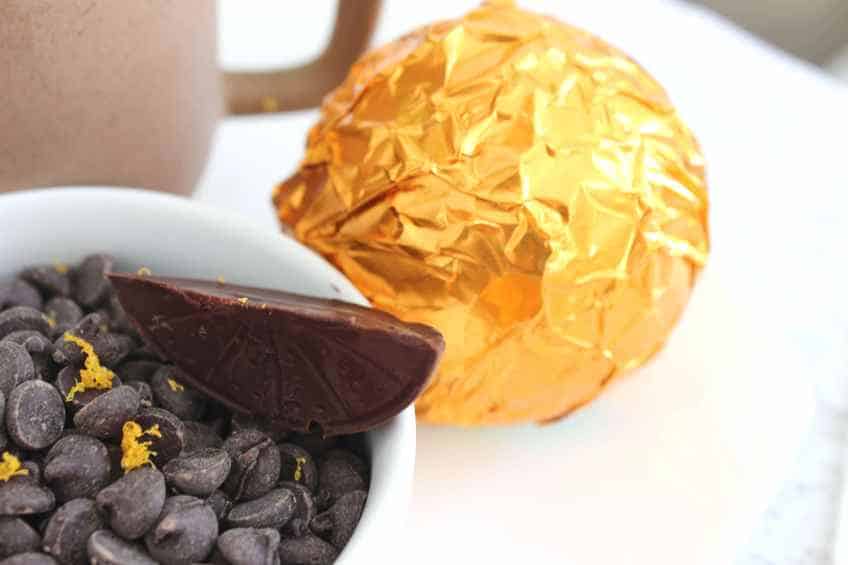 I'm SO excited you're here to see my new recipe! Don't forget to review AND rate this when you're all through!
Related: Keto Sugar Free Christmas Candy to make and buy
The Legend of the Christmas Orange
I love the story of Christmas oranges. Oranges are everywhere and available in grocery stores in the coldest climates now, but they weren't always.
They were so rare and expensive in olden days in northern regions that it was a special Christmas delight to find an orange weighing down the toe of a stocking.
While oranges were given as a luxury gift, there's actually a Christmas legend that many point to as the origin of the Christmas orange.
Related: Sugar Free Chocolate Raspberry Truffles
Jolly (and Generous) Old St. Nicholas
The oranges became a symbol of the gold that Saint Nicholas gave to a family. The family's three daughters had no money to give for their dowries.
St. Nicholas heard of this and threw sacks of gold down the family's chimney. The gold just happened to fall into the girls' stockings that were hanging to dry by the fire.
Our family has celebrated Saint Nicholas Day since our kids were little. We're not Catholic, but love stories of good deeds from long ago. St. Nicholas has some really neat stories. And celebrating St. Nicholas Day is easy and cheap for the amount of delight it gives our kids.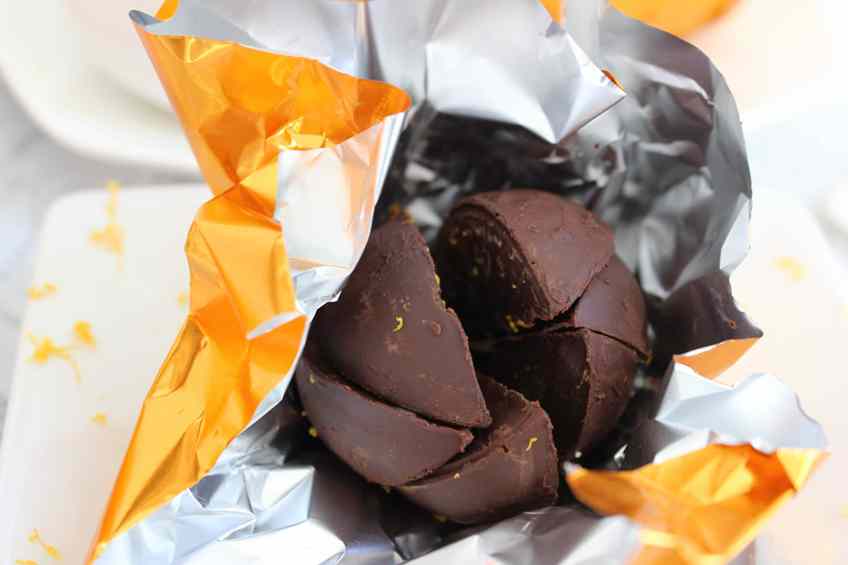 Celebrating with Low Carb Chocolate Truffles
Do you celebrate St. Nicholas Day? If you don't I'll give a quick rundown. St. Nicholas Day is on December 6th. It's a European holiday that is celebrated in quite a few different ways. The way we celebrate is by putting our shoes outside the door (or my kids' bedroom doors) before bed on December 5th.
The next day, the kids awake to find that St. Nicholas has put treats in their stockings. St. Nicholas normally puts just one candy cane in each shoe. This tradition symbolizes the generosity that St. Nicholas was known for throughout his life. A great trait to emulate!
Since we're trying to make the transition to a sugar free home (we're still figuring out how to adapt the keto diet for the kids), I think this year St. Nicholas will gift the children these Keto Sugar Free Chocolate Christmas Orange Truffles instead of candy canes. Coincidentally, they're more authentic anyway!
Some years, I really like to go all out for my kids and make Christmas as magical as possible. They're only little for such a short time, and I think having special memories will help them throughout their lives when things are rough.
Find more keto chocolates recipes!
Notes for Keto Sugar Free Dark Chocolate Orange Truffles
Because these chocolate orange truffles are as natural as possible, with no chemical hardeners, you'll want to store them in a cool place. They melt easily in your hands.
Pastry bag: If you don't have pastry bag, a plastic zip bag will do just fine. Gallon bags tend to be thicker than sandwich bags, so I recommend using a gallon bag to prevent ripping. Speaking from experience.
Silicone mold: If you don't have an orange slice silicone mold and you don't care what shape your truffles are, go ahead and use whatever you have or whichever shape you choose. I only had one orange slice mold when I made these, so I used another one to finish up my ingredients.
"A chocolate orange truffle by any other shape would taste as sweet." Pretty sure that's what Shakespeare said.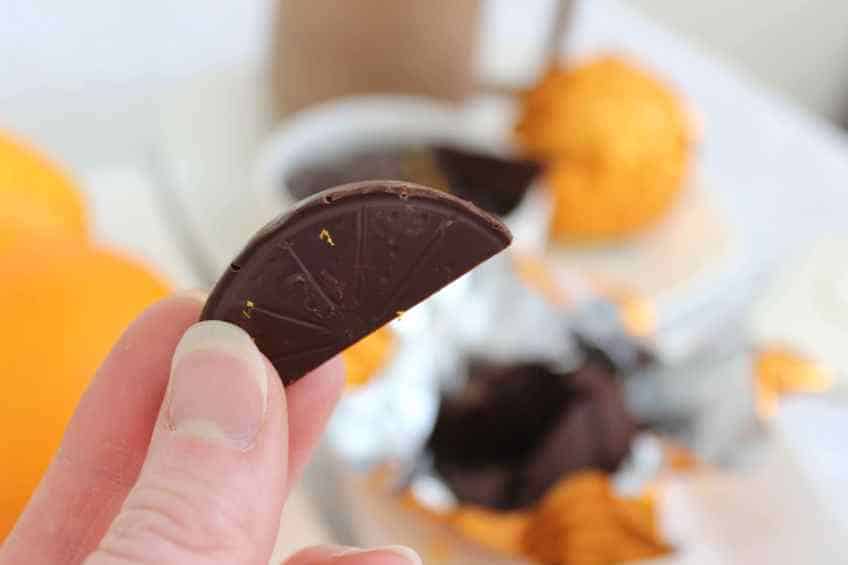 Chocolate: The dark chocolate in the recipe is perfect to me, but if you're not into that tad-bit-bitter taste, you can try a milk chocolate. If I'm honest, I don't think milk chocolate is a great pairing with orange, but you do you.
For these keto chocolates, I used half sugar free chocolate chips and half baker's chocolate.
If you'd like to splurge for some really decadent keto chocolate, try replacing some of the chocolate with some of these 50% cocoa chocolate squares (if you don't eat them all first!). Or keep some of your money and use my code KEENFORKETO and get 10% off anything you purchase from ChocZero (yes, they are the keto syrup people!).
Orange Oil: If you're wondering why I use wild orange essential oil instead of orange extract, there are a few reasons. It's natural, and I'm always trying to kick my recipes up a health notch.
Also, there are TONS of benefits to orange oil: orange oil enhances immunity, relaxes muscle spasms, it's antibacterial, lowers blood pressure, is anti-inflammatory, reduces bone and joint pain, calms anxiety, is a mood booster, can promote the production of collagen, aids in reducing insomnia, and SO much more.
Plus, it's just really tasty in truffles!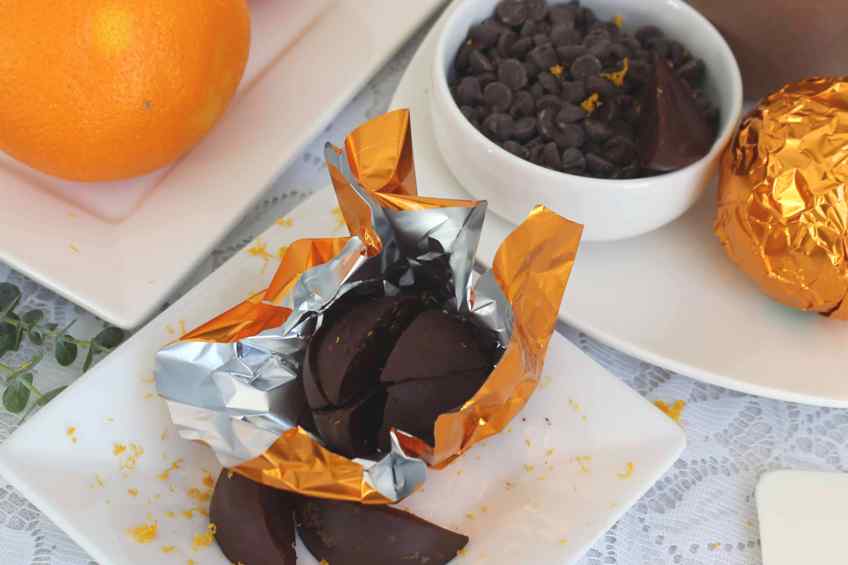 What's a double boiler?
A double boiler is a pan filled with a little water at the bottom–maybe 1 inch of water. A metal bowl is placed on top of the pan, so that it sits on the rim on the pot, not allowing steam to escape. Whatever food you're trying to heat goes into the bowl.
The reason double boilers are used is because the heat is less direct and more gentle. This is necessary for making the chocolate coating on these truffles because a more direct heat would be too harsh for the chocolate, burning it.
Be very careful not to let any water from the steam get into the chocolate as you melt it. The water can cause the chocolate to seize up and your finished product will be lumpy and not as pretty. But don't worry too much!
If your bowl's circumference is larger than the rim of your pan, it should prevent any steam from escaping.
I would not recommend melting the chocolate in the microwave. It's not as gentle, not as even, and especially with dark chocolate or bakers chocolate, it's very easy to burn it.
If you want your chocolate to appear smooth and unblemished, be sure to follow all the instructions for melting the chocolate, otherwise something called "chocolate bloom" can happen. The chocolate will still taste fine, but it won't be as pretty.
Tip for Thinning Chocolate
If your chocolate is so thick that it's hard to pour and distribute among the truffle molds, you can add a teaspoon of coconut oil while the chocolate is warm.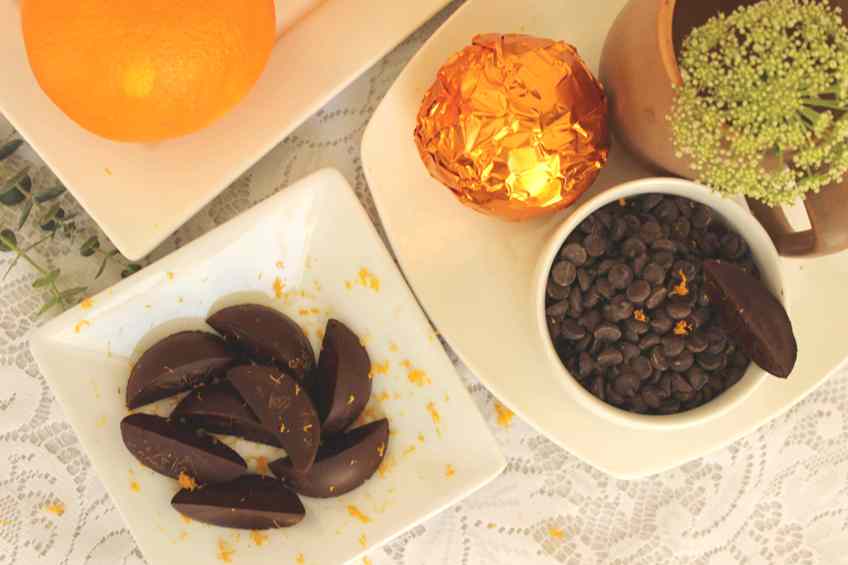 Storing your chocolate truffles
When allowing the truffles to cool, either during the process or after, try not to place the truffles in the freezer. This can also cause light blemishes, especially immediately after making these keto chocolates.
The best way to avoid this is to allow these keto chocolate truffles to set on the counter at room temperature for about an hour before placing in a cool spot. If the truffles don't get eaten the first day, they should be refrigerated or frozen.
Also, as I mentioned previously, these chocolates don't have harsh hardening chemicals. So you'll want to make sure if you plan on putting these in stockings, it's not above a lit fireplace or you'll end up with a chocolatey, soupy mess in your stockings…which would smell pretty good, ha!
Supplies you may need for Keto Sugar Free Dark Chocolate Orange Truffles:
ChocZero 50% cocoa Dark Chocolate Squares
(Look below the recipe for more supplies you may need for Chocolate Orange Recipe.)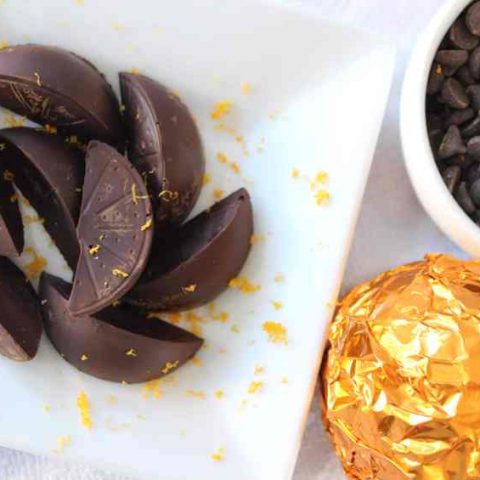 Keto Sugar Free Chocolate Orange Truffles
Yield:
6 servings (2 chocolates each)
Creamy chocolate orange ganache covered with dark chocolate. These Keto chocolate orange truffles are similar to the Terry's chocolate Christmas oranges sold in stores around the holidays. Once you try a FRESH chocolate truffle, you'll never go back! 
Ingredients
Ganache truffle Center:
Chocolate coating:
Instructions
Ganache truffle center:
Place dark chocolate in a medium bowl.
In a small saucepan, heat heavy whipping cream over medium heat until boiling. Allow to boil for one minute, no longer.
Remove from heat and add stevia, orange oil, vanilla, and salt.
Pour cream over the chocolate and cover bowl with plastic wrap for about 5 minutes (you can start melting the chocolate for the coating while you wait).
Stir the chocolate gently with a rubber spatula.If the chocolate hasn't melted into the cream completely, cover it back up and allow it to sit and melt longer.
Add the butter and gently stir into the chocolate mixture.
Chocolate coating:
Melt ½ cup of the chocolate in a double boiler over medium heat, being careful not to drip any water into the chocolate.
Remove from heat and add the remaining chocolate to the bowl. Add the orange oil and stir gently with a rubber spatula. Do not stir too aggressively or air bubbles may get into the chocolate.
Coating the truffles:
Holding your silicone candy mold over the chocolate bowl so that any leftover chocolate can drip back into the bowl, spoon the chocolate into the molds until they're completely filled. Gently tap the bottom of the mold till you see bubbles coming up. This will help your finished chocolates not have bubble indentations.
Allow the mold to sit for about 2 minutes, or until you begin to see the chocolate thickening just around the outside.
Tilt the mold slightly over the chocolate bowl and allow the excess chocolate to pour out into the bowl, leaving just a shell.
Use a flat metal utensil or rubber spatula to scrape the excess off into the bowl, being careful not to scrape the chocolate shells you've just made.
Allow the mold to sit undisturbed on the counter till it's starting to set up a bit, but not completely (about 5-8 minutes.
Add about half of the ganache truffle filling to a pastry bag or a plastic storage baggie with about ¼ inch of the corner cut off.
Pipe the ganache into the orange slice shells that you've made with your mold, being careful not to fill them all the way (you'll be using the rest of the chocolate coating to cover the ganache).
Holding the mold at a tilt over the chocolate bowl again, spoon the chocolate into the molds, filling them the rest of the way. Scrape the excess away into the bowl as before, being careful not to scoop into the orange slice molds. Try to make as level of a scrape as possible so the bottom of your orange slices won't be lumpy.
Allow to set at room temperature for about an hour. If you don't eat them right away, be sure to refrigerate the truffles within 24 hours.
Notes
If you're worried about the chocolate hardening while you work on other parts of the recipe, you can always return the chocolate bowl to the double boiler with the heat off. The water will still be warm enough to keep it from hardening, but not so hot to make the chocolate too runny.
Nutrition Information:
Yield:

6
Serving Size:

2 truffles
Amount Per Serving:
Calories:

150
Total Fat:

16g
Cholesterol:

32mg
Sodium:

26mg
Carbohydrates:

5g
Net Carbohydrates:

5g
Sugar:

0g
Protein:

1g