Do you love Greek and Mediterranean flavors? Me too! So much that I considered making my website exclusively Greek keto foods.
If you're a Greek food enthusiast, you'll be so happy to make this easy keto Greek tzatziki dip!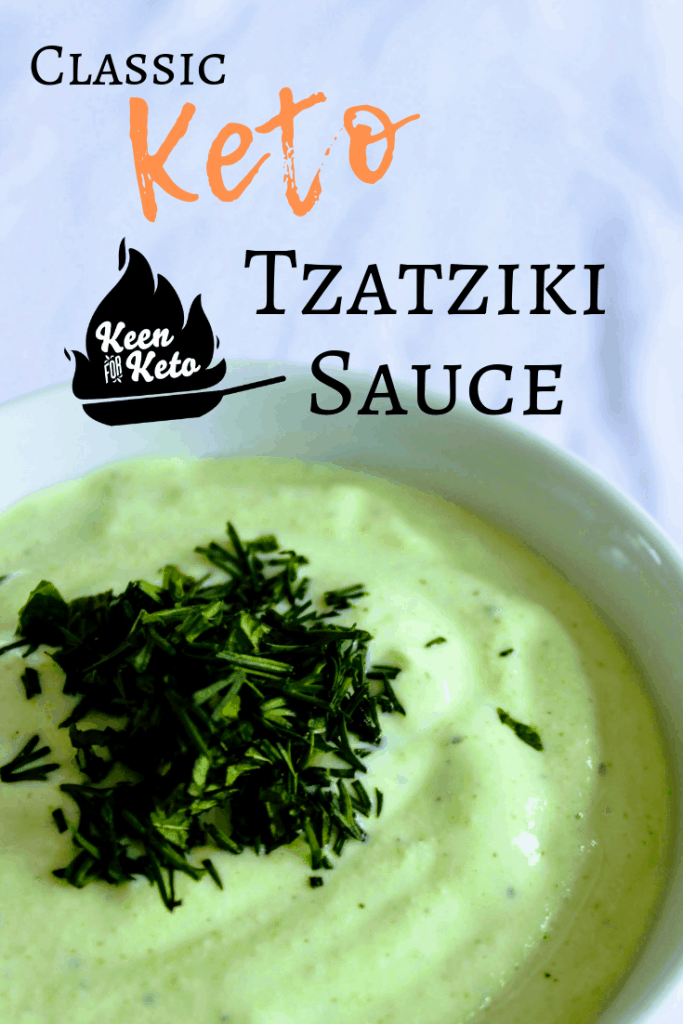 This post may contain affiliate links. As an Amazon Associate I earn from qualifying purchases.
Never miss a new recipe! Sign up for our newsletter and get a FREE Keto Grocery List Cabinet Cheatsheet!
Suggestions for Keto Greek Tzatziki Dip
I like to use this low carb tzatziki sauce on my Greek Tuna Cakes or my Mediterranean Tilapia recipe.
But you can use this for anything!
Lettuce wraps, chaffles, sandwiches, falafel, kofta, and more!
Love Greek salads? Try this Keto Greek Salad Dressing!
How to make this easy Keto Greek Tzatziki Sauce
You won't believe how easy this tzatziki is to make!
Did you know you can make it all in a blender? Now that you're excited, let's get cooking–er, blending!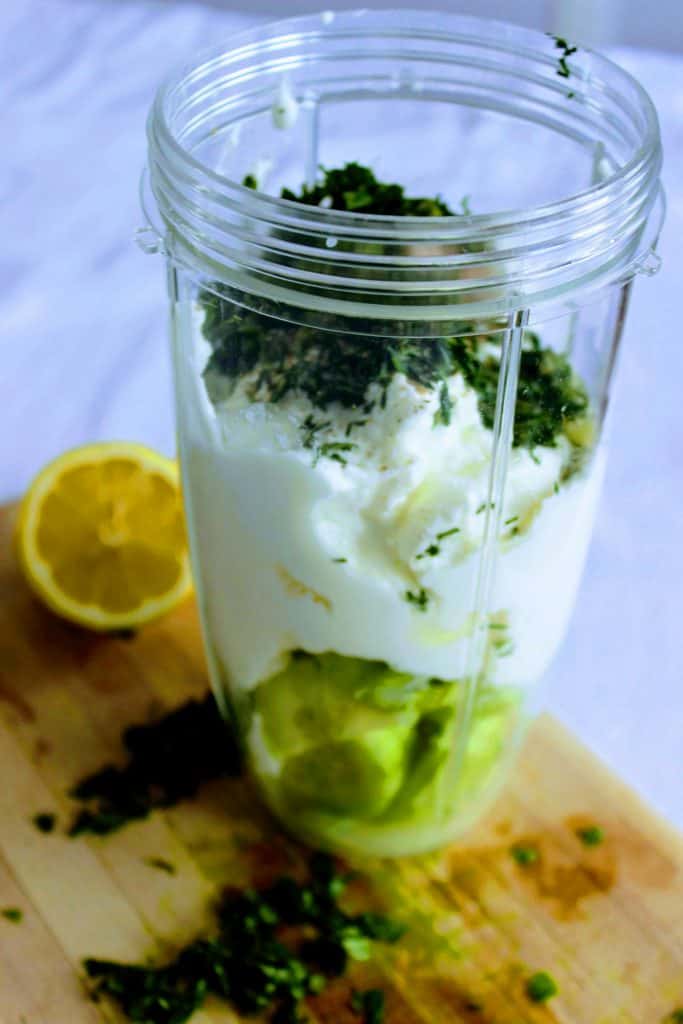 Like this Tzatziki? Try this Greek style tilapia recipe!
Time needed: 10 minutes.
Ready to make this classic Greek condiment? Let's go!
Gather ingredients for tzatziki

Get all of the ingredients together for your tzatziki: plain Greek yogurt, cucumber, dill, mint, lemon juice, salt and pepper.

Place all ingredients in blender and process

Process ingredients in blender. For a chunkier tzatziki, pulse intermittently. For creamier, smoother tzatziki, process till smooth.

Strain for thicker tzatziki, if desired

Place a clean flour sack towel over a large bowl and dump the tzatziki into the cloth. Gather up the edges of the towel and allow the liquids to drip into the bowl until the sauce is as thick as you like it.

You may gently squeeze the tzatziki in the towel, but be careful not to squeeze too hard or the yogurt will squeeze through as well.
You'll also love these Keto Greek Tuna Cakes!
If you love this Keto Greek Tzatziki Dip, please leave a 5 star rating below in the recipe heading!! Thank you!
Keto Greek Tzatziki Dip
The delicious classic Greek tzatziki condiment is already mostly keto, and with a few tweaks, is completely suitable for the keto diet!
Ingredients
1 Cup cucumber, roughly diced
1 Cup plain Greek yogurt, low carb like Fage
1-2 Tablespoons freshly squeezed lemon juice (or concentrate is fine)
Freshly ground black pepper, to taste
Instructions
Place all ingredients in a blender. Blend or pulse until desired consistency.
For chunkier or less runny tzatziki: Strain the tzatziki sauce by placing a clean flour sack towel over a large bowl. Dump the tzatziki into the flour cloth and gather the ends of the cloth into a bunch.
Hold the cloth up above the bowl and allow the liquids to drain out until the tzatziki reaches your desired consistency. Carefully scrape tzatziki into a bowl and serve!
Notes
I've included the macronutrient counts for this Greek keto tzatziki sauce recipe, but keep in mind that the counts are definitely off if you choose to strain yours. I've done my best to be accurate, but if you strain your tzatziki, some of the calories go down the drain...and I'm not sure which ones those are, since I'm no food scientist. Use your own best judgement!
Nutrition Information:
Yield:

14
Serving Size:

2 tablespoons
Amount Per Serving:
Calories:

27.9
Total Fat:

1g
Cholesterol:

0mg
Sodium:

38mg
Carbohydrates:

0g
Fiber:

0g
Protein:

2g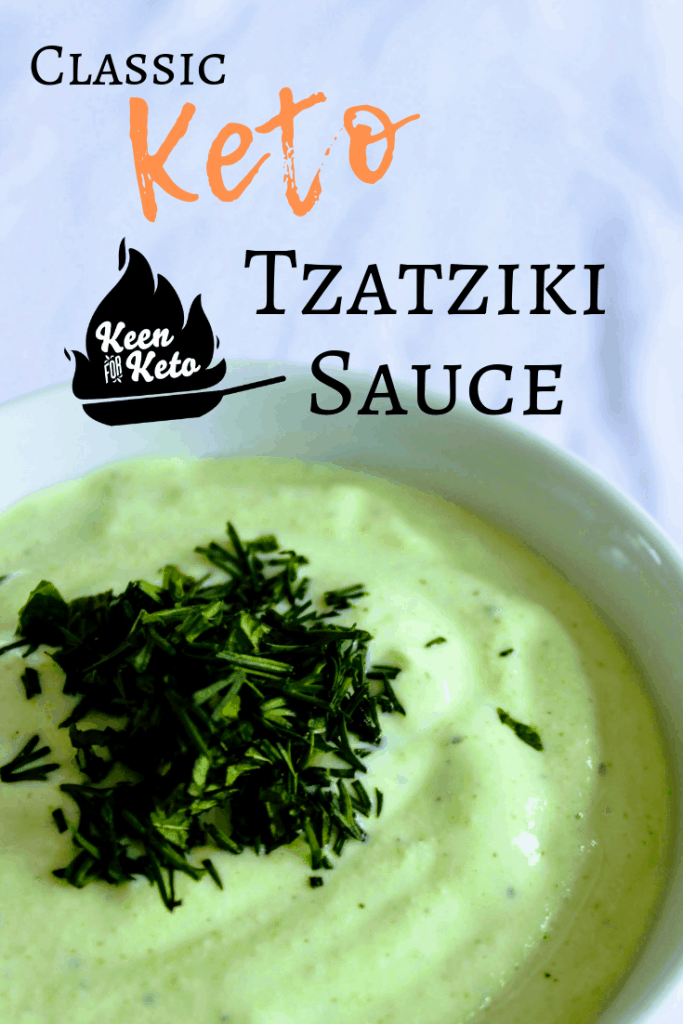 Greek Keto Tzatziki Dip is a low carb take on a classic Mediterranean condiment. Fresh herbs and refreshing cucumber come together with creamy Greek yogurt and fresh lemon juice. Yum! Keen for Keto | keto tzatziki sauce | keto Greek recipe | low carb Greek recipe | keto dip | keto recipes
Don't forget to sign up to receive new keto recipes right as we post them!