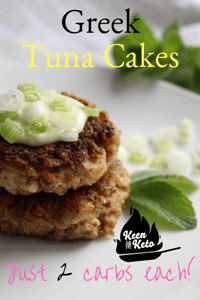 Greek and Mediterranean foods go so well with keto. Olive oil, fish, olives, feta, lamb, spinach, yogurt, garlic. If you're not partial to fish, Greek Tuna Cakes are a great dish to try.
The Greek flavors in these Greek Tuna Cakes are pungent enough to overshadow the tuna. Greek food is one of my favorite categories. I'm constantly trying to work Greek and Mediterranean flavors into my recipes. Opa!
Isn't it so fascinating how a culture learns to use a set combination of flavors so well that through centuries it becomes a beloved repertoire of dishes? Maybe I'm weird, but I think about this a lot when I'm cooking.
I wonder if you gave a group of people a certain list of foods and restricted them to that list for centuries, what sorts of interesting creations they would come up with. Or what if you took every culture's least favorite food and that was their list.  It's the ultimate Whatever's-Left-In-the-Fridge Stew scenario.
I bet the kids on MasterChef Junior wouldn't have a problem with that scenario. Those kids are inexplicable prodigies!
If you need a suggestion for topping your Greek Tuna Patties, try this yummy keto tzatziki dip!
The Kids Vote On Greek Tuna Cakes…
Back to earth…these Mediterranean tuna patties are kid approved. Maybe that's all you need to know. Some days, I know that's the only information I need to make a meal. You would think my kids would be used to my weird food experiments by now.
My kids do love salmon patties. I'm a sneaky mom like that. I take things my kids love (salmon patties) and tweak them with flavors they aren't sure about yet and trick them into loving those flavors.
Flax Meal as a Binder Instead of Breadcrumbs or Oatmeal
The flaxseed meal is helpful in this fish patty recipe as a binder. If you've ever made non-keto salmon patties or other fish cakes or meatballs, eggs are often used as a binder, which we use here, too. (Vegans use flaxseed meal as an egg substitute in baking because of its great binding properties.)
What we omit is the breadcrumbs normally present in other fish cakes.  If you omit the flax meal, your cakes will turn out fine and taste just as good.
However, you'll have to be gentle when flipping these low carb tuna patties, since they will have a tendency to be a little bit more crumbly without the flaxseed meal.
Flaxseed and Omega-3 Fatty Acids
Another awesome tidbit about flaxseed is its omega-3 fatty acid content. We'll talk soon about fats and why fat is not just fat. In our modern society today, our diet is overloaded with omega-6 fatty acids and not enough omega-3 fatty acids.
Flaxseed contains 42% fat. The ratio of omega-6 to omega-3 fatty acids is very low. In fact, flaxseed is the second highest source of the omega-3 fatty acid alpha-linolenic acid (ALA).
Flaxseed also has omega 6 fatty acids. The bad guys. Just kidding. We need omega-6 fatty acids, too. The problem isn't omega-6 fatty acids. The problem is that they're everywhere in our westernized diet, and omega-3 and omega-9 fatty acids are scarce, so the ratio is off balance.
1 omega-3 to 1 omega-6 would be a great ratio, or anything close to that, really. Unfortunately the westernized diet ratio is more like 1:20. Crazy!
I'll talk more about this another time, but if you're suffering from an overblown inflammatory response (like me) or an autoimmune disease, that 1:20 ratio is not helping.
Carbs and Fiber in Flaxseed
Flaxseed is also low carb, with just 1.5 grams of sugar. In contrast, there is a whopping 27.3 grams of fiber in flaxseed, which is great news for your gut flora.
Fiber is something I'll do an entire post on later, but suffice it to say that fiber is essential to gut health.
Certain types of fiber are actually what the good gut bacteria feed on. We may not even be able to digest it, but they can. It's a beautiful, symbiotic relationship. We take care of them, and they'll take care of us. (Read more about this relationship in neurologist Dr. David Perlmutter's book, Brain Maker. Eye opening!!)
Ketogenic Diet Promises
Sigh. It's time I admit how good the ketogenic diet sounds to me. I can't help it. The promises are so grandiose! I love that it is not referred to as a diet, but a lifestyle. Yes, you will lose weight on the keto diet. But so many people are not using it to lose weight at all.
They're using it to help with autoimmune diseases, skin problems, heart arrhythmias, mental clarity, sleeplessness, energy, heart disease, PCOS, ADD, thyroid, lyme disease, seizures, and on, and on, and on. Truly, every time I turn around, there's a new blog or testimonial out there about a different health issue being solved by keto.
If you want to read my story and why I'm researching keto, head over to the About Me page.
Then come back here and make these awesome Greek Tuna Cakes! You may also like to make your own 2-Minute Olive Oil Mayonnaise to smear these cakes with, instead of using the store-bought stuff (which, sadly, also contains unhealthy vegetable oils, too–follow the link to learn more about that). Or try this Keto Tzatziki Sauce. Opa! (Aaand, all the Greek people roll their eyes. See how self-aware I am?)
Greek Tuna Cakes
Quick and easy skillet-made Greek Tuna Cakes for a ketogenic dinner plan. If you love Greek and Mediterranean, these are for you! Gluten free and chock full of fiber and omega 3's! #GreekTunaCakes #ketotunacakes #tuna #keto #tunarecipe #lowcarb 
Ingredients
1 egg, beaten
½ cup crumbled feta
2 tablespoons green onions, minced
1 tablespoons lemon juice
2 tablespoons fresh mint, chopped, or 1 tsp dried
¼ teaspoon freshly ground black pepper
3 tablespoons olive oil
Extra feta and sliced green onions for serving
Instructions
Add all ingredients to a medium bowl. Mix with a fork. Form into discs with your hands. They should be about 2 ½ inches in diameter and almost 1 inch thick.
Heat olive oil in a cast iron skillet over medium heat. Sauté the tuna cakes for about 5-6 minutes. Turn over and cook an additional 3 minutes on the second side.
Serve on a bed of spinach or other greens, topped with a dollop of homemade mayonnaise, and a sprinkle of feta cheese and sliced green onions.
Nutrition Information:
Yield:

6
Serving Size:

1
Amount Per Serving:
Calories:

160
Total Fat:

13g
Sodium:

244mg
Carbohydrates:

2g
Protein:

19g