Whether you need keto gift basket ideas or a small token gift for a keto friend, this list of keto gifts should help you decide!
It can be so hard to think of what to give a keto dieter friend as a gift Especially if you're not doing the keto diet and haven't a clue what they are allowed to eat.
Keen for Keto is a participant in the Amazon Services LLC Associates Program, an affiliate advertising program designed to provide a means for sites to earn advertising fees by linking to Amazon.com. We appreciate your support!
Keto Gift Guide
Just to help you understand this list, I've first compiled groupings of gifts with themes, in case you'd like to give your keto dieting friend a gift basket or themed present.
Below these grouped keto gift ideas, I've made a short list of recipes you could make for your friend following the ketogenic lifestyle, in case your friend would enjoy receiving homemade keto gifts.
At the bottom of the post, you'll find individual keto diet gift ideas that I found amusing or helpful.
I really hope these ideas help you to bring a smile to your keto friend's face!
[mailerlite_form form_id=1]
Keto Gifts for the Herbal Tea Drinker
Does your keto friend LOVE herbal tea? There are so many benefits to the different types of herbs. I love this herbal tea gift box because the teas are loose leaf. This means your herbal tea aficionado can create their own combinations of herbs for a unique cup every time!
If you give your keto friend loose leaf tea, they'll need a tea ball, since there is no tea bag for steeping. I prefer this version of a tea ball, which is really a cylinder, because it has a lid with threads that keeps the herbs completely sealed in the cylinder. It evens comes with a saucer to avoid messes when taking it out of the cup, and for this price, upgrading from a regular ball is a no brainer.
Your keto dieting friend will need something to sweeten their herbal tea. For drinks, I prefer to sweeten with a liquid sweetener, like these sweet drops.
Your friend will be especially impressed if you get him or her a creamer that is actually ketogenic, like this one with MCTs and grass fed butter.
And of course, they'll need a cute mug to complete the keto gift basket!
Gifts for Your Keto Friend Who Loves Ice Cream!
Have you ever made your own ice cream from scratch in an ice cream maker? Oh. my. heavens! It is so much creamier! Did you know that companies have to put in extra chemicals to get their ice cream to be that creamy on the shelf?
There's something about the process of freezing ice cream that makes it a different texture, which is why freshly churned ice cream will always be better, in my humble opinion. And why your keto friend will adore you for gifting them this ice cream maker!
This is the exact ice cream maker I've had for at least 12 years now. It's a trusty old friend still going strong!
While I was adding my ice cream maker to this list, I noticed a newer version with all the bells and whistles. Personally, I don't think any of the new features are necessary, but maybe I'm wrong. With slightly higher ratings on Amazon (4.5 stars our of 5!), it might be worth trying out.
Having some Torani sugar free syrups for flavoring will make your keto friend's ice cream making experience so much easier!
And of course, they'll want to top it all off with some sugar free sprinkles! I'm an adult and I still put sprinkles on my ice cream. Don't judge. It helps me stay young. :)
Keto Gifts for the Cake Lover
It could not get any easier for your keto dieting friend! This chocolate mug cake mix has 5 single servings that your friend can make whenever they feel the sugar cravings start up.
And of course, they'll need a trusty Harry Potter mug to make that mug cake in!
And I suggest giving them some of these ChocZero chocolate hazelnut bark squares to chop up for the top of their mug cake. Be sure to use my discount code keenforketo in order to get a 10% discount on yours! Might as well get yourself a bag, too!
Homemade Keto Gift Idea
Another fun thing to do is to make your keto friend or keto coworker a gift that they will enjoy. You could try one of these fun keto recipes to give as a gift!
Keto Mason Jar Gift
A really fun gift to give is this Keto Pumpkin Spice Granola and Trail Mix and put it in a pretty mason jar with a lovely ribbon around the top.
This link has TWO recipes: one for the granola and one for the trail mix. You can easily make one or both for your keto mason jar gift. Don't forget to print the recipe off to include with the jars!
Homemade Keto Candy Gifts
Another great homemade keto gift option is chocolates. Seriously, who in their right mind would NOT appreciate homemade truffles or candy as a present?
I have three great keto candy recipes you can make for your keto dieting friend.
These pretty Chocolate Raspberry Truffles are sure to impress, no doubt!
And wouldn't they look so cute in one of these pretty boxes?
Or try making these Keto Chocolate Orange Truffles. They're great for any time of the year, but they're especially festive for Christmastime! The post will also have links for the orange foil and orange mold if you're like to go all the way!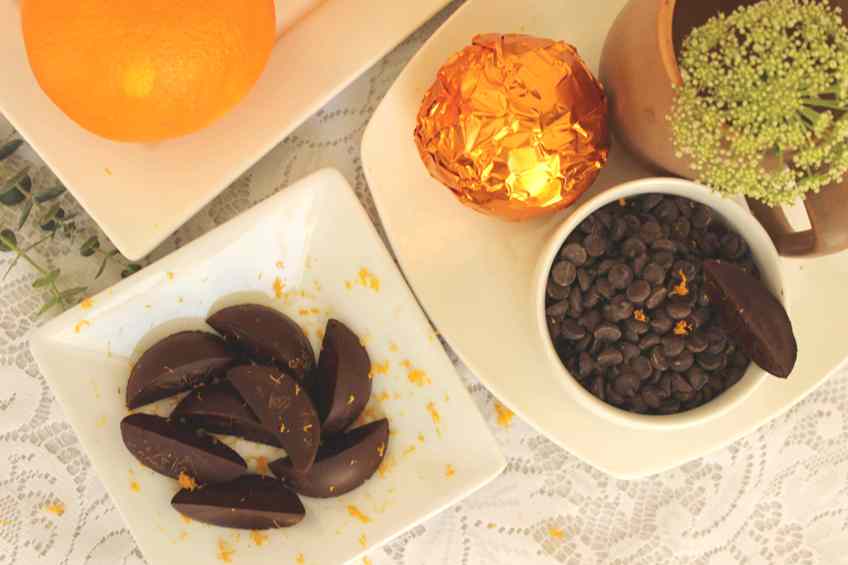 Which Keto Gifts Would you Choose for a Keto Gift Basket?
Whether it's a keto Christmas gift or for a keto birthday gift, I'm sure there's something on this list that your friend would love to receive!
You can choose form this list or one of my favorite things to do is to put together a keto gift basket for a friend.
Just choose several of the things on this list, find a pretty basket, and cover it with a cellophane bag (I found some for you, below) and tie with a pretty ribbon. Voila!
Good luck with your gift giving!
Keen for Keto is a participant in the Amazon Services LLC Associates Program, an affiliate advertising program designed to provide a means for sites to earn advertising fees by linking to Amazon.com. We appreciate your support!