The credit for the idea for these Anti-Inflammatory Turmeric Ginger Lemonade Fat Bombs goes entirely to my daughter. She knows we don't drink sugary drinks at our house very often. It's always a special occasion when they get a soda or juice.
She has seen me buy lemons for several recipes this week (be prepared for some awesome Greek creations coming your way! Try these Greek Tuna Cakes while you're waiting!).
Each time she saw me get a lemon out, my daughter first eyed it longingly and then the question came:
"Mommy, can we make lemonade?"
Don't forget to pin for later!
Sigh…do you know how much sugar has to go into lemonade to counteract the sourness of the lemon juice? But her sweet, puppy-dog, still-some-darling-baby-chubbiness-remaining face left me searching for some way to give her the lemonade taste she craved.
This is just one of the recipes that popped into my head. If the other ones work out, I'll share them on the blog, too.
All of my kids like fat bombs. Fat bombs are cute little mini-desserts that satisfy. They're not meant to be super sweet. In fact, there are plenty of savory versions. They're just meant to be a bit of extra fat in case you're having a hard time meeting your fat quota for the day. But with a little sweetness, they can also be a dessert replacement to give you just enough sweetness to stave off a treat craving.
When I first started experimenting with keto, I only made fat bombs for myself and usually brought them out only for me when my kids were getting a gluten-laden treat. But they knew the fat bombs were in the freezer and their faces were right there begging in the frosty cloud of cold air when I tried to sneak one for myself.
We LOVE easy desserts here at Keen for Keto. Here's another one you'll love!
What makes these fat bombs anti-inflammatory?

Why Turmeric and Ginger?
This Turmeric Ginger Lemonade Fat Bomb is special. If you haven't guessed from the title of the recipe, it has two ingredients that are not in normal lemonade.

The turmeric and ginger are added for their awesome health benefits. Turmeric has a ton of great benefits, but the ones I'm going for here are its powerful anti-inflammatory properties, which is important if you're suffering from an autoimmune disease, cardiovascular disease, or just chronic inflammation.

I started taking turmeric capsules several months after finding out I had high cholesterol (which was actually lowered back to normal after removing gluten from my diet—read more about that crazy journey here).

If you've never tried ginger in your lemonade, you're in for a treat. Lemon and ginger just go so well together! The ginger gives the tangy lemon an added kick that brings lemonade to a new level.

Ginger is already famous for its health benefits, too. If you Google ginger, you'll end up wanting to put it in everything. Ginger and turmeric come from the same family, and ginger also has anti-inflammatory properties.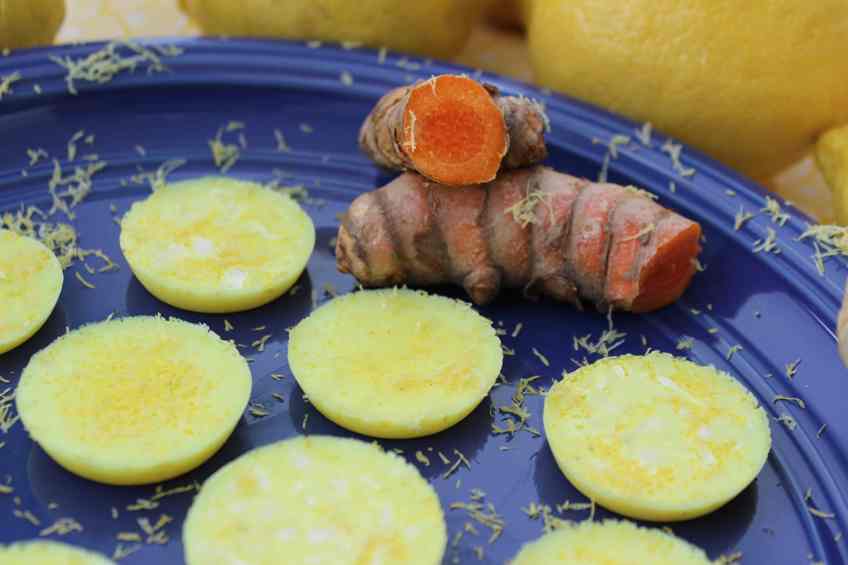 What's the pepper for?
Turmeric's curcumin is more easily absorbed in the presence of piperine, a substance found in pepper, which is why I've included a bit of pepper in this recipe. (I promise you won't even taste it.) I'm trying to give you an awesomely powerful anti-inflammatory dessert here. If we're going to do this, let's do it right!



Surprising Health Benefits of Turmeric Fat Bombs
I'm posting these fat bombs during cold and flu season for a very good reason. I almost named these little guys Coldbuster Fat Bombs because of it. Did you know that ginger and turmeric are both great for reducing common cold symptoms?
Another great reason to eat these has to do with the lemon juice. Lemon juice has a modest amount of electrolytes, which can help combat the keto flu.
It's not a ton, and you can't get all of your electrolytes just from eating a handful of fat bombs or chugging lemon juice (I'd love to see that!), but every little bit helps. I'm a huge believer that success is not the big decisions, but the sum of all the little choices we make every day.
These Pumpkin Cream Cheese Danishes are SO yummy!
(And seriously, if you chug lemon juice, you'd BETTER be sending me that video!!)
The Results of These Easy Fat Bombs
I know you're all wondering what my daughter thought. I'll be honest, I didn't give her a taste right away. I put it off for a few days. Kids are tough customers, especially when it comes to weird things like turmeric!
Drumroll, please.
She LOVED them! I was so incredibly happy that the recipe I created just for her turned out to be something she enjoyed. There was much hugging and celebratory jumping. She even asked me if she could put them in her lunchbox for tomorrow. We're going to try it with an icepack. If they still melt, I guess she'll have her lemonade. Ha! I love that girl.
Recipe Notes, Add-Ins, and Suggestions for Anti-Inflammatory Turmeric Ginger Lemonade Fat Bombs
You can definitely use the dried, powdered forms of turmeric and ginger instead of fresh as written in the recipe. I've included measurements for dried turmeric and ginger if you choose to go that route.  You'll get plenty of benefits doing that. But if possible, go for fresh.
In general, fresh is better no matter the food. Any amount of processing or preserving will decrease the amount of nutrients. (One exception is fermenting, which can actually increase the bioavailability of many nutrients.)
While fresh gingerroot is found in most produce sections of grocery stores, it might be more difficult to find fresh turmeric root. We recently moved to a new state and it took visits to five different grocery stores and one farmers market to finally find some. Six stops! But I'm a little weird and I enjoy ingredient hunting.
Many ethnic grocery shops carry ingredients not found in traditional grocery stores and those shops are dangerously fun to explore! I'll never forget the Indian shopkeeper who told me that my giant bag of garam masala spice would last me forever. Friend, I may look pretty bland but you don't know me and Indian food!
FREE Keto Foods Cabinet Cheatsheet!
These fat bombs are a little on the sour side. I happen to really love that, especially when the lemon juice is freshly squeezed. Lemonheads were a childhood favorite of mine.  If you like yours sweeter, feel free to add more zero carb sweetener! You can also sprinkle some unsweetened shredded coconut on top for texture, if you'd like. 
Note: You can easily make this fat bomb recipe dairy-free and vegan by replacing the butter with more coconut oil.
Note: I'm sure you know this if you've used turmeric before, but whether fresh or dried, it stains. It's actually used as a natural food coloring in many dishes because of its gorgeous saturated yellow tinge. I tell you this so you don't wear your favorite shirt or schedule that hand-modeling shoot for right after making these. Thank me later. Or use gloves.
Don't have time right now? Pin recipe for later:
Anti-Inflammatory Turmeric Ginger Lemonade Fat Bombs
These tasty, zingy lemonade fat bombs will help you fill your healthy fat quota on the ketogenic diet, while also reducing inflammation, increasing electrolytes, and serving as a coldbuster with its turmeric and ginger. Can easily be made vegan by replacing butter with the same amount of coconut oil. 
Ingredients
¼ cup butter, grass-fed, if possible, melted
1 tablespoon lemon zest
Juice of one lemon
Instructions
Add all ingredients to a blender and blend for 30-60 seconds.
Using a tablespoon measuring spoon, scoop mixture into silicone molds or paper muffin cups.
Place in freezer for about 20 minutes or until fat bombs are set. Pop the fat bombs out of the mold and store in airtight container in the fridge or freezer.
Nutrition Information:
Yield:

24
Amount Per Serving:
Calories:

58
Total Fat:

6.5g
Carbohydrates:

.5g
Protein:

.5g
Follow us on Twitter! I'm always following the newest research and post articles and info there!