You might call it instant pot taco pie or instant pot taco casserole. Here we call it Cheesy Keto Taco Instant Pot Omelet! With a Keto Super Taco Meat base topped with a quiche-like omelet topping, you'll be reaching for more than one piece as part of a low carb dinner, breakfast, or lunch!

This post may contain affiliate links. As an Amazon Associate I earn from qualifying purchases.
This Mexican omelet recipe uses Keto Super Taco Meat. You are welcome to use your own favorite recipe for the taco meat base, but I'm telling you, this taco meat is so amazing!
Not only that, but if you make a big batch of the taco meat, there's a whole list of amazing taco-inspired recipes that you can use it in (see yellow space below). Anyone else in favor of easy??
Click here to find the taco meat recipe and links for a week's worth of Mexican recipes to use it!
Not Your Mama's Instant Pot Taco Casserole!
The first time I had a breakfast casserole "omelet" was a sad day.
A friend made it for me. It was moving day. We were moving from Idaho to Colorado, the other side of the Rockies.
My friend was my roommate (aka adopted sister) who made living in that town feel like home. She made my kids pancakes, and knowing that I can't have gluten, she made a special breakfast casserole just for me.
I don't need to tell you she's a special friend. Or that I miss her like crazy. Everyone needs a friend like her.
Related: Tomato Cotija Salad with Tomatillo Dressing
Related: Corned Beef Hash and Eggs Breakfast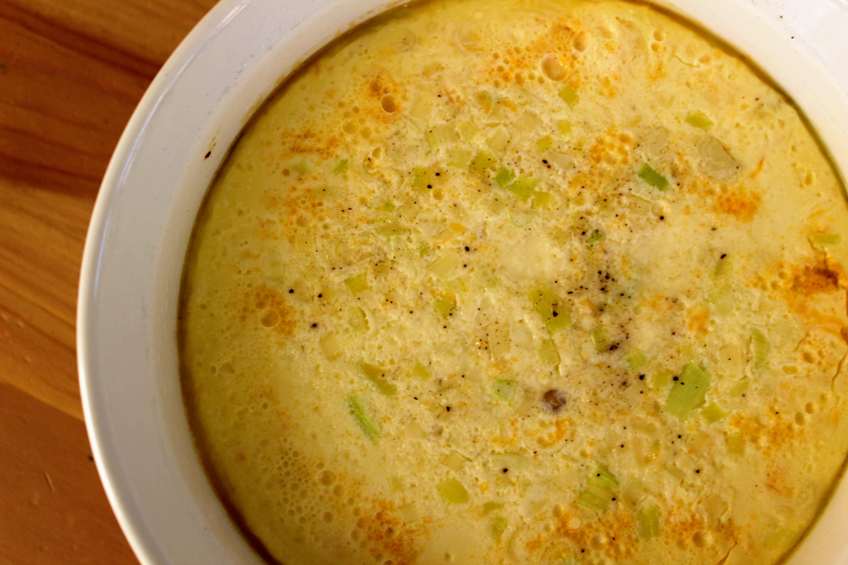 Want more Mexican? Try this Keto Mexican Bubble Pizza! Love casseroles? Try this Keto Beef Stroganoff Casserole with Cabbage
Notes for Recipe for Cheesy Super Taco Pie Instant Pot Omelet
This casserole is very different from the one my dear friend made for me. It's the same idea but with different ingredients and methods.
Hers was made in the oven, mine in the instant pot. Hers was a tasty bacon base, mine is taco-inspired.
This recipe feeds our whole family of 6 easily. My kids are young, though, and I have no teenagers yet. If you have bigger kids or teenagers, it might be a good idea to make a side of bacon to go with this Super Taco Instant Pot Omelet.
Never miss a new recipe! Sign up for our newsletter and get a FREE Keto Grocery List Cabinet Cheatsheet!
You can also serve your instant pot taco casserole omelet with a dollop of sour cream, which is what we do. Or try some salsa on your taco omelet.
You'll find the Keto Super Taco Meat recipe here. I have a skillet version and an Instant Pot version on that post. Enjoy!
Supplies You May Need for Cheesy Keto Super Taco Instant Pot Omelet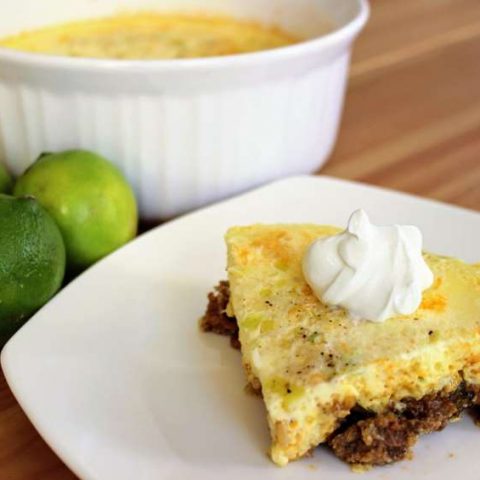 Cheesy Keto Taco Instant Pot Omelet
Is it a taco omelet or a taco pie? That question is not as important as this one: how soon can you make it again?? This Instant Pot omelet is one of my personal favorites on Keen for Keto! Mexican comfort food at its finest.
Ingredients
5 eggs
⅓ cup heavy whipping cream
¾ cup Mexican cheese blend or monterey jack cheese, shredded
3 green onions, chopped
1 cup Super Keto Taco Meat
Sour cream, for serving
Instructions
In a medium bowl, add eggs, cream, salt, and pepper. Hand-whisk briskly for about 60 seconds.
Add onions and cheese and stir.
Butter the bottom and sides of a round 1.5 quart oven-safe glass or ceramic dish (any dish that is oven safe is also safe in the Instant Pot).
Spread the taco meat on the bottom of the dish. Sprinkle the cheese on top.
Pour the egg mixture over the cheese. Sprinkle with a little cheese, if you like. Cover the dish with foil.
Place the trivet on the bottom of the Instant Pot. Pour 1 cup of water in the bottom.
Carefully lower the dish onto the trivet.
Close the Instant Pot lid, making sure it seals. Turn the valve to "sealed." Cook the omelet at high pressure for 26 minutes. Slow release for 5-10 minutes.
Cut into slices and serve with a dollop of sour cream on top, if you like. Enjoy!
Nutrition Information:
Yield:

6
Serving Size:

1/6 pan
Amount Per Serving:
Calories:

226
Total Fat:

19g
Sodium:

271mg
Carbohydrates:

2g
Net Carbohydrates:

2g
Fiber:

0g
Sugar:

1g
Protein:

13g
Make a keto omelet in the Instant Pot! This Instant Pot keto omelet is a taco omelet. Keenforketo.com | keto taco omelet | keto instant pot omelet | keto instant pot recipe | keto egg casserole | low carb taco omelet