Keto ground beef stroganoff casserole with steamed cabbage replacing the noodles of a traditional beef stroganoff and a creamy made-from-scratch mushroom sauce, is a healthy comfort food family meal that is over the top! Your family will be thanking you for this one.

This post may contain affiliate links. As an Amazon Associate I earn from qualifying purchases.
Never miss a new recipe! Sign up for our newsletter and get a FREE Keto Grocery List Cabinet Cheatsheet!
What's in Keto Beef Stroganoff Casserole?
This fabulously comforting beef casserole recipe is full of healthy ingredients while also being irresistibly delicious.
I won't admit I ate almost an entire pan myself over the course of a few days. Seriously. And I definitely won't admit some of those mealtimes were actually breakfast.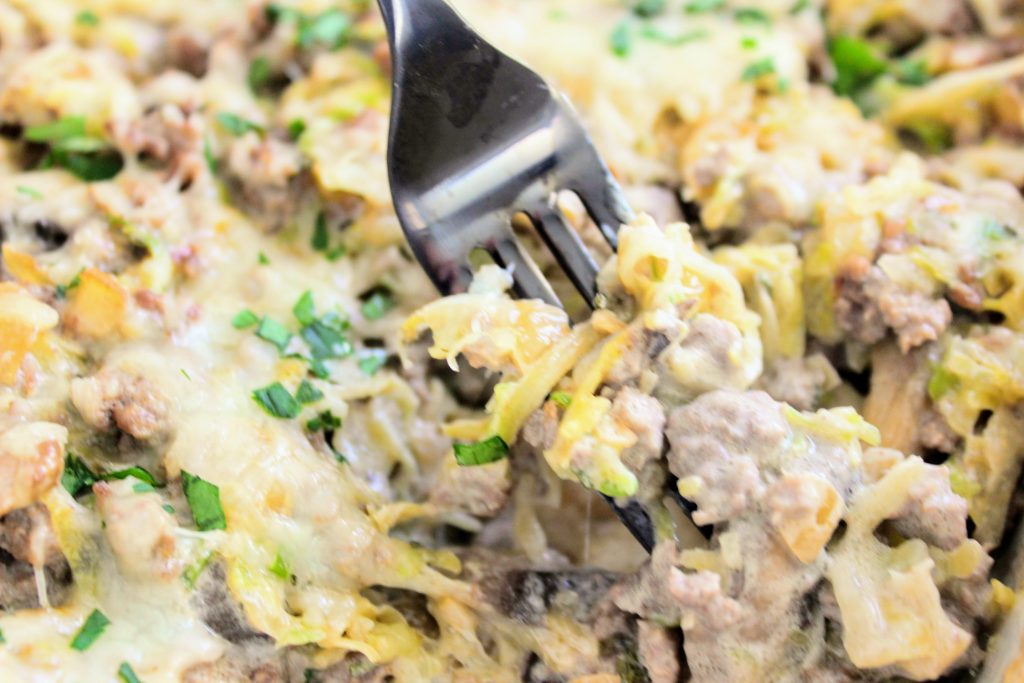 So what's in this piece of warm yummy heaven?
Angel hair cabbage mix (it's just pre-shredded cabbage, found in bags in your produce aisle by the premade salads for less than $2 usually–you can use a food processor if you prefer)
Mushrooms
Ground Beef
Onion
Garlic
Beef base paste
Butter
Heavy whipping cream (hey, this is keto after all!)
Sour cream
Pink salt
Shredded mozzarella (or a mozzarella/provolone combo is even better!)
Olive oil
Looking for a more traditional recipe? Try this Easy Keto Beef Stroganoff Recipe! Or for a side dish, try these Creamy Keto Stroganoff Mushrooms!
FAQs for Keto Ground Beef Stroganoff Casserole with Cabbage
What is angel hair cabbage?
Angel hair cabbage is simply pre-shredded, packaged green cabbage. It gets its name from being shredded so finely, like angel hair pasta. You can easily find it in most grocery stores near the bagged salads.
Is sour cream keto?
Sometimes people see the sour cream listed and wonder if it is keto-friendly. The answer is yes, it absolutely is. I would always go for full-fat sour cream.
New to Keto? Start in our section for Keto Beginners!
More Keto Ground Beef and Cabbage Recipes
Here are more options for keto recipes with ground beef or cabbage!
Keto Taco Casserole with Cabbage
Keto Bacon Cheeseburger Casserole
Keto Corned Beef and Cabbage Soup
And find more keto dinner recipes here!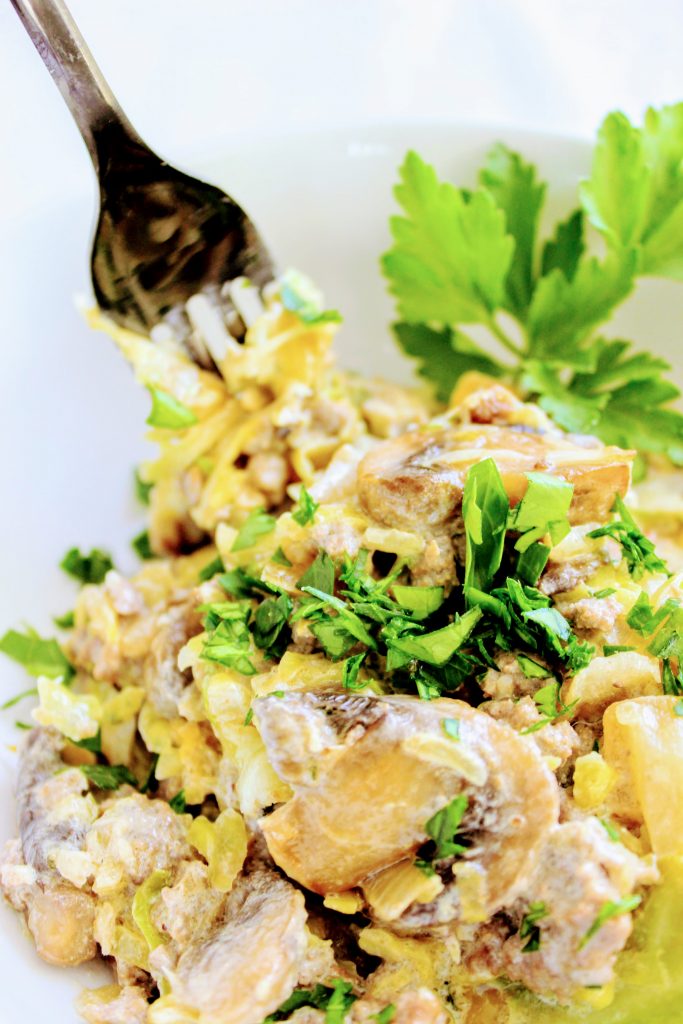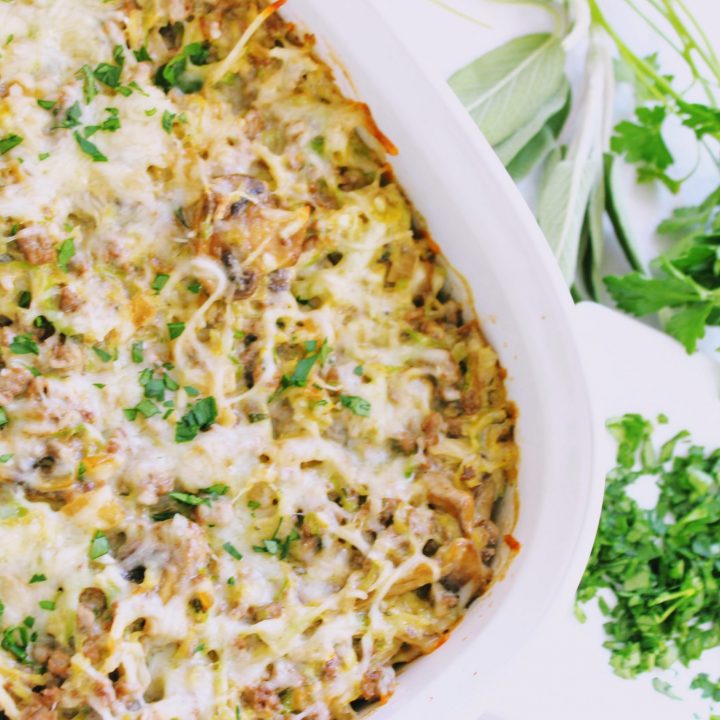 Keto Ground Beef Stroganoff Casserole with Cabbage
If you're looking for an easy comfort food dinner, you'll love this keto beef stroganoff casserole! Made with ground beef, a creamy stroganoff sauce, and shredded cabbage for the noodles, this easy keto casserole will quickly become a regular on your table!
Ingredients
1 10-ounce bag of shredded angel hair cabbage
1 onion, minced
8 ounces sliced mushrooms
1 pound ground beef
5 tablespoons unsalted grass fed butter
1/2 cup heavy whipping cream
2/3 cup sour cream
1/2 teaspoon pink Himalayan salt
1/2 cup shredded mozzarella cheese, divided (or provolone mozzarella mix)
Instructions
Preheat oven to 350°F.
Steam the cabbage for 5-6 minutes or until tender, but not soft. Do not let it get mushy.
Brown the ground beef in a medium skillet till the ground beef is brown and separated into crumbles. Set aside.
Add the cabbage to a 1.5 quart casserole dish.
Saute the onion in the olive oil for 10 minutes. Add the mushrooms and garlic and saute another 5 minutes.
Add the butter, cream, sour cream, sage, beef base paste, pepper, and salt.
Simmer gently while stirring till the sauce has thickened. Add the ground beef and stir. Stir in 1/4 cup of the cheese.
Pour onto the cabbage in the casserole dish and toss gently using tongs or forks. Sprinkle on the remaining cheese.
Bake uncovered at 350°F for 30 minutes. Enjoy!
Notes
If you can't find pre-shredded "angel hair" cabbage in the store, you can always use a food processor or just chop your cabbage really thin with a big knife.
Recommended Products
As an Amazon Associate and member of other affiliate programs, I earn from qualifying purchases.
Nutrition Information:
Yield:

6
Amount Per Serving:
Calories:

444
Total Fat:

38g
Cholesterol:

111mg
Sodium:

382mg
Carbohydrates:

8g
Net Carbohydrates:

6g
Fiber:

2g
Sugar:

3g
Protein:

21g