You can still have delicious quiche on a ketogenic diet! Who needs crust anyway? This classic crustless spinach red pepper feta quiche is easy, quick, and tasty–not to mention low carb, keto, gluten free, grain free, sugar free–all the "frees"!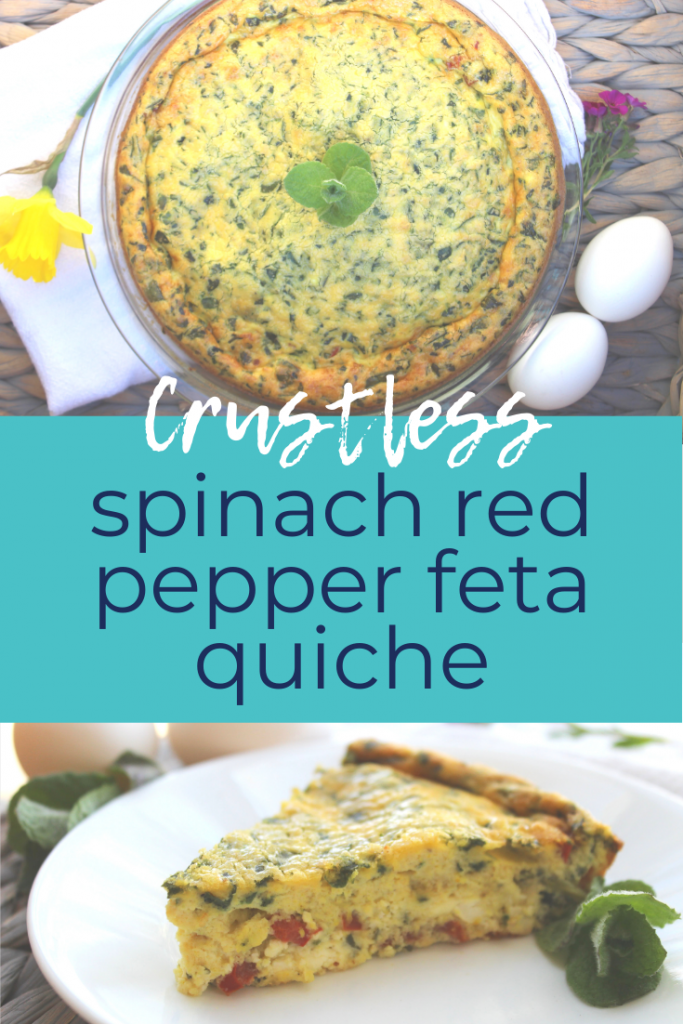 Never miss a new recipe! Sign up for our newsletter and get a FREE Keto Grocery List Cabinet Cheatsheet!
This post may contain affiliate links. As an Amazon Associate I earn from qualifying purchases.
Keto Spinach Quiche — Crustless!
Quiche is amazing. It tastes great, sounds fancy, and is deceptively easy to make. You're in for a treat, because today I'm sharing my favorite ketogenic crustless quiche.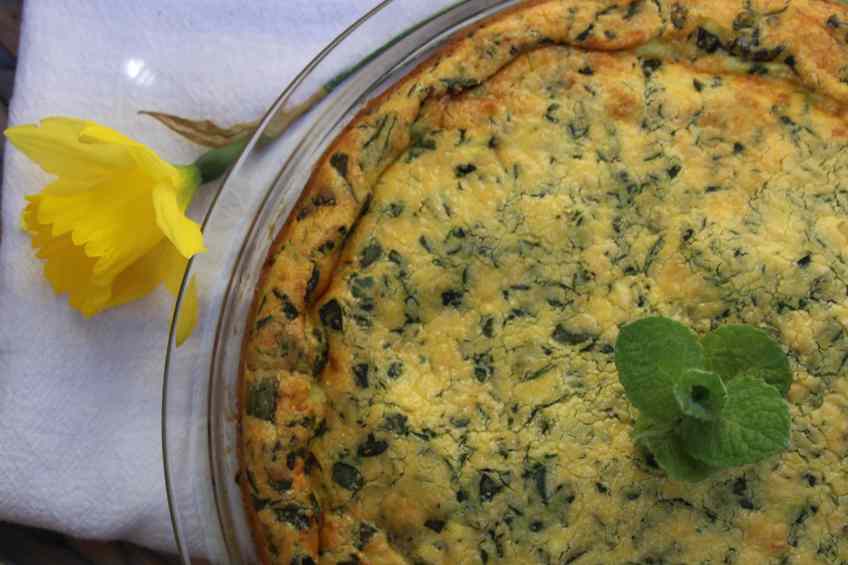 Related: If you want another breakfast idea with veggies, try this Low Carb Breakfast Bowl with arugula, caramelized onions and mushrooms, and egg! Or if you like quiche try this Keto Quiche Lorraine.
Ingredients in Keto Spinach Quiche
red bell pepper
minced garlic
eggs
olive oil
whipping cream
feta cheese
a bit of freshly ground black pepper
Love quiche? Try this Keto Rosemary Bacon Goat Cheese Crustless Quiche!
Notes for Low Carb Crustless Spinach Red Pepper Feta Quiche
If you're wondering why this quiche doesn't include the addition of salt, it's because of the feta. The crumbled feta cheese in this quiche has plenty of salt for the whole dish. If you like things super salty, go ahead and try it with ¼ teaspoon pink Himalayan salt.
If you've never made a crustless quiche, you might be worried about leaving a layer of egg behind on your pie pan. I've done it myself a time or two, but if you follow the instructions for buttering your pan, it should come out fairly clean, leaving minimal bits of quiche behind.
Don't chop your spinach! Try this easy trick to freeze spinach for quick chopping (no knife necessary)!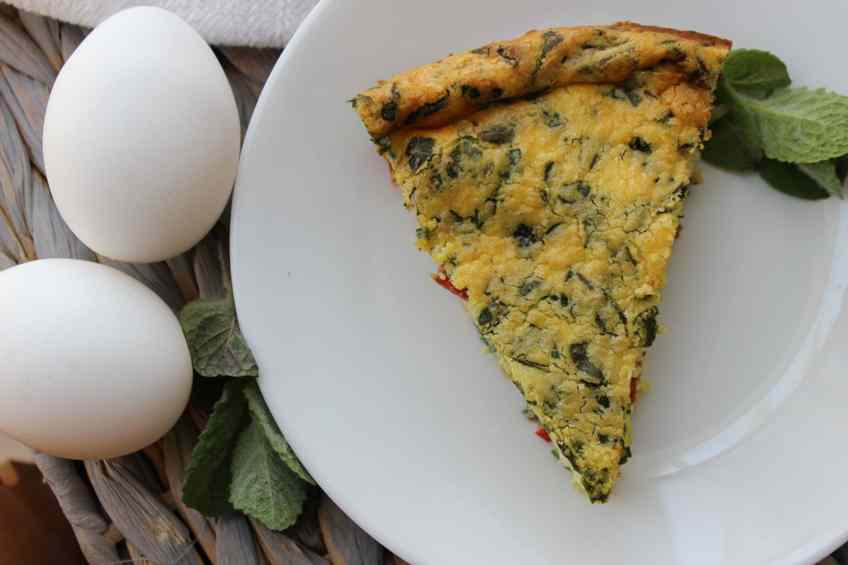 When I make this crustless keto quiche for my family, everyone eats a piece and then I will eat the rest for leftovers or breakfast the next day. This keto quiche is awesome reheated, too.
Enjoy this keto crustless quiche!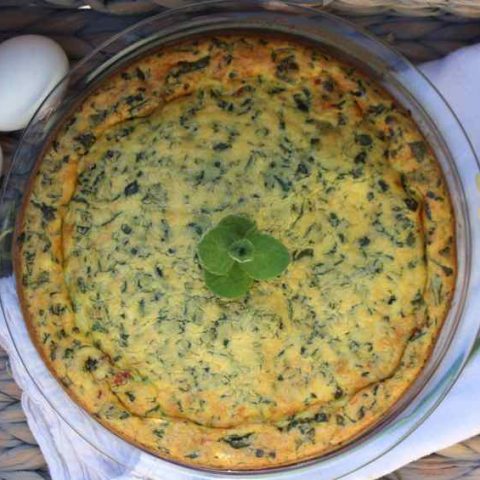 Crustless Spinach Red Pepper Feta Quiche
You can still have delicious quiche on a ketogenic diet! Who needs crust anyway? This classic crustless spinach red pepper feta quiche is a family favorite at our house for breakfast, brunch, or dinner. Easy, quick, and tasty!
Ingredients
1 red bell pepper, finely chopped
6 eggs
¾ cup heavy cream
¾ cup feta cheese, crumbled
¼ cup freshly grated parmesan cheese
Instructions
Preheat oven to 375°F.
Butter a pie pan by peeling down the top part of the wrapper of a cold cube of butter, and rubbing the cube along the bottom and sides of the pie pan. Be careful to cover pan thoroughly.
Heat olive oil in skillet on medium heat. Add chopped red pepper and sauté for about ten minutes or until tender. Add garlic and sauté for 2 more minutes. Turn heat off and add spinach. Stir and set aside.
Beat eggs in medium bowl. Add cream, feta, parmesan, and black pepper.
Stir pepper and spinach mixture into the egg mixture. Carefully pour mixture into pie pan and bake in 375°F preheated oven for 25 minutes. Allow to cool for 15-20 minutes before slicing.
Notes
I almost always add salt to my quiches. Because the feta is usually salty enough, I don't add salt when I use feta in quiches.
Nutrition Information:
Yield:

6
Serving Size:

1 slice (1/6th of quiche)
Amount Per Serving:
Calories:

221
Total Fat:

24g
Cholesterol:

243mg
Sodium:

255mg
Carbohydrates:

3g
Net Carbohydrates:

3g
Sugar:

3g
Protein:

10g
Pin this crustless keto quiche to your keto breakfast board for later!