Sometimes finding the right combo of ingredients for a delicious quiche is so satisfying! I'm so happy to share with you the awesome combo in this crustless Keto Rosemary Bacon Goat Cheese Quiche!
This low carb quiche has crispy bacon, goat cheese, rosemary, leeks cooked in heavy whipping cream, and liquid smoke for a creamy, rich, flavorful quiche that stands on its own without a crust. (Scroll down for the leek link if you're not sure how to prepare them!)

This post may contain affiliate links. As an Amazon Associate I earn from qualifying purchases.
Keto Crustless Quiche
Can you really just skip the crust on a quiche? Oh, yes, and I do it every time now!
Before keto, I made quiche all the time. It's such an easy and healthy meal to make! But the crust takes just as much effort as the filling itself and just adds extra carbs, plus I've never been a crust girl. Those are the original reasons I stopped making the crust.
To make a crustless quiche, you'll just want to really butter the pan's side and bottom, making sure to get into the narrow curve where the top and bottom meet. A good pie server set will do the rest!
Fresh or Dried Rosemary for this Keto Rosemary Bacon Goat Cheese Crustless Quiche?
I almost always choose fresh herbs over dried if I can help it. The flavors tend to be more delicate and distinctive when fresh.
However, there are plenty of times when I need to use dried herbs.
Never miss a new recipe! Sign up for our newsletter and get a FREE Keto Grocery List Cabinet Cheatsheet!
As a food blogger and crazy food experimenter, sometimes I'll have an idea pop into my head that I just can't want to run to the store and grab fresh ingredients for, so my first draft of a recipe ends up having dried herbs instead of fresh. The convenience of dried herbs is so nice!
But if you're subbing dried herbs for fresh ones in a recipe, be sure you follow the ratio of 1 tablespoon fresh to 1 teaspoon dried. Dried herbs tend to be more potent, so it will change the taste of the recipe if you try to sub evenly.
What can I use instead of milk in quiche? (And a bit about good fats)
For a keto crustless quiche, I almost never use milk. Scratch that. I NEVER use milk for a keto quiche.
Milk has more carbs than cream, and less fat, And, say it with me, "Fat is GOOD on keto!"
At least, if you're focusing on getting mostly the healthy types of fat. So if you can get grass fed cream, that's the best way to go when using cream on keto! The same goes for the eggs–if you can get higher quality cage free eggs, please do.
On the keto diet, you're switching your energy source of carbs to fat (ketones). So just as sweet potatoes and fruit are touted as being healthier carbs than donuts and dinner rolls, grass fed dairy provides healthier fat energy than non grass fed dairy (it has to do with the omega ratios–this Greek Tuna Cake post talks a little bit about omega fatty acid ratios).
So I use cream for my quiches on keto instead of milk.
More Keto Breakfasts with Eggs:
Crustless Spinach Red Pepper Feta Quiche
Noatmeal Crème Brûlée (Instant Pot or oven)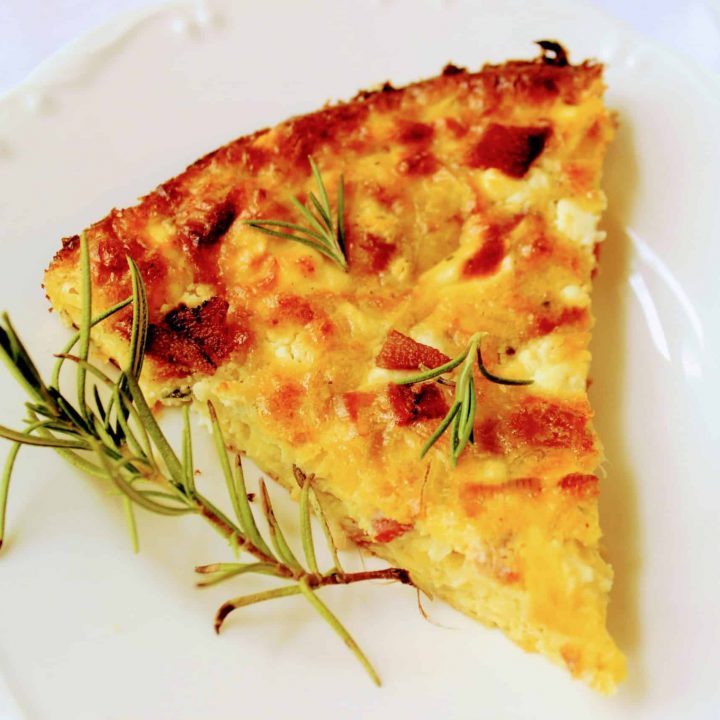 Keto Rosemary Bacon Goat Cheese Quiche Crustless
You won't believe your taste buds when you sink your teeth into this keto crustless rosemary bacon goat cheese quiche! It has a tantilizing combo of flavors: bacon, leeks, goat cheese, liquid smoke, and rosemary.
Ingredients
2 tablespoons butter
2/3 cup heavy whipping cream
4 eggs
More goat cheese crumbles for topping (optional)
Instructions
Preheat oven to 375°F. Butter a glass pie pan.
Cook the bacon in a skillet till the edges are crispy. Remove from pan and then chop or crumble into small pieces. Set aside to cool.
Using the same pan with the bacon drippings, add 2 tablespoons butter and melt over medium-low heat.
Add the diced leeks to the pan and saute for about 5 minutes.
Stir in 1/3 cup of the cream to the leeks.
Simmer 5-10 minutes until the leeks are soft and slightly transparent. Remove from heat.
In a medium bowl, add the eggs, the remaining 1/3 cup of cream, cooled bacon, goat cheese, liquid smoke, rosemary, salt, and pepper. Stir.
Add one spoonful of the leeks and cream while stirring vigorously each time. This tempers the egg mixture slowly so that the hot leeks don't cook the eggs prematurely.
Pour into the pie pan and sprinkle the top with more goat cheese (optional).
Bake at 375°F for 25 minutes or till slightly golden brown on top. Remove from oven and let sit for 10-15 minutes before slicing. Enjoy!
Notes
If you haven't used leeks before in cooking, this post on How to Trim Leeks will show you how to do it, complete with step-by-step photos for dicing the leeks!
Nutrition Information:
Yield:

8
Serving Size:

1/8 of quiche
Amount Per Serving:
Calories:

195
Total Fat:

16g
Cholesterol:

142mg
Carbohydrates:

5g
Net Carbohydrates:

5g
Fiber:

0g
Sugar:

2g
Protein:

6g