These Kid-friendly Open-faced Keto Chicken Pillows (or keto chicken packets, chicken rolls, chicken pockets–whatever your lingo) are filled with a creamy and flavorful chicken salad and baked on delicious almond flour fathead dough.
This is just the easy weeknight chicken dinner you need! Great for using up Thanksgiving or Christmas turkey leftovers, too–shredded or diced turkey pillows.
This post may contain affiliate links. As an Amazon Associate I earn from qualifying purchases.
Get more recipes sent straight to your inbox AND a FREE keto foods grocery list!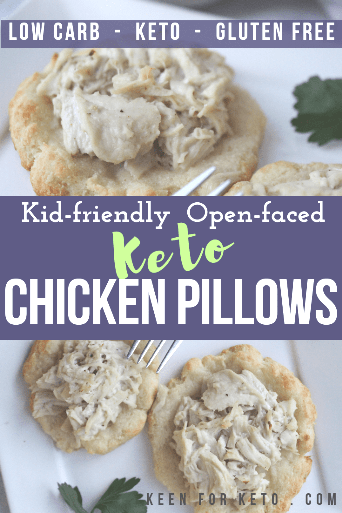 Keto Chicken Pillow Recipe Creation
While I'm having a ton of fun creating new keto recipes for our family (and yours!), I'm also still in the process of transforming our old favorites into low carb, gluten free, ketogenic recipes.
This easy chicken pillow recipe (or chicken packet recipe, if you prefer) is one of those old favorites.
This is another one introduced to me by my amazing college roommates.
While my mom taught me all the cooking and baking basics that I know, my roommate sisters opened my eyes to the ways other families worked in the kitchen.
I treasure those memories.
If you like fathead dough and comfort food, try this Black Olive Pesto Pizza on Almond Flour Crust!
Winner Winner, (Keto) Chicken Dinner!
One dinner recipe my roommates and I loved was Chicken Pillows.
Normally this meal is made by making a creamy chicken salad (totally keto) and wrapping it in individual triangle pieces of that refrigerated, canned croissant dough (absolutely not keto or gluten free).
The "pillows" you formed are baked until golden.
My keto version of chicken pillows is still super easy. I make a fathead dough, form it into little individual disks, and scoop a spoonful of a chicken salad on top of that. They're also baked until golden.
Winner winner, chicken dinner!
Find MORE keto recipes for kids here!
Why Are These Keto Almond Flour Chicken Pockets Open-faced?
The reason I made my Kid-friendly Open-faced Keto Chicken Pillows open-faced instead of wrapping them into a pillow shape is simple. It's easier and cheaper.
That's it.
What I've found with keto fathead dough is that it's not as workable and pliable as a grain flour dough would be.
It might not form as easily as you'd like it to, which is why it's easier to just pinch the dough into a disk, plop some chicken salad on it, and bake it.
And because you're not using dough on the sides and top as well as the bottom, you don't need to make as much dough and you save money on ingredients. Win-win!
You're more than welcome to try to make these keto chicken pockets like a normal chicken pillow and wrap the dough all the way around. Personally, I prefer this as an open faced pastry filled with cheese and protein!
It will be harder to do and you'll want to double the dough recipe, but I totally understand wanting them to be more authentic if that's what you're used to.
Need a side to go with these? Try this low carb Broccoli Cauliflower Salad!
What did the kids think of the keto chicken pillows?
Drumroll please…the kids LOVED this chicken pillows recipe! These Kid-friendly Open-faced Keto Chicken Pillows were an immediate favorite with my kiddos.
As in, top of the list favorite. My kids didn't even want me to save any, they just wanted to eat all these keto chicken pillows in one sitting. Ha!
And because baked fathead dough freezes so well, I'll be able to make a big batch of keto chicken pillows, put them in the freezer, and pop them in the microwave for lunch instead of those dino chicken nuggets.
Or, I can put the chicken pockets in my kids' lunches frozen and they'll be thawed by the time they sit down at their lunch tables to eat.
And I can send them to school without worrying that my kids will just chuck them in the garbage when they get there, which is nice. (Why?? Why would they do that?!)
Looking for more fathead dough recipes? Try these Keto Pumpkin Spice Cream Cheese Danishes! Awesome for Thanksgiving or Christmas dessert!
Other meals my kids LOVE that you'll want to try:
Notes for Kid-friendly Open-faced Keto Chicken Pillows
These keto chicken pillows are great by themselves. We also found they taste really great with a simple broccoli soup or other soup.
Another awesome thing you can do with these keto chicken pillows is to use turkey instead of chicken. It's a great way to use up leftover Thanksgiving or Christmas turkey, too! Easy chicken pillows—> easy turkey pillows!
These low carb chicken pillows are designed to be very flexible. They're kind of a blank slate. If you want to change the spices around and make it a different way, go for it!
Personally, I'm going to try adding some parmesan cheese to my keto chicken pillows next time!
You May Need These Products for This Chicken Pillow Recipe:
Keto Chicken Danish (Chicken Pillows)
These Easy Open-faced Keto Almond Flour Chicken Pillows (or keto chicken packets, if that's your lingo) are filled with a creamy and flavorful chicken salad and baked on delicious almond flour fathead dough. This is just the easy weeknight dinner you need! Great for using up Thanksgiving turkey leftovers, too!
Ingredients
Dough:
Chicken salad filling:
Instructions
Preheat oven to 350ºF. Prepare a baking sheet by putting a silicone baking mat or a piece of parchment paper in the bottom.
For the dough:
In a medium microwaveable bowl, melt the mozzarella in a microwave in 30 second intervals, checking it with a fork each time until the cheese is melted and stretchy.
Add almond flour, baking powder, and salt. Knead the dough for about a minute, till all ingredients are incorporated.
Using wet hands to keep the dough from sticking, knead the egg into the dough. This should take about 3-5 minutes. The dough will still be very sticky, but all ingredients will be thoroughly combined with no white or yellow parts showing.
Divide the dough into 8-10 equal parts, about 3 tablespoons each. Pinch each piece into a flat-bottomed "bowl" shape. The dough should be about ⅓ inch in thickness. Place on baking sheet about 1" apart.
For the chicken salad filling:
Mix all ingredients together and stir with a fork until combined.
To assemble the chicken pillows:
Divide the chicken salad filling evenly among the dough disks. Bake at 350ºF for 13-16 minutes, or until the dough begins to become golden on the edges.
Serve and enjoy!
Nutrition Information:
Yield:

8
Serving Size:

1 pillow
Amount Per Serving:
Calories:

227
Total Fat:

16g
Cholesterol:

60mg
Carbohydrates:

5g
Net Carbohydrates:

3g
Fiber:

2g
Sugar:

1g
Protein:

16g
Never miss a new recipe! Sign up for our newsletter and get a FREE Keto Grocery List Cabinet Cheatsheet!
Keto Chicken pillows are fathead dough, formed into individual disks with a scoop of creamy chicken salad on top. Baked until golden, these low carb chicken pillows are easy and kid-approved! Keenforketo.com | keto dinner | keto chicken packets | kid friendly keto recipes