Flax seed muffins are a satisfying, filling keto breakfast for any day of the week. Make ahead or freeze and have these low carb pumpkin pecan flax muffins whenever you're hungry, for a snack or meal!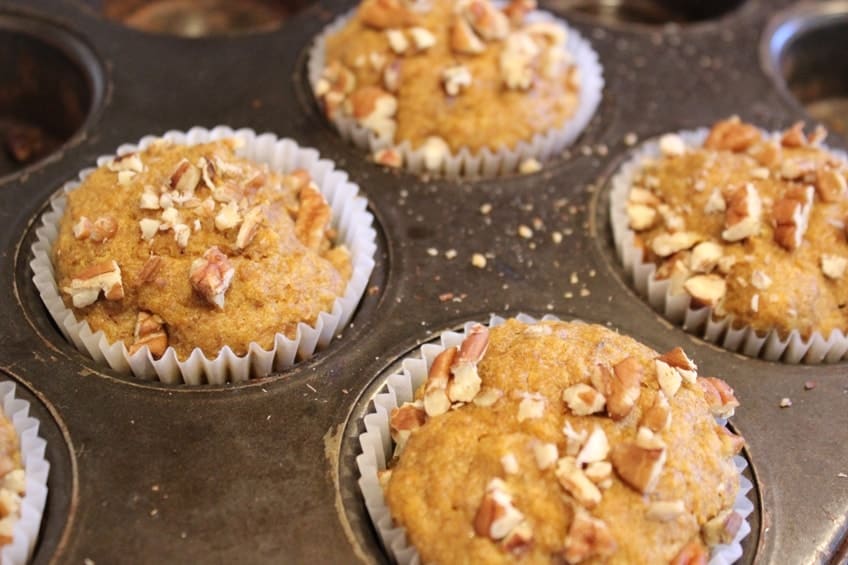 These keto flax muffins are definitely a bit of an indulgence for a keto dieter's breakfast. They're packed with healthy fats and protein, so why am I calling them an indulgence?
Let's talk about flax.
The Facts About Flax
I'm not going to rehash all the benefits of flax seed. If you want to know more about flax, you'll need to go read about it on this post.
What I will tell you here is that ground flax seed is a great low carb flour for keto baking. It's an indulgence because it will likely be a higher carb meal on a keto diet.
Looking for more ways to get low carb veggies into your breakfast? Try this Keto Apple Crisp.
But let's do the numbers. Compared to wheat flour, flaxseed flour is much lower in carbs. Per one cup if ground golden flax seed, there are 30.4 grams of carbs.
In one cup of wheat flour, you'll find 86 whopping grams of carbohydrates! And don't get me started on gluten! None of that with the flax seed flour.
This is why it's so important to remember that when you have a "bad" day indulging in low carb foods, you shouldn't beat yourself up.
Crazy about flax? Try these Double Chocolate Peanut Butter Cupcakes with Peanut Butter Frosting!
Carbohydrates in Flaxseed

Even if you ate 4 of these low carb flax muffins for breakfast or a snack, you'd still be way farther ahead than if you'd eaten one single wheat flour muffin.
Plus, I know some of you count carbs by counting only net carbohydrates. With all the fiber in flax, that comes to 2.4 grams of net carbs! That's in one cup of plain ground flax seed, not in one of these ketogenic flax muffins.
And that makes just 4 net carbs per muffin!
So relax. Never take a food at its face value. Look into it a little more. Flax is not a bad keto choice.
Looking for a more indulgent muffin? Try this Chocolate Peanut Butter muffin recipe I created for Have Butter Will Travel!
Notes for Keto Flax Muffins
There's not a whole lot of mystery behind these muffins. Mix everything together, bake, and you're done!
One note I want to add though, is that like all keto and low carb flours, ground golden flax seed is very dense when baked. Though lighter than almond flour, it still takes a bit of getting used to on the cooking end of things.
My advice is to follow the part in the recipe where it advises you to allow the muffins to set for about 15 minutes.
I love these pumpkin muffins straight from the oven (especially with butter!), but for those new to keto and keto flours, the crumb might be very different at first. Allowing these healthy flax muffins to sit will help them not be mushy in the middle.
This is a great quick keto breakfast on it's own, but I also love to spread some grass fed butter or cream cheese on the muffins, too.
Grab some more Keto Breakfast Recipes!
Mini Muffins or Regular Muffins for Breakfast?
Whether you want mini muffins or regular sized muffins is completely your choice. I generally make both and here's why.
These breakfast muffins are packed with fats and protein to fill you up. We're serious about satisfying, low carb, filling breakfasts here.
But we have a few tiny tummies here, too. So a couple of mini keto muffins are plenty for those tiny tummies, and for the adult and prepubescent tummies, we have regular sized muffins.
Just be sure to note the baking time difference depending on which version you're baking. It's difficult to gauge doneness with some gluten free flours, so be sure to check often.
If you see any sign of shiny moistness on the tops of the muffins, you'll want to put them back in for a few minutes.
Also, when you fill the baking cup liners, the recipe says to fill ¾ full. If you'd like a nice, rounded dome top, fill the cups up all the way.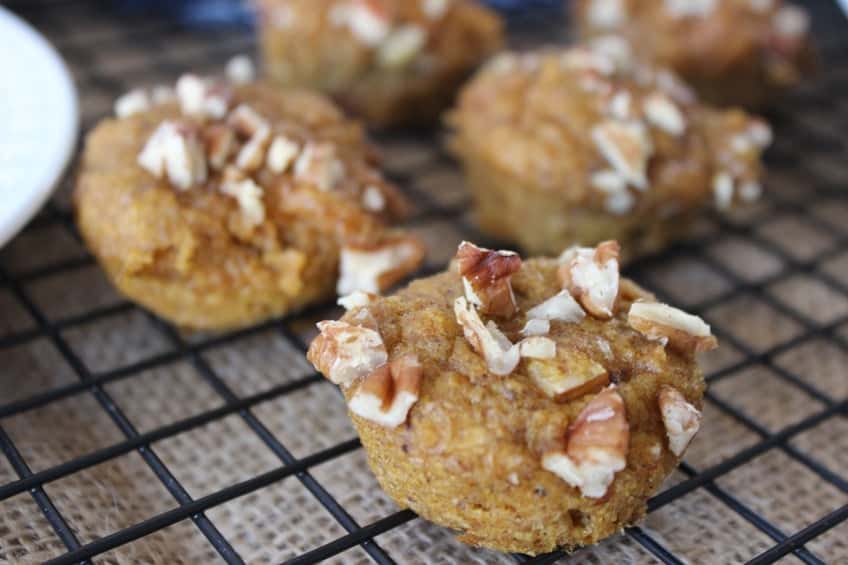 If you do anything different with these easy keto muffins, I'd LOVE to hear from you in the comments!
If you like this recipe, give it a 5 star rating below!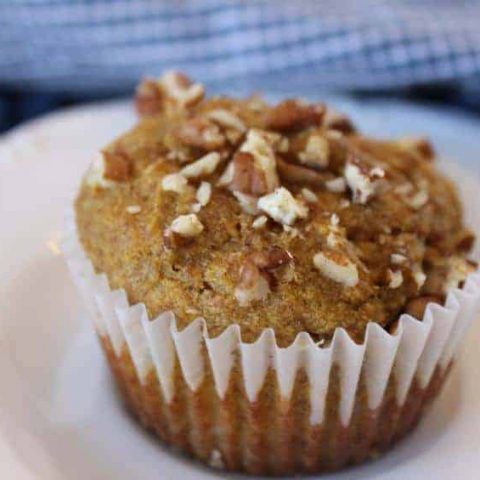 Flax Muffins
Yield:
12 regular sized muffins or 24 mini muffins
Flax seed muffins are a satisfying, filling keto breakfast for any day of the week. Make ahead or freeze and have these low carb pumpkin pecan flax meal muffins whenever you're hungry, for a snack or meal!
Ingredients
4 eggs
¼ cup heavy whipping cream
Instructions
Preheat oven to 325°F.
Stir all dry ingredients together in a large mixing bowl.
Add the remaining ingredients and stir until completely incorporated.
Using a silicone muffin pan or a metal muffin pan filled with cupcake liners, fill ¾ full.
For mini muffins, bake at 325°F for 15-18 minutes. For regular sized muffins, bake at 325°F for 18-22 minutes.
Allow to rest for 15 minutes before serving. Serve alone or topped with butter or cream cheese. Makes about 12 regular sized muffins or 24 mini muffins.
Recommended Products
As an Amazon Associate and member of other affiliate programs, I earn from qualifying purchases.
Nutrition Information:
Yield:

8
Amount Per Serving:
Calories:

253
Total Fat:

23g
Carbohydrates:

8g
Protein:

8g
Keto Flax Seed Recipes
Looking for more flax seed recipes? Try these!