Caprese Avocado Salad
Avocados! So creamy and flavorful. Mmm. My mouth waters just thinking about the texture and taste. Put them with some tomatoes and fresh mozzarella, drizzle with olive oil and a good balsamic, and I'm in heaven! You'll love this avocado, tomato, cucumber, and mozzarella salad!
Let's sidetrack a bit before heading to the recipe. You need to know about me and avocados. 
Coming to the truth about healthful eating has been a long journey for me. Each time I take a step up and think I've got it all figured out, I have a personal health issue or I read a book or learn from others' experiences, and I'm changing directions again.
That's what this blog is all about, and I'd love for you to join me and find a healthy, happy, amazing life along with me.
The Story of Me and Avocados
This story should show you how clueless I once was about food.
I was at a friend's house with my toddler (back when I was blissfully ignorant of how hard–ahem, amazing it is to raise 4 kids—haha!). She made a tasty tortilla soup filled with a variety of yummy produce, and I remarked how delicious and healthy it was. She said yes, it was, except that avocados had TONS of fat in them.
I'm sure I gave her a blank look, as I wondered what her comment was supposed to signify.
My likely thought process: Wait, so there are vegetables that have fat in them [avocados are actually a fruit]? Should I not be eating fatty foods? Even if they're vegetables? Avocados have fat?? Since I'm not overweight, should I even care about fat content?
Poor little naive me (who was probably eating whatever her tastebuds desired back then. Ah, youth.) Honestly, it was very likely the second time in my life eating avocado. Not once were they on the table growing up.
I remember my mom draining the fat off of any meal that created grease. Every time she cooked ground beef for the spaghetti, there would be a mug full of congealing lard on the counter afterward that would get pitched after it hardened.
If you like this avocado tomato salad with balsamic vinegar, you'll love these Caprese Stuffed Avocados!
None of us had a clue back then. Especially since the nation's nutritional guidelines told us we were doing the right thing. Somewhere along the line, I was told it was healthier to extract the fat from our foods before consuming them. Okay.
But what if it's a vegetable, mom?? (Former self, wake up. I just told you it's a fruit.)
I was so confused.
Fast forward to today, and I'm eating avocados like nobody's business…when they're in season. I hear that once you're fully in ketosis, you get used to being full more often and spend less money on groceries, since you're just eating less.
So there might come a day when I'm buying avocados in the middle of December. It'd be worth it. They're so delicious and creamy!
Fat and the Ketogenic Diet
Back to fat. When I first started learning about keto, I was fascinated with the suggestion–no!–the research telling me that the fat my mother so dutifully deprived me and my siblings of can actually help people lose weight. And be healthier. Whaaat?
What happened to eat fat = get fat, get heart disease, grow some arterial plaque, and die?
That's not a thing anymore. Actually, it never was (according to lots of emerging research AND old research that was ignored or swept under the rug). I'm sure I will be writing extensively about this in many other posts, because it hits me personally since I tested with high cholesterol less than a year ago and my doc wanted to put me on a statin immediately.
Yes. After one measly test. In an initial, new patient visit. With no prior cholesterol tests on record, ever. Don't get me started.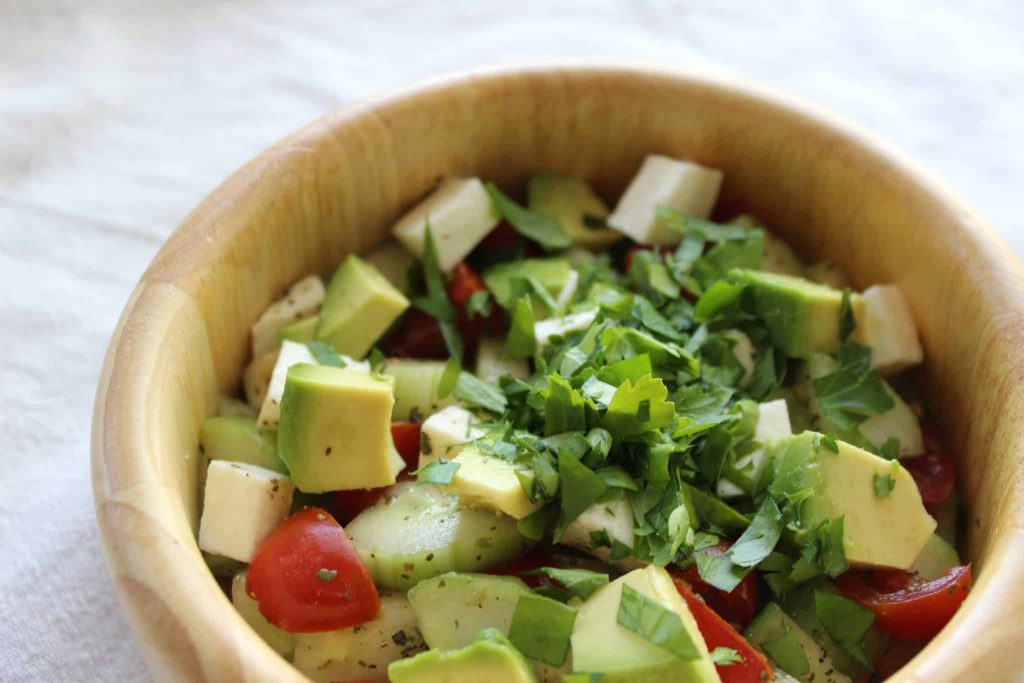 In another post, I'll explain how I lowered my cholesterol to within normal range by changing ONE thing. (HINT:  That one thing was NOT adding a statin to my repertoire.)
You can also read my post on cardiologist Dr. William Davis' book, Wheat Belly. He knows his cholesterol stuff!
Dieting Lifestyling by Inner Voice
I'm so glad I listened to that inner voice that told me to do my own research.
I love that so many keto adherents follow this concept. Keto isn't precise numbers and across-the-board one-size-fits-all. Some find it works better for them to do 5% carbs, while others do better on 20%.
Pay attention to your inner voice and what your body is telling you, and eventually you can intuit what is right for you. I love that.
When I start keto officially, I'm sure I'll be eating avocados year round. For now, I'm sticking to what I call Guacamole Season, and learning all sorts of new keto avocado tricks.
Notes on Caprese Avocado Salad
Avocado is amazing with a caprese twist. These flavors come together so nicely in this simple Caprese Avocado Salad and it could not be any easier to prepare!
The pairing of tomato and avocado typical in so many delicious dishes is dressed up with fresh herbs and diced cucumber, which makes the whole thing feel so fresh! Cucumbers have that watery crunch that makes your whole bowl feel like it was just snatched from a garden.
A self-declared "cheese snob" friend of mine would be proud to see me including another fresh ingredient. The fresh mozzarella is a must in this recipe, and you'll be so glad you didn't leave it out or substitute for it!
If you cook like I do–rarely measuring–you may want to get out the measuring spoons for the balsamic vinegar. It's not one of the lower carb vinegars. But don't leave it out! Its added sweet zing goes so well with the avocado and tomato!
Stay tuned for more yummy avocado creations! In the meantime, if you're looking for more awesome ways to use your avocados, head over to my California Sushi Roll Stuffed Avocados recipe! 
Caprese Avocado Salad
You can't go wrong with the delicious caprese salad combination, but when you add avocado you might just feel like you've died and gone to heaven! Avocado, tomaotes, fresh mozzarella, drizzled with olive oil and balsamic--yum! This Caprese Avocado Salad is just what you're looking for to add to your keto diet meal plan!
Ingredients
2 ripe avocados, diced
12 grape tomatoes, diced
2/3 cup fresh mozzarella, cubed
1 cup peeled, diced cucumber
1-2 tablespoons chopped fresh basil or 1 t dried basil
3 tablespoons chopped fresh parsley
5 tablespoons olive oil
1 tablespoon balsamic vinegar
Fresh ground black pepper
Pink Himalayan salt
Instructions
Place the avocados, tomatoes, mozzarella, cucumber, basil, and parsley in a bowl. Gently turn over with a large spoon until all ingredients are evenly incorporated. Take care not to mash the avocado.
Drizzle with olive oil and balsamic vinegar.
Sprinkle with pepper and salt to taste.
Enjoy!
Nutrition Information:
Yield:

6
Serving Size:

1
Amount Per Serving:
Calories:

247
Total Fat:

25.8g
Carbohydrates:

15.6g
Fiber:

4g
Protein:

4.4g
Pin this low carb keto Caprese Avocado Salad recipe now!
This keto chopped caprese salad is just the fresh you've been craving! Fresh mozzarella, cucumber, tomato, avocado with fresh basil and parsley and balsamic vinegar–yummy!