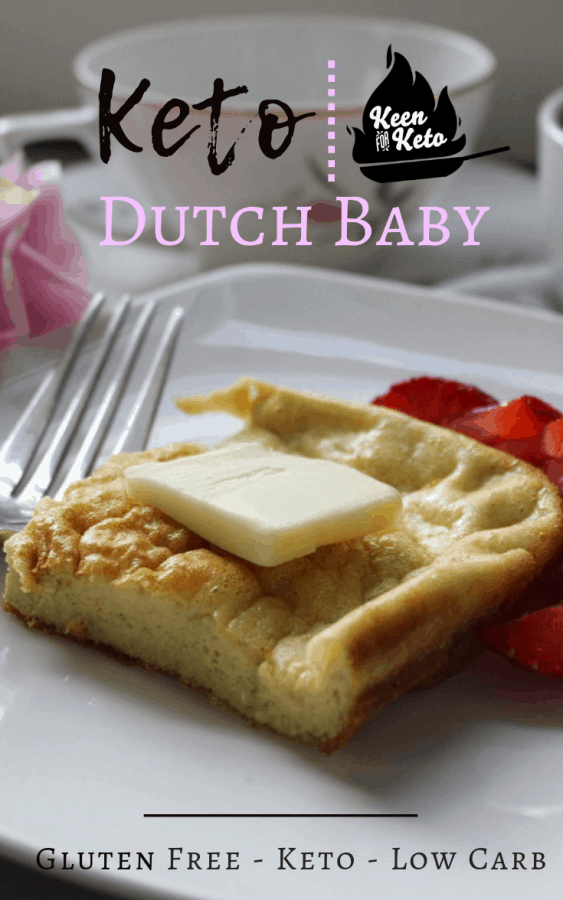 I've heard several names for this yummy breakfast: oven pancake, Dutch baby, German pancake, puffed pancake, pannenkoeken, Dutch pancake, puffed oven pancake, Bismarck, and my family's favorite, the hootenanny pancake.
I had never even heard of an oven pancake until I went to college, so I was doubly confused back then. I soon found out that a rose by any other name–well, it's really good, people.
Also try these Low Carb Dutch Baby Pancake Muffins! This Sugar Free Strawberry Sauce is great for pancakes!
An oven pancake is normally made with flour, milk, eggs, and sometimes sugar. It's a baked pancake that puffs up and has golden edges. It's delicious when warm out of the oven with the right toppings. Berries and butter are perfect.
Related: Keto Buttermilk Syrup Recipe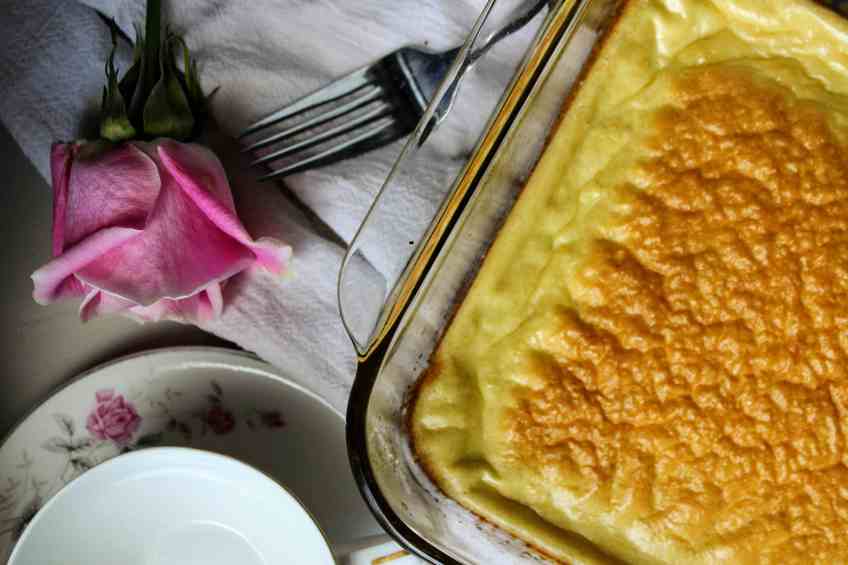 I like oven pancakes better than pan-flipped pancakes because I don't have to stand by the griddle flipping forever while the first pancake I made is getting cold. It's all in one pan and my family and I can eat together at the same time.
And, it just tastes great! It has this custardy, creamy texture inside that is just awesome.
Related: Strawberries on the Keto Diet
Kids and Sugary Breakfast
I didn't even tell my kids this wasn't their normal wheat-based hootenanny pancake. Even so, they kept telling me the entire time how tasty it was. Success!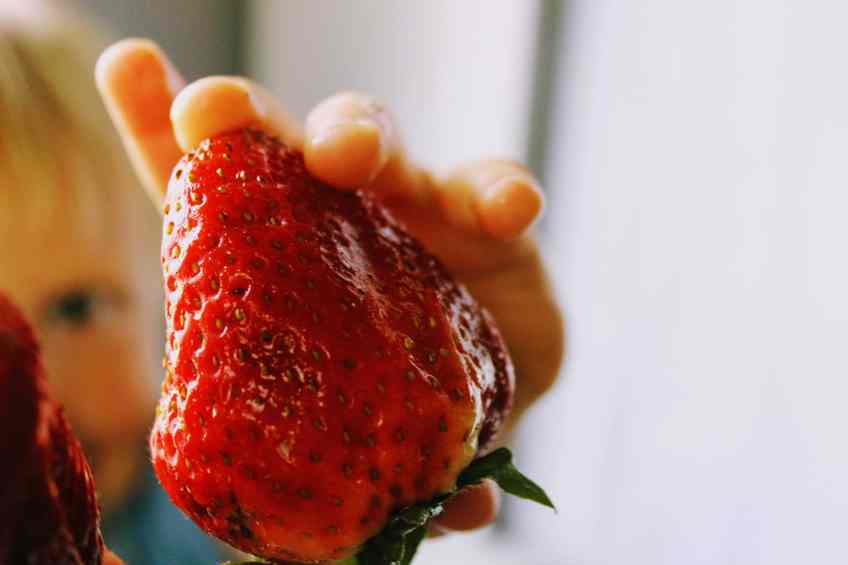 Looking for more strawberry recipes? Go here.
If there's one single thing I won't miss when I switch completely to keto, it's sugary breakfasts.
I don't even want to divulge what happened to my family the last time we picked up donuts for breakfast. It was bad. Lord of the Flies bad. Except without pigs.
Check out these keto pancake toppings for your German Pancake!
I really should make bacon with this next time.
That book is beyond creepy. Okay, so it wasn't that bad when we had donuts.
But it was not good. Like, really not good. (Right now my mother is proud of my creative use of adjectives, to be sure.)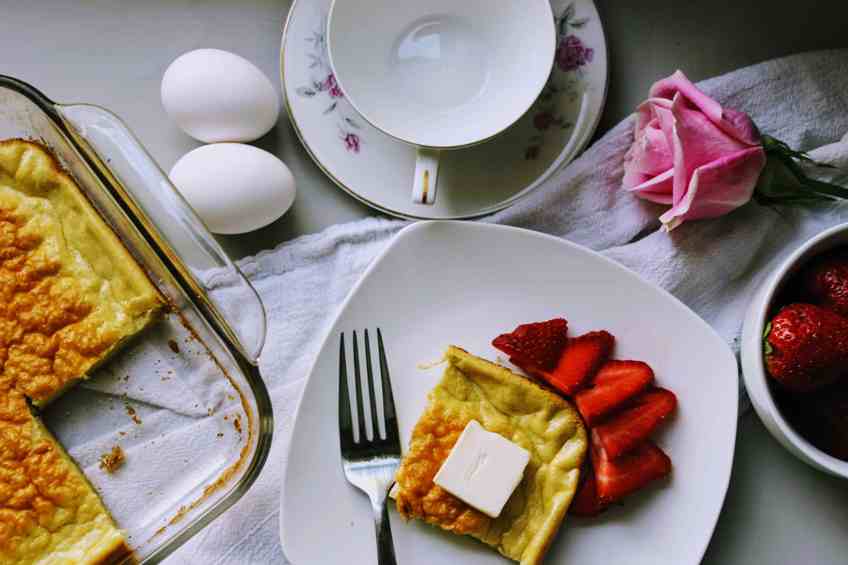 After donuts, wheat pancakes, waffles–name any sugary breakfast–my family transforms and becomes grumpy or hyperactive (and then lethargic).
Breakfast seems like the worst meal to be including carbs, especially processed sugars and wheat.
If I'm honest, we've lost days of happiness and productivity because of sugary breakfasts.
One donut can ruin an entire day. Have you ever had that happen to you? Food really does affect our energy, mood, and clarity of mind.
Notes for Keto German Pancake Recipe
If your kids absolutely won't eat this yet without something sweeter, you can always give them a touch of pure maple syrup. I like to put just about a tablespoon of syrup on the side for my kids so they can dip their bites in.
I find that when they pour the syrup directly onto the pancake, it soaks in quickly and then they're asking for more the entire meal. Which means more sugar.
I don't force my kids to do strict keto, but I do limit their sugars and having tricks like this is helpful.
Speaking of kids, this adorable toddler decided my German Pancake photo shoot was breaking too far into his eating time. So we went with it.
Be sure to watch the oven closely the last few minutes of baking. I've burned my Hootenanny Pancake (that's the funnest name!) at 11 minutes before and had it runny still at 15.
Related: Keto Monte Cristo Breakfast Casserole Recipe
Don't let that warning keep you from making your German Pancake, though! It really is one of the easiest keto breakfasts ever!
Whether yours is a Hootenanny, puffed pancake, Dutch baby, or a German pancake, I hope you enjoy what's on your plate!
Follow us on Pinterest for more yummy recipes! Click here.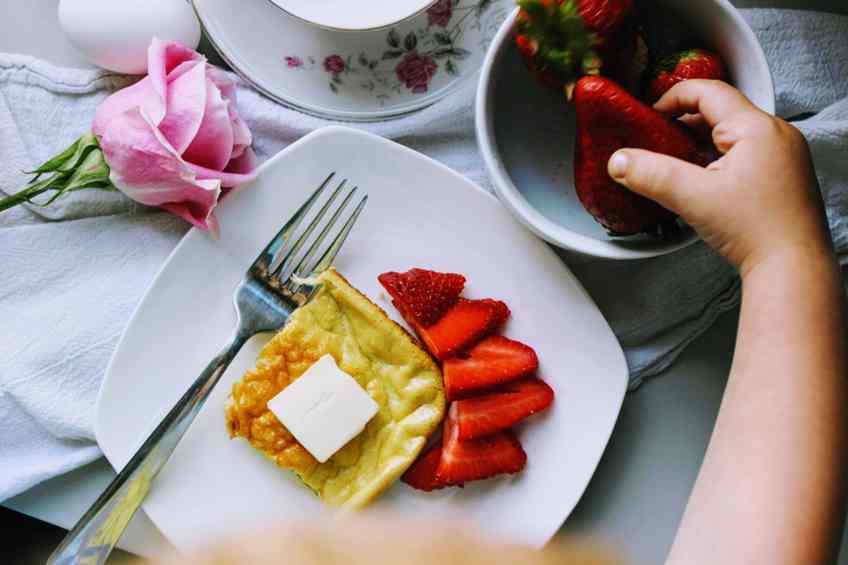 Does your family have yet another name for an oven pancake? Comment below to tell us what it is! I'm curious to know if I missed any!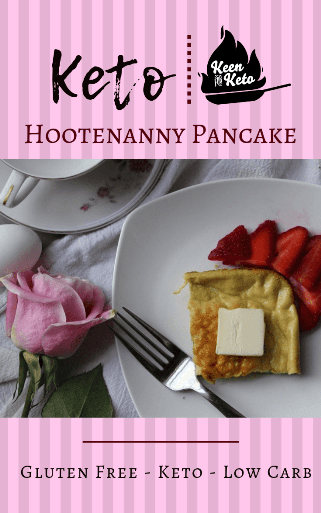 German Pancake
Oven pancake, Dutch baby, German pancake, puffed pancake, puffed oven pancake, Bismarck, and my family's favorite, the hootenanny pancake; whatever you call yours, you'll LOVE this low carb version for the keto diet!
Ingredients
4 ounces cream cheese
4 eggs
¼ teaspoon baking soda
¼ teaspoon ground cinnamon
½ teaspoon vanilla extract
Pinch Himalayan pink salt or sea salt
½ teaspoon apple cider vinegar
5 tablespoons unsalted butter (for melting in pan)
4 strawberries and extra butter, for serving
1 packet stevia or monkfruit sweetener, (optional)
Instructions
Preheat oven to 425 degrees.
While the oven is preheating, add 5 tablespoons butter to an 8" x 8" glass or ceramic baking dish. Place the dish in the preheating oven. Allow the butter to melt completely and remove from oven.
Add cream cheese, eggs, baking soda, cinnamon, vanilla, sea salt, and vinegar to a blender. Blend until smooth and there are no bits of cream cheese visible.
Pour mixture into baking dish. Bake in 425 degree oven for 11-15 minutes or until golden brown on top.
Serve each portion topped with a pat of butter and one sliced strawberry.
Nutrition Information:
Yield:

4
Serving Size:

1
Amount Per Serving:
Calories:

281
Total Fat:

34.5g
Saturated Fat:

14g
Trans Fat:

0g
Carbohydrates:

2.2g
Fiber:

0g
Protein:

8g
Check out this ULTIMATE list of keto pancake and waffle toppings!
Pin this easy low carb German Pancake recipe now!
Looking for a keto German pancake recipe? These keto German pancakes are spongy and light like a regular puffed oven pancake, but with a healthy, low carb twist! Try this ketogenic Dutch baby recipe today! #ketopuffedpancake