These keto Almond Flour Tamales with Red Chile Pork are just the Mexican comfort food for your keto diet dinner! Here we use an easy red chile pork for the filling and give other filling and topping ideas. Keep reading!

This post may contain affiliate links. As an Amazon Associate I earn from qualifying purchases.
Never miss a new recipe! Sign up for our newsletter and get a FREE Keto Grocery List Cabinet Cheatsheet!
Keto Tamales Using Almond Flour
Almond flour is the most obvious substitution for masa flour in a low carb keto tamale recipe. It's slightly sweet and softly gritty, just like a corn meal flour.
The corn extract is added to give it even more of the sweet corn flavor. It's optional, but I have a feeling you'll be glad you tried it!
How to Make Keto Tamales
Time needed: 1 minute.
The tamale wrapping process might sound intimidating, but don't give up yet! These keto tamales are actually super easy to wrap. Once you make your first one, you'll get into a good routine and have them all rolled in no time!
Lay the corn husk down

Pat the corn husk dry with a clean towel and spread it out.

Place a scoop of almond flour masa dough on the corn husk

Scoop about 2-4 tablespoons of the almond flour "masa" dough onto one corner of the wide part of the corn husk.

Spread the almond flour dough

Using your fingers, spread the almond flour masa dough into a square shape.

Add a row of keto tamale filling to the middle of the dough

Add about 2-3 tablespoons of whatever keto tamale filling you've chosen in a row on top of the spread almond flour masa dough. See further down the post for a list of keto tamale filling suggestions.

Wrap the keto tamale

Starting at the corner where you spread the masa dough, begin rolling the tamale.

Continue wrapping keto tamales

Wrap the keto tamale to the end of the corn husk.

Fold the end of the corn husk

Take the empty end of the corn husk and fold it up. At this point, you can take an extra corn husk and tear off a thin strip to tie around the tamale. It's not necessary, but it does keep the tamale from opening too easily and looks cute. :)

Steam or store the keto tamales after wrapping

After rolling the tamales, you can follow the instructions in the recipe card to steam them, or store them in an airtight container for 5-7 days.
If you love these tamales, check out our new Keto Tamale Pie recipe! A family favorite.
FAQs for Keto Almond Flour Tamales with Red Chile Pork
Are tamales high in carbs?
Unfortunately, traditional tamales are high in carbs. This is mostly due to the masa dough, which is made from corn. One pork tamale has 34 grams of carbs.
Is corn keto friendly?
Corn is not keto friendly, for two reasons. It's a grain, which is generally a no-no on the keto diet. Secondly, it has 41 grams of carbs per cup.
For these reasons, I've chosen to use almond flour instead of masa flour. I've also added corn extract to make it taste more corny. Corn extract is a little spendy, but it lasts a long time and you can use it in other recipes, like this Keto Honey Cornbread with Almond Flour.
Check out these other Keto Mexican Dinners! And don't forget to take a peek at our Keto Main Dish section!
Keto Tamale Fillings
Now that you have your recipe for the best low carb tamales with almond flour, you're going to need some keto tamale fillings to go inside!
Keto tamale fillings can include various types of pulled pork, shredded chicken, beef, or low carb vegetable fillings.
Try one of these yummy ideas:
Easy Keto Red Chile Pork in Crock Pot (as shown in the photos on this post)
Keto Sweet Pork (my favorite!)
Related: Keto Taco Casserole
Keto Tamale Toppings
Keto tamale toppings are just as numerous as the fillings!
You can top your keto tamales with sour cream, sugar free mole sauce, salsa, avocado, Mexican blend cheese, cotija cheese crumbles, tomatillo dressing, jalapeno pepper slices, queso, or shredded lettuce.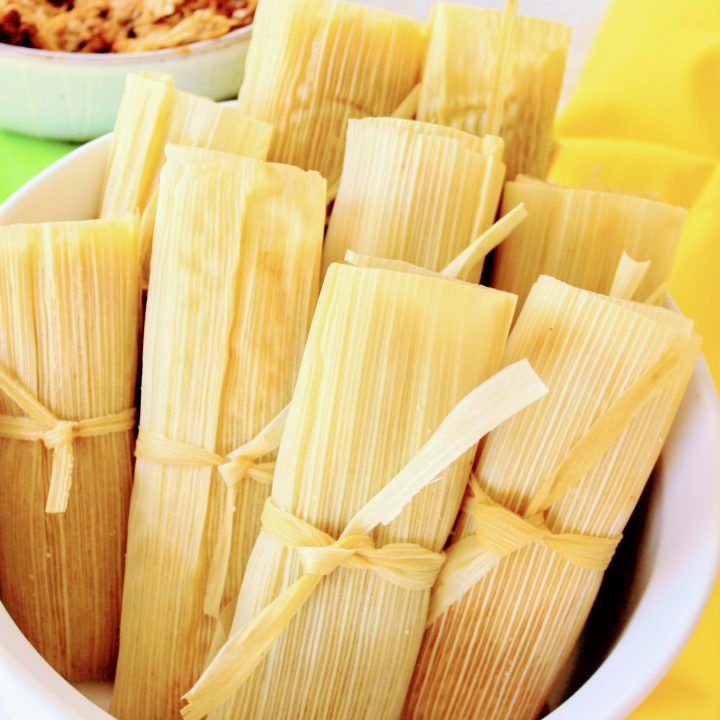 Almond Flour Tamales with Red Chile Pork
Total Time:
1 hour
25 minutes
These keto Almond Flour Tamales with Red Chile Pork are just the Mexican comfort food for your keto diet dinner!
Ingredients
2 cups almond flour
1 teaspoon salt
1-2 Tablespoons bacon drippings, melted (optional)
2 Tablespoons water
Topping ideas: sour cream, salsa, Mexican blend or cotija cheese, avocado, shredded lettuce, queso
Instructions
Fill a large stockpot with water and heat on the stove till boiling. Turn off heat.
Rinse corn husks under tap water. Add corn husks to the stockpot of hot water and immerse. Allow to soak for 20-30 minutes.
Add all of the tamale ingredients to a medium bowl and mix for the almond flour masa dough. Allow to rest for 5 minutes.
Pat dry a corn husk and spread it out. Place a ball of the almond flour masa dough one corner of the wider end of the corn husk.
Flatten the masa dough into a square shape on the corn husk. Add a row of filling (see recommendations in the Notes section below or in the post above).
Roll the tamale all the way to the end. Fold the empty end over. You may take a spare corn husk and tear a strip off to tie the tamales, but this is optional.
At this point, you can steam the tamales or store in an airtight container in the fridge for 5-7 days before steaming.
To steam: Place tamales open side up in steamer. Close lid and steam for 45 minutes. Unroll onto plate and add whatever toppings you like. Enjoy!
Nutrition Information:
Yield:

8-10
Serving Size:

1 tamale
Amount Per Serving:
Calories:

245
Total Fat:

21g
Cholesterol:

30mg
Sodium:

481mg
Carbohydrates:

8g
Net Carbohydrates:

4g
Fiber:

4g
Sugar:

1g
Protein:

6g