Easy Keto Beef Stroganoff is comfort in a bowl. Filling beef and mushrooms in a low carb creamy keto sauce piled atop a bed of cauliflower rice–or eat it by itself! You'll love this healthy creamy homemade keto sauce for beef stroganoff.
Easy Keto Beef Stroganoff
What's your keto comfort food? Easy Keto Beef Stroganoff is high on my list. I feel full, warm, and content after eating this humble dish.
I think it has a lot to do with the fact that beef stroganoff was a meal my mom made regularly, so I think of her when I make it.
Keto beef stroganoff with riced cauliflower is a great winter dish because it's warm and filling, but also awesome for summer, since you won't need to turn on the oven!
I love to have recipes that won't need to be retired when the season changes!
Have you ever put a recipe into hibernation at the change of season, only to forget about it completely? Ugh.
And then 3 years later, you facepalm when you realize you've been missing out on that awesome recipe for THREE WHOLE YEARS!
Ketogenic Beef Stroganoff is Kid-friendly!
Tragic. As is my obvious recipe obsession. You should see my secret Pinterest recipe boards. They're secret for a reason. Some of those boards are like recipe black holes. You'd get sucked in and never find the end. My public boards are much more presentable, I promise.
Now that I'm a mom, I know exactly why my mom made beef stroganoff so often. No one complains!
My kids dig into a bowl of this low carb stroganoff and I don't see their faces again till they come up for a breath.
A lot of keto meals are just for me, because my kids don't like common keto foods, like avocados. (I think they're bonkers, too.)
But this ketogenic beef stroganoff meal is completely kid-approved.
Speaking of comfort food, try this Grain Free Keto Spinach Macaroni Inferno! Or for a delicious side, try these Creamy Keto Stroganoff Mushrooms.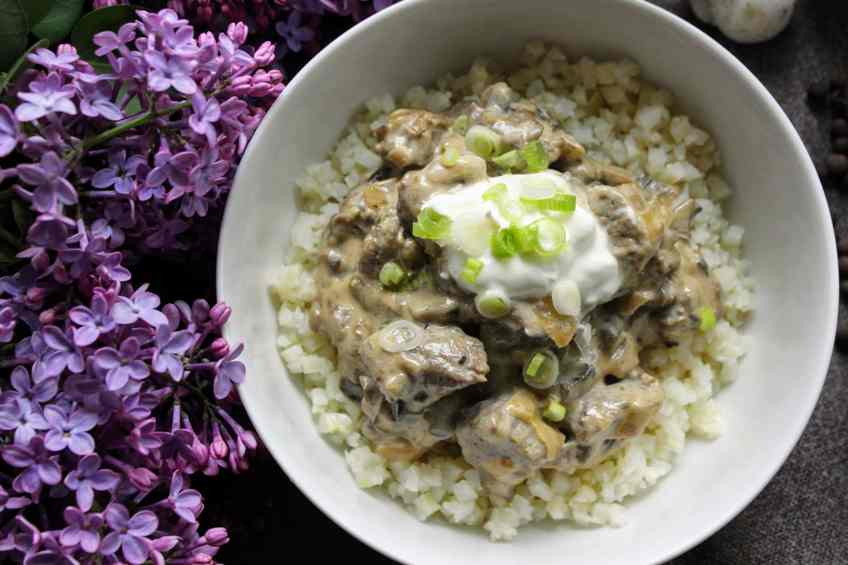 And now that you've got dinner planned, you'll want to check out my other keto main dish recipes!
FAQ for Easy Keto Beef Stroganoff
What is stroganoff sauce made of?
If you've never had homemade stroganoff, you will be pleasantly surprised by this recipe. Most easy stroganoff recipes contain canned cream of mushroom soup.

I make my low carb beef stroganoff sauce with butter, onion, beef bouillon paste, fresh mushrooms, dried sage (or fresh if you have it!–yum!), heavy cream, sour cream, and salt and pepper.

This stroganoff sauce recipe has that homemade, not processed or overly salted taste we all crave. I promise you, this may not be as easy as dumping cans of soup (which generally contain gluten, so not keto friendly), but it WILL be easy. And deliciously comforting!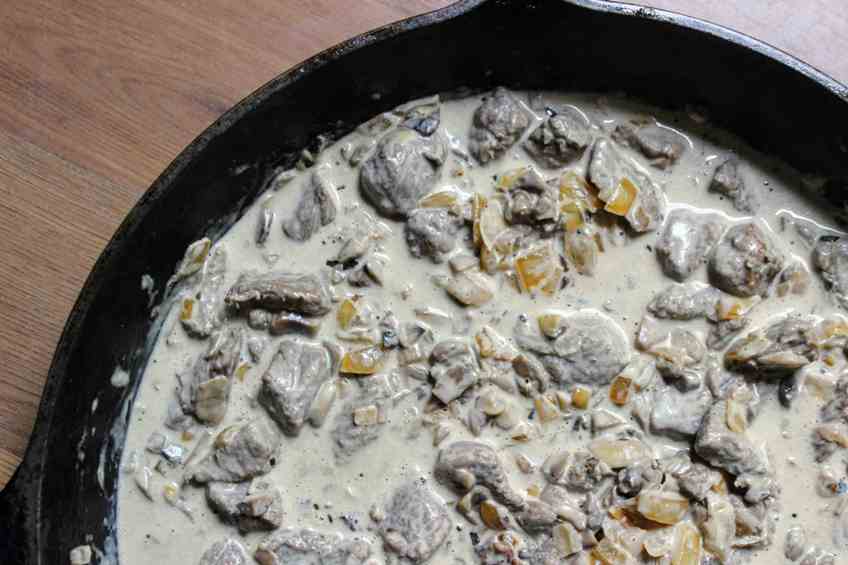 Can beef stroganoff be frozen?
Absolutely! I do it all the time. I wouldn't freeze it much longer than 30 days, as your easy keto beef stroganoff recipe will start to get freezer burn.

When you're ready to eat the healthy stroganoff, let it thaw in the fridge or on the counter and then warm it up slowly in a pan on the stove. Make a fresh batch of riced cauliflower to go with it, and serve!
Do I have to eat this low carb beef stroganoff with cauliflower rice?
People like their stroganoff served in different ways. So no, if you're not fond of riced cauliflower, you definitely don't have to eat your ketogenic stroganoff with cauliflower.

Other options are noodles (try zucchini noodles) or just have it plain! I love it all three ways.
Related: Keto Ground Beef Stroganoff Casserole with Cabbage
How to Make this Easy Keto Beef Stroganoff Recipe
Time needed: 30 minutes.
(Scroll down to the end of the post for the complete card for Easy Keto Beef Stroganoff Recipe.)
Brown the beef

Add butter to the skillet and brown the beef cubes for about 5 minutes, making sure to turn so all of the sides are evenly browned. Remove from skillet and cover in order to keep the meat warm.

Add more butter and the onion

Using the same skillet that you cooked the beef in, add more butter and the onion. Saute the onion until it begins to become transparent, about 10 minutes.

Saute the diced mushrooms

Add the mushrooms and saute for another 5 minutes, until the mushrooms begin to release their juices.

Add the sage

Add the sage to the mushrooms and onions and stir it in. If you use fresh sage, double it.

Make the keto beef stroganoff sauce recipe

Put the beef back in the skillet. Add the cream and simmer the sauce until the beef is cooked completely. allow the sauce to simmer until it's as thick as you like.

Add the rest of the ingredients

Add the sour cream, pepper, and salt. Stir it in and…

Serve the easy ketogenic beef stroganoff recipe

You can serve this keto stroganoff over riced cauliflower, keto noodles, like zoodles, or eat it plain! I like to add a dollop of sour cream and a sprinkle of green onions.
Riced Cauliflower Instructions for your Easy Keto Beef Stroganoff Recipe
For my kids, I sometimes make this with a combination of brown rice and quinoa. FYI, quinoa is a seed, not a grain.
Technically you could eat it on keto because it's not a grain, but that might be your entire allotment of carbs for the day.
My kids' taste buds are slowly changing, though.
The last time I served a dish with riced cauliflower instead of regular rice, they were halfway through the meal before they asked, "Is this cauliflower rice?"
Awww! Their taste buds are growing up!
Riced cauliflower is super easy to make:
Just process a head of cauliflower into small, rice-sized pieces.
Place cauliflower pieces in an uncovered microwave-safe dish.
Microwave for 3-5 minutes at a time, stirring up the pieces in between microwaving, until the "rice" is tender. That's it!
If you don't want to make your own riced cauliflower for this easy keto beef stroganoff recipe, a lot of stores now carry frozen riced cauliflower in the freezer section or fresh riced cauliflower in the produce section.
I still remember the day I noticed that. I think the other shoppers in my aisle giggled a little at my loud, involuntary gasp of delight. Haha! That's fine. The world can always use more laughter.
You May Need…
If you're not interested in the riced cauliflower or zoodles for this easy keto beef stroganoff recipe, I dug up a low carb pasta product that might be fun for you to try! If you love it, let me know!
We appreciate your support!!! (We really do.) Keen for Keto is a participant in the Amazon Services LLC Associates Program, an affiliate advertising program designed to provide a means for sites to earn advertising fees by advertising and linking to amazon.com.
More Easy Keto Comfort Food Dinner Recipes You'll Love!
If you're totally into yummy keto comfort foods, you'll want to check these recipes out!
If you love this easy keto beef stroganoff recipe, please leave it a 5-star rating below! Thank you SO much!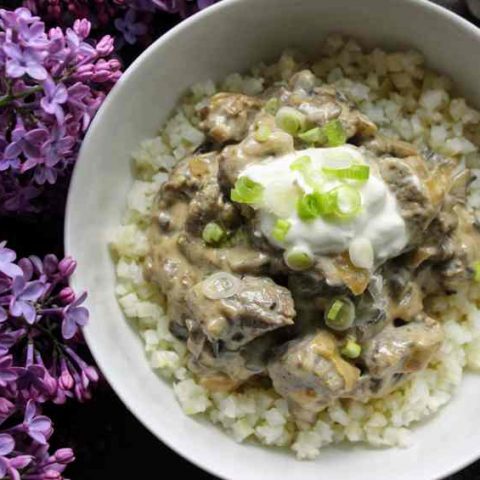 Easy Keto Beef Stroganoff
This Easy Keto Beef Stroganoff recipe is comfort in a bowl. Filling beef and mushrooms in a low carb creamy sauce piled atop a bed of cauliflower rice--or eat it by itself! 
Ingredients
6 tablespoons butter, divided
1 ½ pound beef cut into 1 inch cubes
1 medium onion, diced
2 cups mushrooms, diced
1 cup heavy cream
½ cup sour cream
Instructions
Warm skillet over medium high heat. Add 3 tablespoons of the butter. Brown the beef over medium high to high heat for about 5 minutes, turning each piece until all sides are nicely browned. Remove from skillet and cover to keep warm.
In the same skillet, add 3 additional tablespoons of butter. Add onion and saute for about 10 minutes, until the onions begin to be transparent.
Add mushrooms and saute about 5 more minutes or until mushrooms release their juices and they evaporate a little.
Add sage and stir.
Return the beef to the skillet and add cream. Simmer over low heat stirring occasionally until beef is cooked through and sauce thickens.
Add sour cream, pepper, and salt. Stir.
Serve over riced cauliflower. You may also serve with a dollop of sour cream and sprinkle of diced green onion.
Nutrition Information:
Yield:

8
Amount Per Serving:
Calories:

290
Total Fat:

24.9g
Carbohydrates:

3g
Protein:

14.2g
All nutritional info, calorie and macronutrient numbers are based on nutritional calculators I've found online. There are minor discrepancies between most calculators. You may need to calculate your own nutritional information based on your specific ingredients and brands. I am also not a doctor or medical professional, and any information on Keen for Keto has been gathered through personal research. Ask your doctor before following any medical or nutritional advice.
Easy Keto Beef Stroganoff with riced cauliflower is one of the best easy keto comfort food dinner recipes! Warm and filling. You can also substitute in ground beef for the meat and instead make a keto healthy ground beef stroganoff! Yum! Keenforketo.com | ketogenic beef stroganoff | low carb stroganoff sauce | keto dinner | gluten free beef stroganoff