Satay with Peanut Sauce
Save on Pinterest:
Keto Chicken Satay with Peanut Sauce, because…it's summer grill season and Fourth of July barbecues are just around the corner!
One of my favorite things about keto is the fact that we can now eat foods with rich, fatty, creamy sauces that were supposed to be limited before, in the days of "fat is so bad for you!" Of course, it's important to get the right kinds of fats because if you've read my post on fats, you know not all fats are equal. The research coming out about fats is so interesting!
Dr. Cate Shanahan, who is trained in biochemistry and biology and created the PRO nutrition program for the LA Lakers, is not a fan of vegetable oils, which she calls "liquid death." I'll be reading and reviewing her new book, Deep Nutrition very soon. I can't wait! In the meantime, check out my latest book review: Dr. William Davis' Wheat Belly.  
One of my favorite fatty foods to make sauce with is coconut milk. For this, make sure you buy the full fat canned version of coconut milk. None of that lite, lower fat rubbish. Come closer and I'll tell you a naughty little secret…
…When I'm making the peanut sauce for this, I scoop out a little bit of the hardened, fattiest part of the coconut milk. Then, I scoop a little bit of peanut butter on the same spoon, and eat it just like that. Maybe more than once. It's such a perfect treat! I really think I could eat this as a dessert by itself. I won't tell you how many times I've gotten a little carried away, and let's just say my peanut sauce ends up being a little more peanut than coconut.
The family cook deserves a few special privileges, am I right?
Coconut milk happens to have the good, helpful fats. I know what the American Heart Association has said about saturated fat. I do. But I have a hard time believing it with all I've learned about fats, cholesterol, and heart disease since I started making my own changes.
This Satay with Peanut Sauce recipe has been one of those recipes that I discovered first in one of my favorite vegetarian cookbooks (using tofu, not chicken), then received a similar recipe from my mom, who got it from my aunt, who got it from her husband who served a church mission in Holland, where apparently they love satay and peanut sauce. Peanut sauce on french fries, anyone? I used those recipes and a few others, along with my own original twist, to create a very basic, delicious, keto-friendly version that is both beautiful and to die for.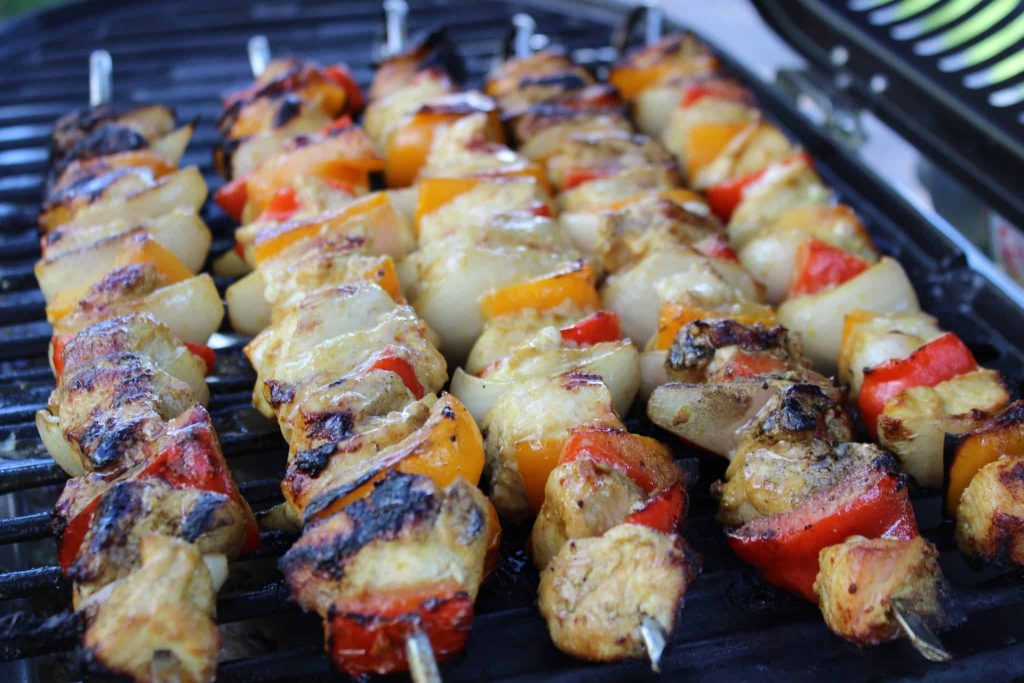 Bell peppers are also known as sweet peppers, so they're loaded with carbs, right? Well, not really. They're not the vegetable with the lowest carb count, but they're also not even close to the highest.
A lot of keto followers have also crossed onions off their lists of approved foods to eat because they are a higher carb vegetable. I tend to disagree. I'm going for a keto diet that is also gut-friendly and healing, and onions happen to be an awesome prebiotic.
That, and caramelized onions. So, yeah. I rest my case.
J.A. Henckels International Statement 15-pc Knife Block Set
As long as you're not having a big ol' pile of onions breakfast, lunch, and dinner, I think you're safe. Really safe. Because your tummy is going to be so happy.
If you're using keto as a healing lifestyle, as I am and I know many of you are, then we need to not be so myopic about cutting out carbs that we throw the baby out with the bathwater.
Also, if you have family members who are struggling with the low carb lifestyle, you can always serve this over rice. My kids are a bit slower in catching the keto vision, so I still serve this for them over a half quinoa, half brown rice mix.
As for me, I'm glad I now get to eat this dish unadulterated. Rice is overrated.
BearMoo Kabob Skewers 17″ Stainless Steel BBQ Barbecue Skewers 7/20 Flat Metal Grilling Skewers Set, Reusable BBQ Sticks (Set of 10 +1 X Handy Storage)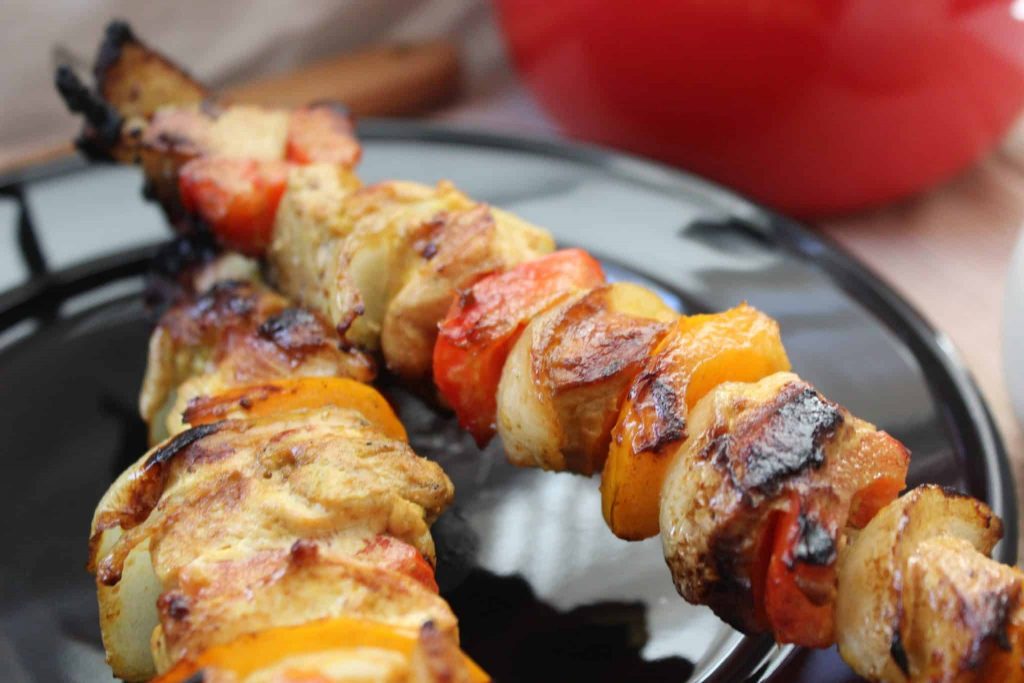 In my opinion, satay is best when grilled, but you could also bake this in a 350 degree oven for about 30-40 minutes, turning every 10-15 minutes until golden and a little crispy on the edges. We still have satay all winter long, just baked in the oven instead of grilled.
The grill we use right now is the Coleman Road Trip Propane Portable Grill LXE. It's pretty awesome. My husband asked for it for Father's Day a couple years ago, and I think he chose well. It's portable, has wheels, and can be folded up for easy transport. Instead of a heavy, full-sized propane tank, it only requires one of those small camping size propane cans. Click on the photo below to see specs.
For a vegan version, the only alteration you'd have to make is subbing tofu for the chicken. Enjoy!
Satay with Peanut Sauce
This keto satay chicken has a creamy peanut sauce that you won't soon forget! Delicious chicken is marinated with special spices and grilled to perfection. Enjoy this Mamorial Day or 4th of July! Or, use the oven option and enjoy year round.
Ingredients
Satay
3 pounds chicken breast or thighs, cut into 1 ½ inch cubes
1 onion, sliced in 1 ½ inch pieces
1-2 red, orange, or yellow bell peppers, sliced in 1 ½ inch pieces
Marinade
2 teaspoons ground coriander
½ cup olive oil
3 teaspoons garlic, minced
1 teaspoon ground turmeric
¼ cup gluten free soy sauce
1 tablespoon rice vinegar
1 teaspoon sesame oil
Peanut Sauce
½ cup natural peanut butter
1 13 ounce can full-fat coconut milk
2 tablespoons dry onion flakes
2 tablespoons gluten free soy sauce
2 teaspoons garlic, minced
2 teaspoons curry powder
1 tablespoon fresh lime juice
½ teaspoon sesame oil
Dash cayenne pepper
Instructions
Marinade
For the marinade, combine all ingredients in large bowl. Add chicken, onion, and peppers, and mix until each piece is thoroughly covered. Cover bowl and refrigerate for 30 minutes to 24 hours.
To GRILL satay, place several chicken, onion, and pepper chunks on skewer. Grill for ten minutes on each side, until cooked through. Serve with peanut sauce.
To BAKE satay, roast in preheated 350 degree oven, turning every 10 minutes till cooked through. Serve with peanut sauce.
Peanut Sauce
Place all ingredients in saucepan. Bring to a gentle boil while stirring, until sauce is thickened. Remove from heat before lumps form.
Notes
For a vegan version, sub tofu for the chicken.
Nutrition Information:
Yield:

10
Serving Size:

1
Amount Per Serving:
Calories:

540
Total Fat:

22.5g
Trans Fat:

0g
Carbohydrates:

6.2g
Fiber:

3g
Protein:

51g
---
---