Do you have a food that you never experienced until you were an adult? My mom did all the cooking for us and is an amazing cook, but even I have a list of foods that I never ate till I was an adult.
I'm sure there are others, but off the top of my head, here are a few: avocados (I know!), cilantro, sushi, and yellow squash.
Growing up, we had zucchini straight from the garden coming out of our ears, but for some reason we just never grew or bought its sister, yellow summer squash.
Try these keto squash recipes, too!
We ate zucchini bread, zucchini brownies, even mock apple pie made with zucchini instead of apples, but not once do I remember having yellow squash.
While zucchini has a special place in my heart (yes, it does), I was oblivious of the existence of poor yellow squash.
I've got some making up to do.
Find more Keto Sides here! And save this list for Keto Easter Sides!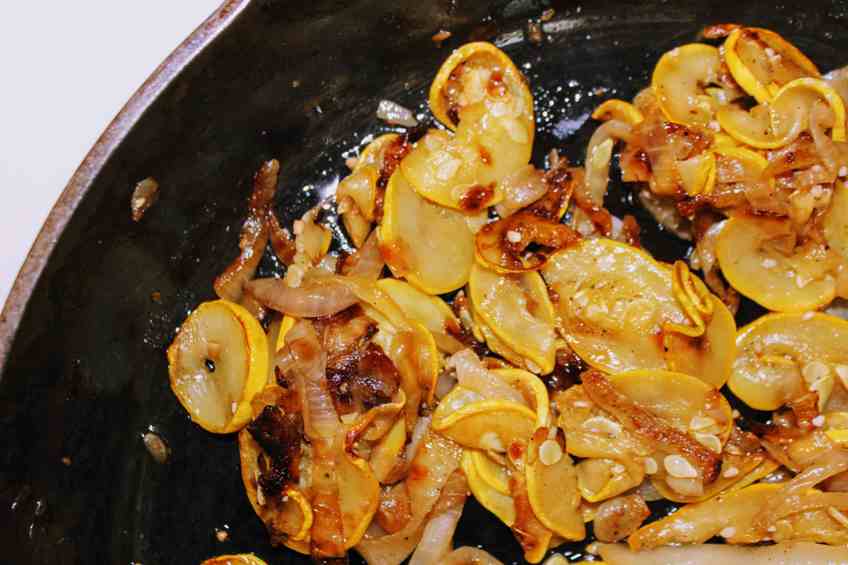 Sautéed Yellow Squash and Onion in Butter
When I ate this for me the first time, I didn't expect much from the humble yellow squash. It's squash. They even snub it in children's movies (remember Ratatouille?). My expectations were blown out of the water.
The slightly caramelized onions and squash melt in your mouth. I double it to make as a full meal or put it alongside a steak or some yummy chicken for a heartier meal.
Do you know how to trim leeks for cooking? Find out!
Be sure to choose yellow squash that are small and tender for this recipe. The larger squash grow, the woodier and tougher their skin gets.
Believe me, I've tried to salvage an overgrown squash before thinking, "I'll just sauté the toughness out."
Huge nope. You can save those tough squash for a different recipe. Definitely don't toss them out!
Try these Steamed Keto Brussels Sprouts with Parmesan!
Ideas for Keto Yellow Squash
If you need an idea, try baked zucchini boats (subbing in yellow squash, of course), or shred up the meat of the squash, steam it in the microwave, mix with cheese and an egg and bake to make a squash pizza crust.
If you know someone with a baby, squash can always be steamed and pureed to make a healthy baby food, too.
One word of caution with this vegetable side dish. It's a side dish. If you notice the macronutrient count, there is very little protein in this dish.
It's not meant to hit the all-day overall macronutrient counts for keto.
It makes a great companion to a carbless main dish, like chicken or a buttery steak. It would be awesome with Greek Tuna Cakes! Click here to find recipe.
Looking for more recipes for veggies? Try this 3-Ingredient Veggie Dip!
This is also a very flexible dish. If you happen to have a zucchini, you can slice it as you would the yellow squash and add it in.
Or if you only have one yellow squash and tons of onions, use a couple onions with the yellow squash and it will still be yummy.
Really, you can't go wrong with sautéed vegetables!
(This last paragraph is one reason why your macros may be different from what is suggested at the top of this post. We generally end up using about 2 cups of sliced yellow squash, but it really just depends on what's left in the fridge or what we get from the garden. You'll have to use your own calculator to adjust if you're being strict with macro count.)
Enter your email to get more yummy low carb keto recipes in your inbox,as well as tips, helpful info, and reviews of relevant health books!
And don't forget to contact me with your keto recipe ideas to give me a challenge!
Sauteed Yellow Squash and Onion in Butter
Sauteed onions and yellow squash in butter with garlic and salt and pepper. The perfect keto side dish for your keto dinner!
Ingredients
2-4 yellow squash, very thinly sliced
1 large yellow onion, thinly sliced
¼ cup unsalted butter, (grass-fed, pasture-raised, if possible)
Instructions
Place skillet over medium heat. Add butter and melt.
Add onion and stir once to coat with butter. Saute for ten minutes, stirring halfway. Do not stir continually.
Add squash and garlic, if using, and stir to coat with butter. Continue sauteing until onions are transparent and begin to be golden around the edges. Gently flip and stir every 5-10 minutes, taking care not to mash the squash as it becomes tender. If the vegetables start to stick to the pan, deglaze by adding a splash of water and scraping the bottom of the pan. The delicious fond morsels that come up from scraping will add to the flavor of the squash. Add salt and pepper to taste. Stir gently.
Notes
(Optional) When the squash and onions are done, and just before turning off the stove, splash the tablespoon of vinegar into the pan and gently stir. Remove from heat and enjoy!
Nutrition Information:
Yield:

4
Amount Per Serving:
Calories:

126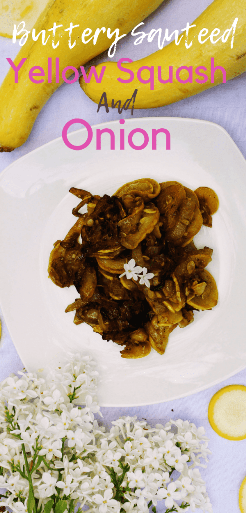 Click here to get more Keto Recipe Ideas!
Yellow squash sautéed in butter is a tasty keto vegetarian side dish for your ketogenic meal. These slightly caramelized vegetables melt in your mouth! If you're looking for ways to use yellow squash, this humble little easy yellow squash side dish will surprise you! #ketoyellowsquash #keenforketo