Are you a fan of Brussels sprouts? You just might be after trying these steamed keto Brussels sprouts! They're tender, bright green, and buttery with a slight tang from the white wine vinegar that really goes well with the salt and Parmesan cheese. You'll never look at Brussels sprouts the same again!
This post may contain affiliate links. As an Amazon Associate I earn from qualifying purchases.
Steamed Keto Brussels Sprouts Recipe
Are you new to Brussels sprouts? These little green mock-cabbages are great for the keto diet, with only 8 total carbs per cup.
Brussels sprouts have got a strong flavor that can be difficult to know what to do with. This recipe combines flavors that accentuate what Brussels sprouts already have going for them, which can make any sprouts-doubter change their tune.
Find more Keto Side Dish Recipes!
FAQs for Keto Steamed Brussels Sprouts with Parmesan
Why steam the Brussels sprouts instead of boiling them?
Did you know that boiling produce actually causes nutrients to leach out of the produce and into the water? Steaming prevents this action from happening, so you get to consume more of those healthy nutrients in your Brussels sprouts.
Can I use a different vinegar?
You absolutely can, but I would recommend sticking to the recipe on this one. White wine vinegar has a more delicate flavor than other vinegars, so other vinegars can be overwhelming.
Get your FREE Keto Approved Foods Grocery List!
If you love this low carb Brussels sprouts recipe, how about more keto vegetable side dishes!
Sautéed Yellow Squash and Onion in Butter
Keto Grilled Radish Skewers with Herb Butter
Keto Easter Sides
Tips for Steaming your Keto Brussels Sprouts
After about 5-6 minutes of steaming, watch the Brussels sprouts closely and check them with a fork. Tender Brussels sprouts are like heaven, but mushy-soft sprouts are not so much.
Enjoy these right away after cooking. They're so much better when hot/warm.
The way you cut your Brussels sprouts should depend on their size. If you can only find golf ball-sized Brussels sprouts, cut them into quarters. This will make them cook more evenly and give you more surface area for the vinegar, butter, salt, and cheese to soak in. If you have smaller Brussels sprouts, you can probably halve them and be just fine.
If you liked this keto recipe, don't forget to leave a 5-star review on the recipe card! Just click the stars below: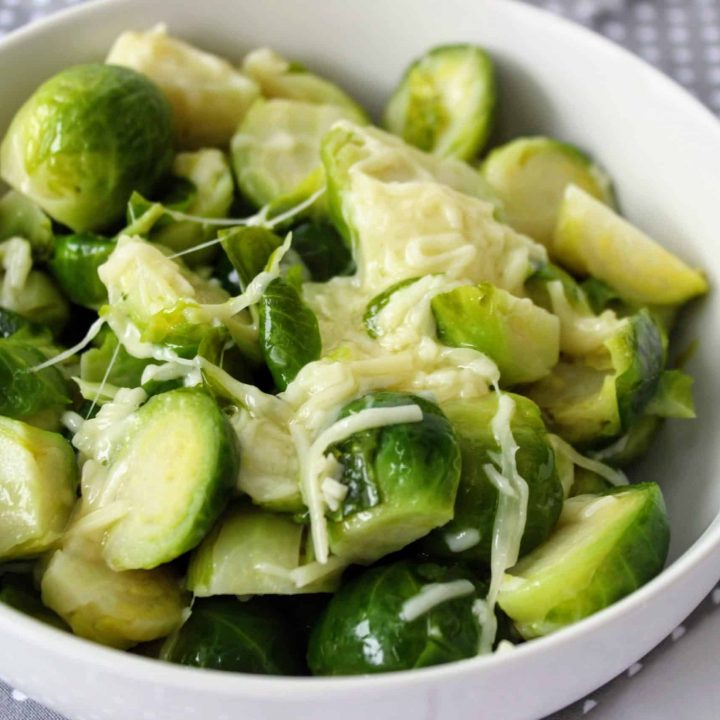 Steamed Keto Brussels Sprouts with Parmesan
Keep all those good nutrients in your brussels sprouts by steaming them. Add parmesan, salt, and white wine vinegar, and you've got the best keto brussels sprouts side dish!
Ingredients
16 ounces fresh Brussels sprouts, washed, trimmed, and halved
3 tablespoons unsalted butter, grass fed if possible
1 tablespoon white wine vinegar
1/4 teaspoon pink Himalayan salt, or to taste
1/4 cup Parmesan cheese, freshly grated
Instructions
Add an inch of water to a pot and insert a steamer basket. Or use a steamer set like the one I use.
Bring the water to a boil.
Add the halved Brussels sprouts to the basket and cover with lid. Steam, tossing halfway through.
When the Brussels sprouts are bright green and tender, remove from heat and drain the water from the pot. Place the Brussels sprouts back into the pot and turn the heat on low.
Add butter, salt, and vinegar, and gently stir the Brussels sprouts till the butter is melted.
Spread the Brussels sprouts evenly on the bottom of the pan, and sprinkle on the Parmesan cheese. Cover with the kids and allow the cheese to melt for about a minute. When the cheese is melted, remove from heat and enjoy!
Nutrition Information:
Yield:

6
Serving Size:

1/2 cup
Amount Per Serving:
Calories:

90
Total Fat:

7g
Cholesterol:

17mg
Carbohydrates:

7g
Net Carbohydrates:

4g
Fiber:

3g
Sugar:

2g
Protein:

3g