Most broccoli nuggets or broccoli tots I've seen instruct you to steam the broccoli first.
Sorry to disappoint, but we're skipping that.

This post may contain affiliate links. As an Amazon Associate I earn from qualifying purchases.
I've done them both ways. This way is better, quicker, and I like the texture more (less soggy, less mushy in the middle, more crispy).
One less step is always good!
My favorite part is that I can throw everything in a blender or processor, throw some of the mixture in a hot skillet, and boom!—dinner's on!
Never miss a new recipe! Sign up for our newsletter and get a FREE Keto Grocery List Cabinet Cheatsheet!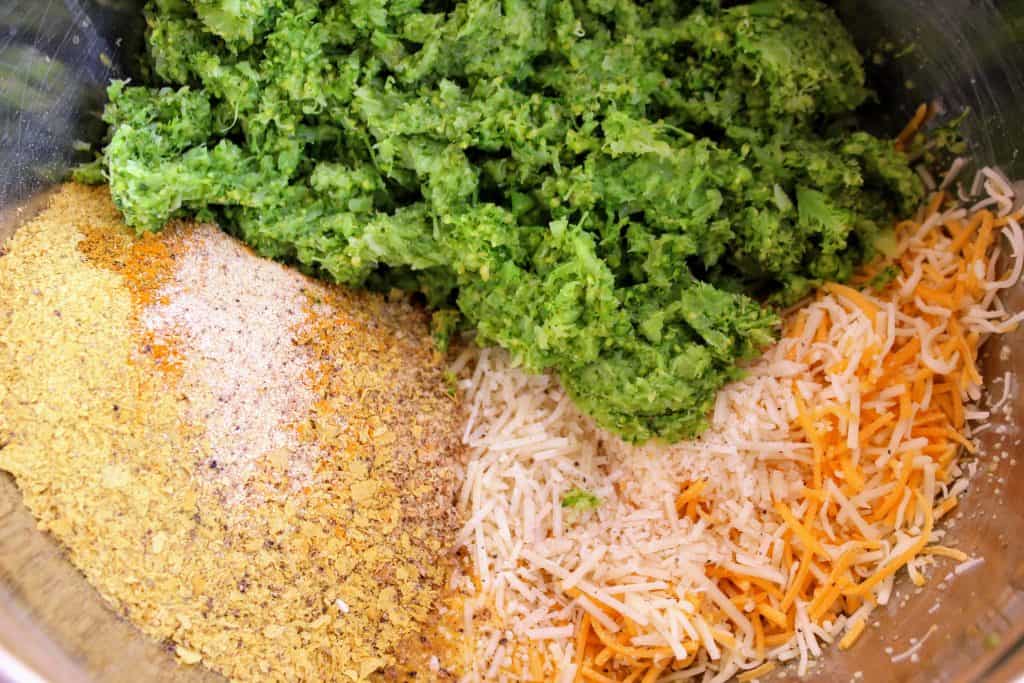 Try dipping your broccoli nuggets in this Keto Fry Sauce!
Easy Ketogenic Broccoli Cheese Nuggets using the Blender (aka Broccoli Cookies)
I've been making these broccoli nuggets since before I knew about keto. And before I was gluten free.
They've been consumed in this family for years and are well-loved.
My kids actually used to call them Broccoli Cookies. Ha!
It's another one of those Evil Mom Recipes, where I sit back, and watch them greedily grab another "cookie" whilst cackling quietly to myself, "Ahhahahaha! My children are eating broccoli like it's dessert!"
More keto dinner recipes!
It's safe to say they're kid-approved.
And they make an awesome substitute for chicken nuggets if you're doing vegetarian keto.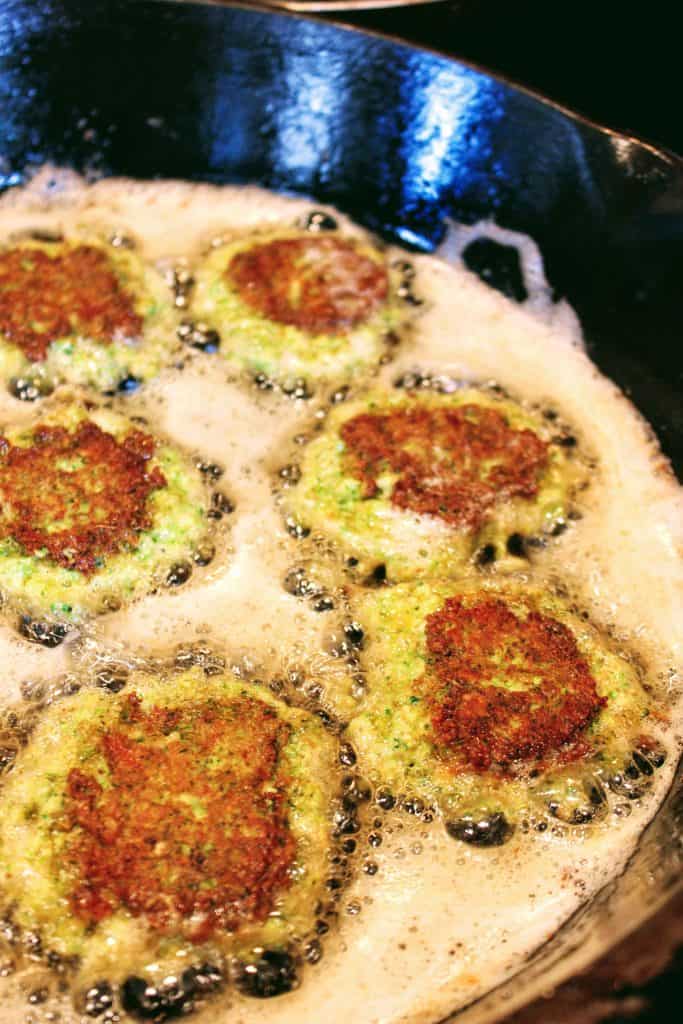 You can eat these broccoli nuggets with ketchup, like you would with chicken nuggets. My kids do. But we all know they'd eat German Pancakes in ketchup if I let them. So that doesn't mean much.
I may or may not have caught a few of my delightful little ones lapping up leftover ketchup straight from their plates before. Ew.
I'm also working on publishing a keto fry sauce that I actually prefer over ketchup for these broccoli nuggets, so stay tuned!
You can also sign up below with your email address to get updates whenever I post new recipes, including the fry sauce, and get a free keto food list, too!
Never miss a new recipe! Sign up for our newsletter and get a FREE Keto Grocery List Cabinet Cheatsheet!
Related: Kid-Friendly Keto Recipes
Serving Suggestions for Easy Keto Broccoli Nuggets
You can eat these broccoli fritters plain or with fry sauce or a sugar-free ketchup, but there are plenty of other possibilities!
For those who miss their favorite comfort food (grilled cheese, of course!), you could serve these with cream of tomato soup. If you want to get REALLY fancy, make your nuggets a tad bit bigger, maybe 3x-4x as big, and when they're all done, you can use your giant nuggets as bread and put a slice of cheese in the middle. Warm in a skillet like grilled cheese, and enjoy with your tomato soup! It's amazing like this. So amazing, I might have to make a separate post for it eventually.
These low carb broccoli nuggets are also really great for school or work lunches. They taste great at room temperature as well as hot from the skillet. We've taken them along on beach or park days, too.
Yet another suggestion is to make a double batch and freeze half. People ask me ALL the time what kind of convenience foods are healthy and keto. This is one! Allow the broccoli nuggets to cool for about 30-60 minutes after taking the out of the pan and then simply place them in a freezer container and freeze! To reheat, put them in the microwave for 30 seconds.
As I've mentioned in the body of the recipe, I use a cast iron skillet for making these nuggets. This is the one I use:
This Keto Turkey Tetrazzini Skillet is another easy yummy keto dinner made all in a cast iron skillet!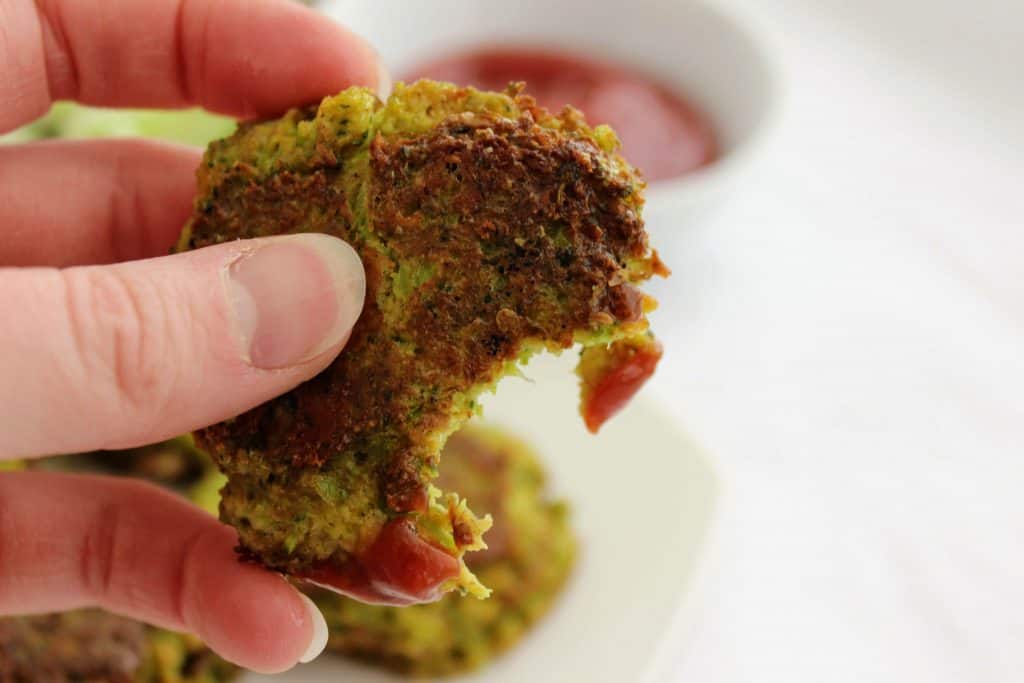 Keto Broccoli Nuggets Recipe
Keto Broccoli Nuggets (or keto broccoli tots or keto broccoli fritters) are a
kid-friendly keto meal that please adults and kids alike! You'll love these
cheesy broccoli nuggets!
Ingredients
3 cups raw broccoli florets, processed until crumb-fine
½ cup Parmesan cheese, shredded
1/3 cup Mexican blend cheese, shredded
2 eggs
Instructions
Mix broccoli, parmesan cheese, and Mexican cheese in a medium bowl. Set aside.
Place eggs, flaxmeal, nutritional yeast, bouillon paste, turmeric, salt, and pepper in blender or processor and process for 20 seconds or until well-blended. Pour into bowl with the broccoli mix. Stir with a fork until mixture becomes uniformly moist and sticks together loosely. (It will hold together better as the cheese melts when cooked.)
Heat equal parts butter and oil in a cast iron skillet over medium heat. Form broccoli mixture into balls about 1 1/2 tablespoons in size. Flatten slightly and place in hot skillet.
Cook in oil/butter for about 5-6 minutes, turning halfway through, till each side is golden brown. Transfer to a plate and allow to cool a few minutes before serving to avoid burned fingers.
Serve warm with fry sauce or sugar free ketchup on the side for dipping.
Recommended Products
As an Amazon Associate and member of other affiliate programs, I earn from qualifying purchases.
Nutrition Information:
Yield:

10
Serving Size:

3-4 nuggets
Amount Per Serving:
Calories:

126
Total Fat:

10g
Trans Fat:

0g
Sodium:

137mg
Carbohydrates:

2g
Fiber:

2g
Sugar:

1g
Protein:

6g
Easy Keto Recipes
And here are more easy keto recipes for you to try out!
Keen for Keto keto recipes blog is a participant in the Amazon Services LLC Associates Program, an affiliate advertising program designed to provide a means for sites to earn advertising fees by linking to Amazon.com. We appreciate your support!