You may have heard of fry sauce before or one of its variations (comeback sauce, fancy sauce, or mayoketchup). Fry sauce is great for dipping French fries, onion rings, chicken nuggets, shrimp, and much more!
There's also this new and weirdly named "mayochup" by Heinz (which is NOT sugar free or keto approved, but you can check out mayochup here). Why not just call it fry sauce? I don't get it.

Do you see that?? Yes, this is a ZERO CARB fry sauce! Sort of. If we're being technical, the whole batch has 2 net carbs for 8 servings, so it's not nothing, but this is what my recipe calculator told me and I feel weird putting it as zero, so I'm disclosing that it's more like .25 net carbs per serving.
There. My OCD or conscience or something feels better.
Keen for Keto keto recipes blog is a participant in the Amazon Services LLC Associates Program, an affiliate advertising program designed to provide a means for sites to earn advertising fees by linking to Amazon.com. We appreciate your support!
Never miss a new recipe! Sign up for our newsletter and get a FREE Keto Grocery List Cabinet Cheatsheet!
What is Fry Sauce?
Fry sauce is one of the easiest dipping recipes you can make.
It's usually a combo of one part ketchup and two parts mayonnaise and is SO great for dipping so many things, especially french fries and chicken nuggets.
Anything that you can dip in ketchup is usually even tastier dipped in fry sauce: onion rings, "tater" tots, broccoli nuggets, shrimp, fish sticks, etc.
Try dipping these yummy broccoli nuggets in this keto fry sauce!
A lot of people like to put it on their burgers, too. To me, it's similar to the sauce that's put on Big Macs.
Is Fry Sauce a Utah Thing?
When I visited Utah at the age of 16, everyone was dipping their fries in this pink concoction like it was the most normal thing ever (and let me tell you, Utah is the absolute least normal of all the states–ballroom teams in high school? Fabulously amazing, but still odd–love you, Utah!).
It seems like fry sauce was invented in Utah, it's so popular there! You can get it in any fast food restaurant in Utah that sells french fries or chicken nuggets.
In fact, fry sauce is also at restaurants like Freddy's or Arctic Circle.
Fry sauce is one of those regional things that has different variations in several places. So, it's popular in Utah, but it's also popular in other places by different names.
Here's another yummy dip! 3 Ingredient Sausage Cream Cheese Vegetable Dip
In Argentina, it's called golf sauce, salsa golf, or salsa rosada (and often has hot sauce in it).
In Germany, it's called Rot Weise sauce (or Red White sauce). You can buy it in a tube that comes out in red and white stripes. Now you know!
And in the south, there's Comeback Sauce. Comeback Sauce is so similar to fry sauce, but has more flavorings and some Tabasco sauce for that southern kick.
Try these other keto condiments:
What's in This Keto Fry Sauce Recipe?
As I mentioned, fry sauce is mostly ketchup and mayonnaise, with a few other ingredients.
Like sugar. Seriously, it's in everything, isn't it?
Check out our Keto Sides & Veggies section!
Here's what I've put in the keto version of fry sauce: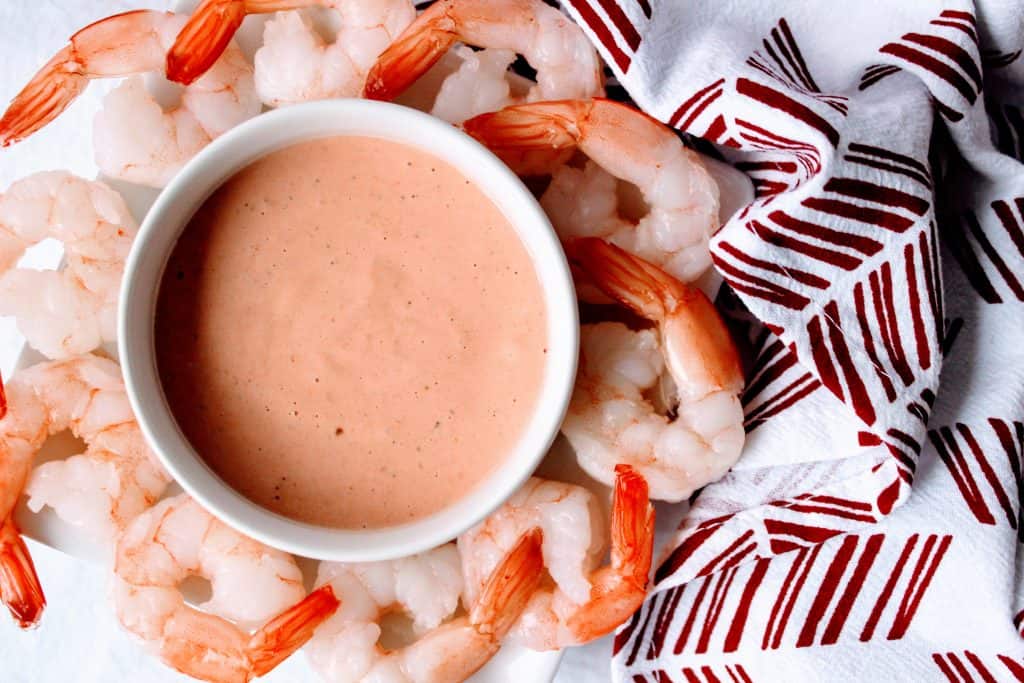 Get your FREE Printable Keto Foods Grocery List from Keen for Keto!
FAQs for Low Carb Fry Sauce
Can I use this keto dipping sauce for chicken tenders?
Yes! You can use this keto dipping sauce for just about ANYTHING you want. Well, maybe not everything. As a general rule, use this fry sauce anywhere you would use ketchup.
Should I use vinegar or pickle juice in fry sauce?
If you can, use pickle juice. Just watch for sugar in your pickles. I like the bit of extra flavor from the pickle juice. However, vinegar is what I usually use because it's always on hand and it tastes great, too!
What's the secret ingredient in fry sauce?
The answer to this might vary depending on who you ask. In this particular recipe, there are two ingredients I would NOT leave out. The first is the vinegar or pickle juice.

Because regular ketchup has vinegar and we're recreating that taste from tomato paste, the vinegar or pickle juice is essential.

You can choose which to use, but don't forget one!If you use pickle juice, you may want to use less salt, since pickle juice already has salt.

The other ingredient you do NOT want to leave out of this low carb fry sauce recipe is the no salt seasoning.

As I was testing the sauce, I added just a pinch, then a bit more, until I stopped at 3/4 teaspoon of the yummy stuff. I could definitely tell a difference as I went.

If you don't want to run to the store for it, you can get no salt seasoning here. You can also substitute onion powder for the no salt seasoning, but it won't be exactly the same.
Keto Fry Sauce
Looking for an easy keto dipping sauce for French fries, chicken nuggets, shrimp, tater tots, onion rings, and roasted veggies? You've found the easiest one here with this keto fry sauce!
Instructions
Add all ingredients to a blender. Blend till smooth. Serve with keto fries, shrimp, broccoli nuggets, or your favorite dipping food.
Nutrition Information:
Yield:

8
Serving Size:

2 tablespoons
Amount Per Serving:
Calories:

103
Total Fat:

12g
Sodium:

116mg
Carbohydrates:

2g
Net Carbohydrates:

2g
Fiber:

0g
Protein:

0g
Easy Keto Recipes
And here are more easy keto recipes for you to try out!