Pin this recipe now: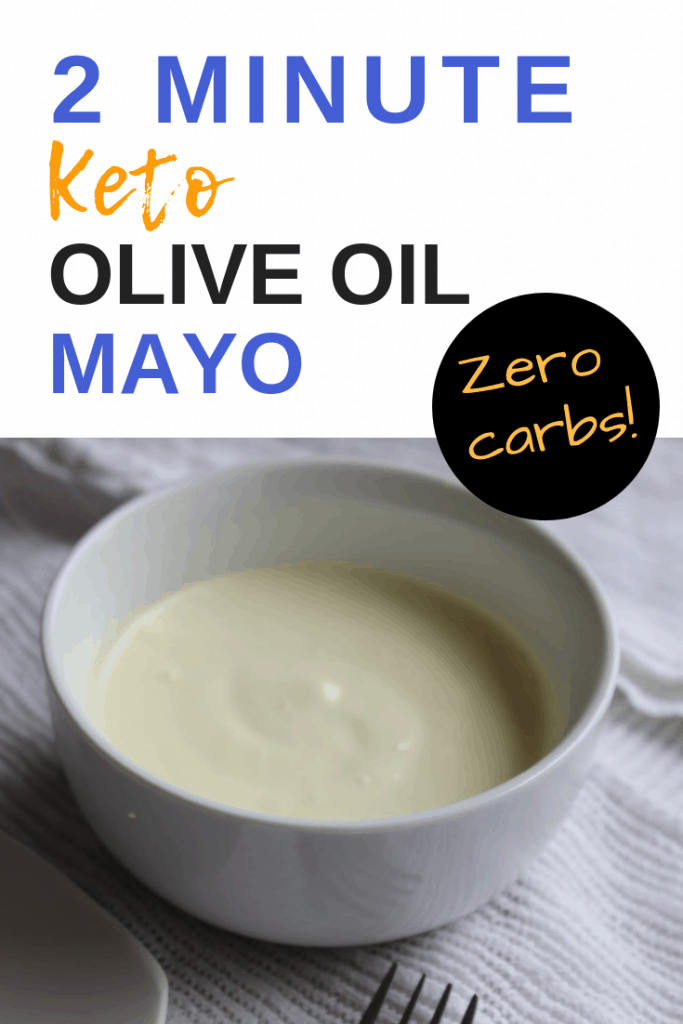 2-Minutes to fresh, ketogenic olive oil mayonnaise? Sugar free? Gluten free? Low carb? Yes, please! Mayonnaise is a keto-approved condiment and you can make yours with the help of the healthy fats in olive oil!
When I started researching keto, I was so excited to find out that mayonnaise is another food I don't need to cross off my list. You will be so pleased at how quick and easy this mayo is. I had no idea!
Two minutes? Really? That was my reaction the first time I made this. I don't know why, but I pictured mayonnaise-making as a drawn out, complex, confusing process.
It's not! In fact, it probably takes less time to make this mayo than it takes to locate a jar of mayonnaise at the grocery store. And it's cheaper.
And, as you'll find out later in this post, it's healthier. It's even healthier than the olive oil variety of store-bought mayonnaise. Try it.
Healthy Fats and Olive Oil Mayo
Now for the serious part. I promised in the beginning I'd explain step-by-step how the keto diet works and see if the claims can be explained with science.  If you've read some of my other posts about fat, you know by now that fat is not just fat.
When we first discovered olive oil mayonnaise at the store years ago, we were eager to try it. We found out that it's delicious!  We've bought it over regular mayonnaise ever since, thinking we were being health-conscious.
Unfortunately, store-bought olive oil mayonnaise is not made exclusively with olive oil. It also contains soybean oil and canola oil, which are high in omega 6 fatty acids, and contains sugar (and a bunch of other preservatives and additives).
If you want to know more about fats, go over to my Greek Tuna Cakes and read up a bit, and while you're there, make some of those quick and easy packets of amazing-ness to put underneath this awesome mayo.
You won't regret it, I promise.
The most rewarding part of this recipe is when it finally emulsifies.  You're just pouring in the olive oil, hoping you're not wasting ingredients. Then you're sure you've wasted that darn olive oil. When you're positive you've got another Pinterest fail on your hands–boom!—you've got mayonnaise!
I don't know what sort of magic it is, but it tastes pretty darn good.
Try these other yummy keto condiments:
Obligatory raw egg warning:
Because homemade mayonnaise contains raw egg, please be mindful.  After making the mayonnaise, refrigerate it. People have been making raw egg mayonnaise for a long time without problems.
But, if you have a weak immune system, this might not be something to try until you've strengthened your immunity. Posts will be coming to help with that goal.
For the rest of us, let's make some mayo! Our mayo usually lasts only a week to a week and a half before it's used up. It may keep longer, but I haven't had ours last longer than that!
I already have my brain full of awesome ideas for using this mayonnaise, so keep watching for those to come! (I'm rubbing my hands together in anricipation right now. Yep. It's going to be good.)
In the meantime, try making this mayo and spread it on a delicious lettuce wrap before adding toppings. Or try it on the Greek Tuna Cakes.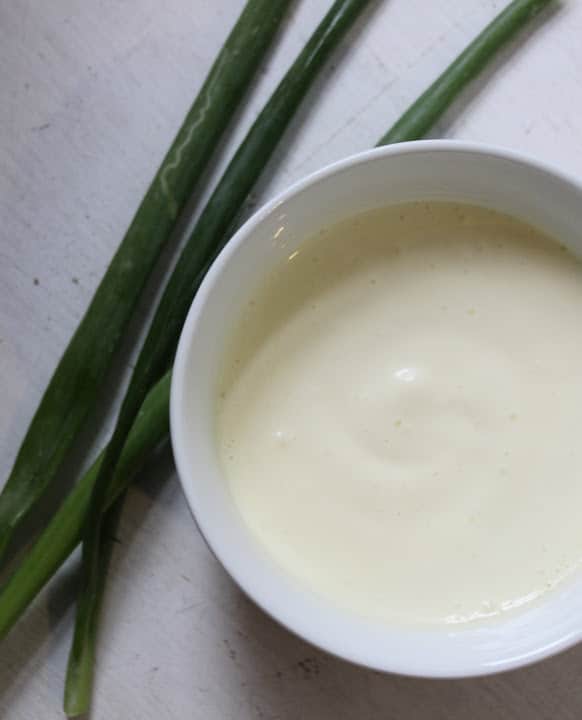 2-Minute Keto Olive Oil Mayonnaise
Ingredients
2 eggs
½ teaspoon sea salt
½ teaspoon dry mustard powder
2 tablespoons lemon juice
1 cup olive oil
Instructions
Chill olive oil in freezer for 30 minutes.
Place eggs, salt, mustard, lemon juice to a blender. Blend for 30 seconds.
Turn blender on and slowly drizzle olive oil into blender until the mayonnaise has emulsified.
Notes
If you like your mayonnaise more tangy, feel free to add vinegar to taste after preparing the mayonnaise, or replace the lemon juice with vinegar.
Nutrition Information:
Yield:

14
Serving Size:

1
Amount Per Serving:
Calories:

147
Total Fat:

16g
Saturated Fat:

2g
Trans Fat:

0g
Unsaturated Fat:

13g
Sodium:

87mg
Carbohydrates:

0g
Fiber:

0g
Sugar:

0g
Protein:

1g