Strawberries–along with other berries–are one fruit that is lower in carbohydrates and is a ketogenic favorite as a dessert or snack in small amounts.
When we brought home an enormous container of beautiful ripe strawberries from a certain bulk food store, I first thought of jam.
Summers picking strawberries with my mom, bent over in the warm sunshine, and then coming home and licking up the strawberry foam left over after my mom had poured the piping hot jam into jars.
Related: Strawberries on Keto (find out about eating strawberries on the keto diet!)
But that's not really a keto fantasy, is it? The first time I made strawberry jam myself, I was appalled at how much sugar goes into it, and I wasn't even close to considering keto back then. 4-5 cups in one batch! Let's just spread sugar all over our toast and skip the nostalgia.
Time for a new fantasy.
Strawberries and cream, baby. 
Related: No Bake Keto Cheesecake With Strawberry Topping
Related:  Easy Keto Crème Brûlée Bars
Old-Fashioned Treat: Strawberries and Cream
This homely favorite hearkens back to the days when sugar was not as omnipresent as it is now. Have you read the Anne of Green Gables series? It's set in Victorian times.
Anne's everyday favorite "treats" were an apple pulled up from storage in the cellar or a dollop of jam of bread. Seems pretty tame. Now sugar is everywhere and our everyday sweet treats are anything we want!
I honestly did not have high hopes for this easy dessert when it popped into my head (second, of course, after the strawberry jam). The only sweetener is the natural sugars that occur in the strawberries. Since I'm not fully keto yet, I had my doubts.
When I went searching for a recipe for this old-fashioned favorite, I thought surely it contains more than the title suggests. Nope. NO sugar. No sweetener.
Love strawberries? Try this Sugar Free Strawberry Sauce for Cheesecake or pancakes or ice cream!
The skeptic in me said there was no way this would taste good, while the keto-enthusiast in my said, "No sugar? Let's try it!!" The busy mom in me said, "Slice a few strawberries and pour some cream over them? Absolutely! I'll even pretend I like it for that!"
No pretending necessary. It's not only refreshing in the summer heat, but delicious and filling in a way that most desserts aren't. Have you noticed that? Most desserts have tons of sugar, which just makes you crave more.
They contain nothing filling, or even if they do, you're looking for another treat an hour later! I love that I can serve strawberries and cream in cute little custard cups and that small serving truly is enough.
Pyrex Bakeware Custard Cups, 10-Ounce, Pack of 8
What did the kids think of Strawberries and Cream?
The first time I made this for my family, it was for breakfast, with scrambled eggs. I'm classifying this as dessert or snack food, but honestly, it's fine. It's fine. Hush now. No added sugars, remember? 
Before he picked the spoon up for his first bite, my toddler took one look at his cute little bowl and said, "Mmm! Thanks!"  
He had his finished before anyone else and was asking for more before some of my older kids had even ventured their spoons to their mouths.
Now I have a reason to take my own kids to a strawberry field and help them also create some nostalgic memories–with a healthful twist!
Notes for Keto Strawberries and Cream Recipe
If you're even more skeptical than I am about the ease of this recipe, you could always tack on another step and add a couple drops of vanilla to the cream.
Just make sure you grunt and wipe your brow a few times to be truly convincing.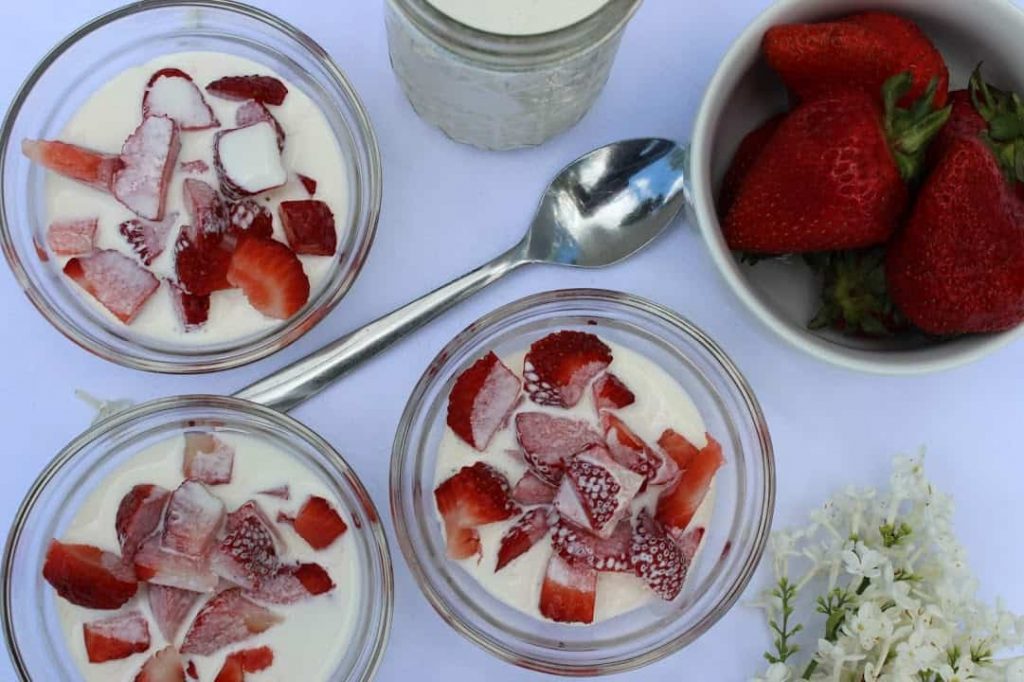 If you want to try a vegan or dairy-free version, use full-fat coconut milk instead of heavy cream. Make sure to stir or blend it first if the cream on top has hardened. Believe me, you want to keep that good stuff.
Strawberries and Cream
A refreshing strawberry dessert or snack that's perfect for keeping you on the keto path! 
Ingredients
10 medium to large strawberries
1 cup good quality heavy cream
Instructions
Dice or slice strawberries. Leave them whole if you prefer. Divide amongst 6 small serving bowls.
Pour ¼ cup cream over each bowlful of strawberries.
Serve and enjoy!
Notes
Vegan or dairy-free version: Substitute stirred or blended full-fat coconut milk for the heavy cream.
Nutrition Information:
Yield:

6
Serving Size:

1
Amount Per Serving:
Calories:

141
Total Fat:

14g
Saturated Fat:

9g
Trans Fat:

0g
Unsaturated Fat:

4g
Cholesterol:

45mg
Sodium:

11mg
Carbohydrates:

3g
Fiber:

0g
Sugar:

2g
Protein:

1g
More Keto Dessert Recipes You'll Love!
If you love keto strawberries and cream, try these other indulgent ketogenic desserts from Keen for Keto. You absolutely CAN reach your health goals while enjoying a treat from time to time!
Keto Strawberries and Cream, low carb high fat dessert for the ketogenic lifestyle! You'll be surprised at how easy it is to make the classic strawberries and cream treat into a low carb strawberries and cream version! Are strawberries ok on keto? You bet! And they're so tasty and refreshing this way!