I honestly didn't know if I could make a mock doritos taco salad taste the same as the original salad. I'm happy to say that (according to my taste buds and those of my picky family), this keto chopped taco salad has done it!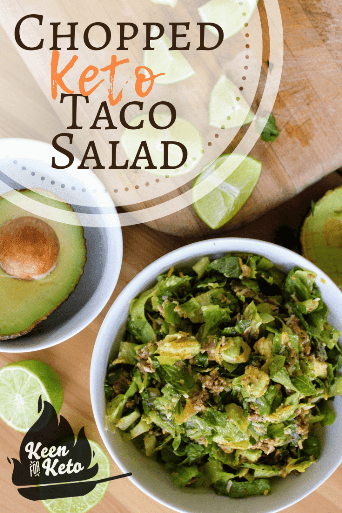 Keto Chopped Taco Salad
If you've been here before, you know that salads are not my thing. I have to really, reeeeaally love a salad for it to pass my crazy-intense scrutiny.
I love this healthy taco salad.
And the fact that it's a HEALTHY taco salad and still passes my strict salad standards is pretty amazing.
It started with the taco meat. Over several trials, I figured out how to make the low carb taco meat taste pretty darn close to those MSG covered triangles we call Doritos.
Actually, I have a whole list of awesome taco recipes that use this same taco meat, along with this keto taco salad, but this salad is what inspired the meat.
Another one of my favorites is my Mexican Bubble Pizza. I'll leave a list of links and photos of the rest of these taco recipes just before the keto chopped taco salad recipe.
Never miss a new recipe! Sign up for our newsletter and get a FREE Keto Grocery List Cabinet Cheatsheet!
Wondering what to use for a low carb tortilla, keto taco toppings, or taco filling? Sounds like you need keto diet taco ideas!
FAQ's for Keto Chopped Taco Salad
Can I use my own taco meat recipe in this healthy chopped taco salad?

Normally, I would say absolutely, go for it–but not here. I mean, you'll have a pretty good taco salad by using your favorite taco meat in this keto salad, but if you read my intro, you know that I specially created the Super Keto Taco Meat just for this recipe. So subbing is not advised.
Do I have to chop my keto taco salad?
Nope. I just happen to have a small mouth and I enjoy chopped salad because the pieces are smaller and there's more chance of me getting a little bit of everything in one bite. It's pure preference, or to have something different.
Can I add extras toppings to my chopped taco salad?
I tried to make this salad taste as authentic as possible. I added in a few toppings (which are marked as optional in the recipe). If you want yours to taste more like the original Doritos taco salad, leave out the cilantro and lime juice. While these are delicious in taco salad, they do change the taste I'm going for here.
Love Mexican salads? Try this Tomato Cotija Salad with Tomatillo Dressing or this Keto Sweet Pork Salad. Enjoy!
How to make Keto Taco Salad
Time needed: 10 minutes.
This low carb chopped taco salad could not be any easier. I'm not so sure you even need this "how to"!
Make a batch of keto taco meat

Be sure to use Keto Super Taco Meat for this recipe. You can use a different taco meat recipe if you like, but remember, Keto Super Taco Meat was specifically made just for this taco salad recipe.

Chop the lettuce, tomatoes, avocados, and cilantro

Chop the lettuce, tomatoes, avocados, and cilantro (if desired) and place in a large salad bowl.

Add the shredded cheese and taco meat

Place the shredded cheese and warm taco meat in the bowl and toss all ingredients together.


Add extra toppings as desired

Spoon into salad bowls and serve plain or with toppings, as desired. Possible taco salad toppings: sour cream, more cilantro, lime juice.
Try these other Keto Mexican Recipes:
You May Need…
The following is an affiliate link. I earn from any Amazon purchases you make by following and using this link to purchase. Your support is appreciated!
If you've never used a salad spinner, you're missing out! They rinse out your greens and keep them crisp instead of soggy. I've used several kinds before–trust me, you don't want a flimsy one. This salad spinner is highly rated with awards to boot. Great for this keto chopped taco salad!
Need more keto dinner recipes?
Chopped Taco Salad with Keto Super Taco Meat (a.k.a. Mock Doritos Taco Salad)
You'll love this keto chopped taco salad that tastes just like a Doritos salad without the chips! Approx. macros per serving: 32.5 g fat, 23.5 g protein, 7.3 g carbohydrate.
Ingredients
1 ½ cups warm Keto Super Taco Meat, recipe above
½ cup tomatoes, chopped
1 ¼ cup cheddar cheese, shredded
1 avocado, diced
⅓ cup fresh cilantro leaves, chopped (optional)
Lime wedges, for serving (optional)
Instructions
Toss all ingredients in a large bowl. Serve.
Notes
I normally LOVE cilantro and lime in recipes, but there's a reason I put them as optional here. If you're going for the Doritos Taco Salad taste, you'll probably want to omit them. I've had this both ways (both ways taste delicious!), and it definitely has more of the classic Doritos Taco Salad taste without the lime and cilantro. Either way you decide to go, you'll love this!
Nutrition Information:
Yield:

4
Amount Per Serving:
Calories:

318
Total Fat:

26g
Cholesterol:

52mg
Sodium:

308mg
Carbohydrates:

9g
Net Carbohydrates:

5g
Fiber:

4g
Sugar:

1g
Protein:

14g
Keto Super Taco Meat Recipes!
And here's what you've been looking for to use this keto taco meat recipe! The list of recipes to use with your new batch of keto taco meat. Enjoy!
Pin for later!