Three amazing layers of cheesy keto low carb goodness! 3 Layer Mexican Dip has it all: a meat layer featuring the most delicious taco meat ever, a fresh and creamy avocado layer, and a flavorful sour cream and mayo layer with chopped olives and more melted cheese. Your next fiesta needs this keto taco dip appetizer!
This post may contain affiliate links. As an Amazon Associate I earn from qualifying purchases.
Never miss a new recipe! Sign up for our newsletter and get a FREE Keto Grocery List Cabinet Cheatsheet!
3 Layer Mexican Dip Hodge Podge
I have to admit, 3 Layer Mexican Dip is really just me throwing a bunch of my favorite Mexican ingredients together. Once baked, all these yummy ingredients come together to make a delicious Tex-Mex keto dip that is out of this world!
For dipping, use veggies, make the cheese chips below, or try these parmesan crisps!
Keto 3 Layer Mexican Dip FAQ's
Does this baked Mexican dip have cream cheese?
I thought long and hard about the creamy third layer in this 3 Layer Mexican Dip. I love cream cheese in my dips (like this super easy 3-Ingredient Sausage Cream Cheese Vegetable Dip).

But cream cheese is an ingredient that is used so much in keto cooking (like in fathead dough creations like this Keto Pumpkin Spice Cream Cheese Danish) that I wanted to make a keto dip without cream cheese. Instead, the creamy layer of this taco dip includes mayonnaise and sour cream.
What taco meat should I use for this 3 Layer Mexican Dip?
This keto taco dip recipe is not picky about which type of taco meat you use. You may certainly use your favorite taco meat recipe. Or use my very favorite, Keto Super Taco Meat Recipe.

By following that link, you'll also find several taco-inspired recipes to use up that awesome taco meat.
What can I use to scoop my keto taco dip appetizer?
I know, if you're just starting out on the keto diet, you're used to grabbing a bag of tortilla chips. So easy. I'd argue it's just as easy to find keto dipping options.

We love using low carb veggies for dipping. For this 3 layer Mexican dip recipe, bell pepper slices are delicious. Another option is cheese chips.

For cheese chips, preheat your oven to 400°F. Line a baking sheet with parchment paper. Place cheese slices in triangle shapes on the baking sheet and bake for 5-10 minutes until cheese is bubbly and melted. Cool for a few minutes, remove from sheet, and dip away!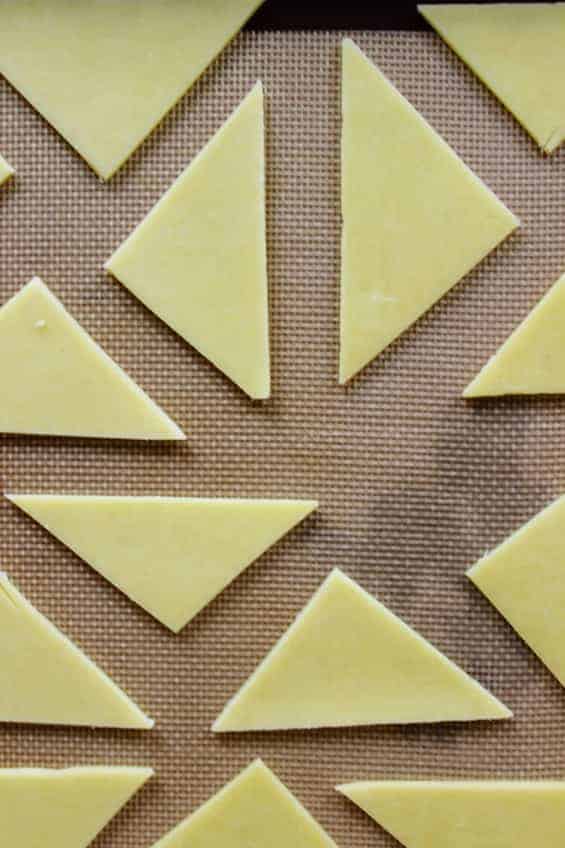 How long does taco dip last?
Taco dip will last about 5-7 days when refrigerated. You may also freeze the baked Mexican dip prior to baking it. Thaw completely before baking and then follow the directions for baking.
Craving tacos? Check out this guide to keto diet tacos for ideas for low carb tortillas, toppings, and meat options.
How to Make 3 Layer Mexican Dip
Time needed: 30 minutes.
Preheat oven

Preheat your oven to 350°F.

Make the taco meat layer

First, add your taco meat to the bottom of a 1 1/2 quart baking dish and spread evenly on the bottom. Add cheese to the top of the meat.

Add the avocado layer

In a bowl, toss diced avocados with lime juice, salt, and pepper. Spread evenly over the taco meat layer.

Make creamy sour cream and mayo layer

To the same bowl that you used to toss the avocados, add the sour cream, mayonnaise, olives, green onions, spices, and salt. Mix thoroughly. Spread evenly on top of avocado layer.

Top your 3 Layer Mexican Dip

If desired, sprinkle the top of the dip with some more cheese and top the cheese with chopped olives.


Bake the keto taco dip

Place dish in preheated oven and bake at 350°F for 20-25 minutes or until cheese is melted on top and dip is warmed through.
Need more keto snack recipes?
3 Layer Mexican Dip
This layered Mexican dip is just what you need for a delicious dinner or appetizer! Cheesy layers of keto taco meat, avocados, olives, and other tasty ingredients, all baked warm and gooey. The best ever layered Mexican dip!
Ingredients
Meat layer:
Avocado layer:
Sour cream layer:
Toppings:
Instructions
Preheat oven to 350°F.
For meat layer: Spread Keto Super Taco Meat evenly on bottom of an 8" x 8" glass or ceramic dish. Sprinkle ½ cup cheese on the meat layer.
For Avocado layer: Mash all ingredients together with the back of a fork. Spread avocado mash on top of meat layer. Even out with a rubber spatula.
For sour cream layer: Place all ingredients in a small bowl and stir together. Spread evenly on top of avocado layer.
Sprinkle top of dip with 2 T cheese and ⅓ cup olives. Bake in 350°F oven for 20 minutes. Serve with baked cheese tortilla chips or other keto tortilla chips or low carb vegetables.
Nutrition Information:
Yield:

6
Serving Size:

1/2 cup
Amount Per Serving:
Calories:

441
Total Fat:

43g
Cholesterol:

67mg
Sodium:

637mg
Carbohydrates:

6g
Net Carbohydrates:

3g
Fiber:

3g
Sugar:

1g
Protein:

13g
More Mexican Keto Meals!
Looking for more Mexican-inspired low carb recipes? I've got you covered: