What should we call these? Keto German Pancake Muffins? Flourless Low Carb Dutch Baby Pancake Muffins? Hootenanny Pancake Muffins? Puffed Oven Pancake Muffins? Keto popovers? keto yorkshire pudding?
As many names as there are for German Pancakes, there are just as many possibilities for these German Pancake Muffins.

This post may contain affiliate links. As an Amazon Associate I earn from qualifying purchases.
Seriously. How are there so many names for (almost) the same recipe?
I've settled on Low Carb Dutch Baby Pancake Muffins, but feel free to call it what you like!
Whatever you choose to call them, these muffins are amazing. They're completely flourless (not even any almond or coconut flour!) and only 1 net carb per muffin!
So go ahead and pile on the toppings!
Never miss a new recipe! Sign up for our newsletter and get a FREE Keto Grocery List Cabinet Cheatsheet!
What pan should I use to bake my Keto Dutch Baby Muffins?
Such a great question! Let's talk muffin pans.
Lookie here. This was me experimenting with muffin pan methods.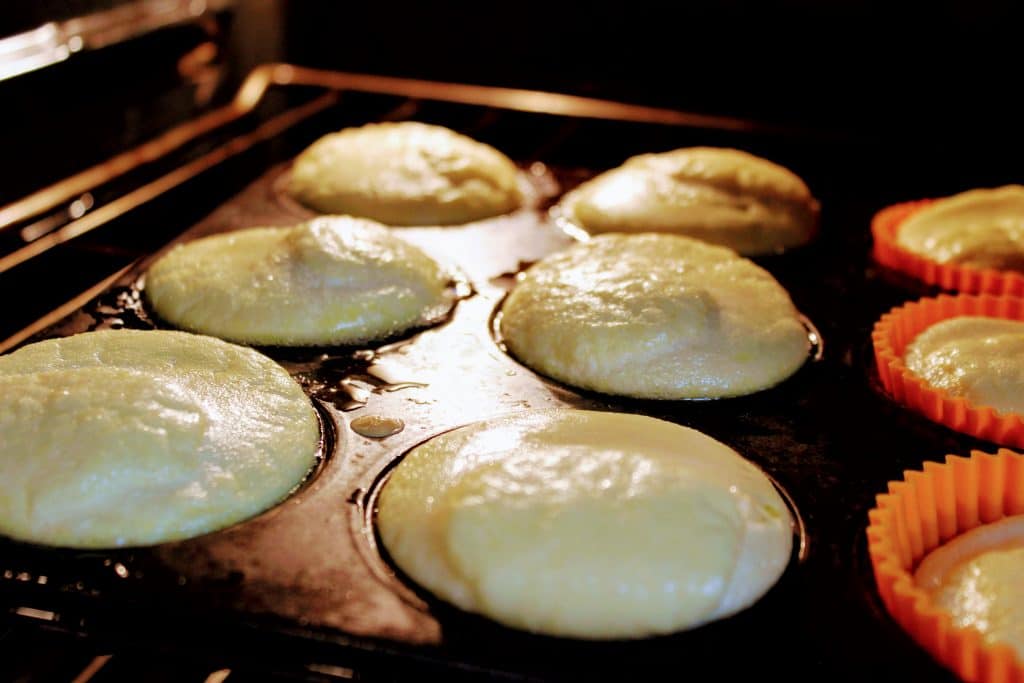 Don't forget to check out some of these awesome keto pancake toppings for your mini keto Dutch babies!
When cooking German pancakes or Dutch babies, you'll put melted butter in the bottom of your pan. It's the same with these mini Dutch babies.
So I tried using my silicone muffin cups placed inside the muffin pan as well as just the straight metal cups of the muffin pan.
I placed 1/4 tablespoon of butter into each metal cup or silicone cup. YES, this is necessary even if you're using the silicone baking cups because the very best part of a Dutch baby is the buttery taste.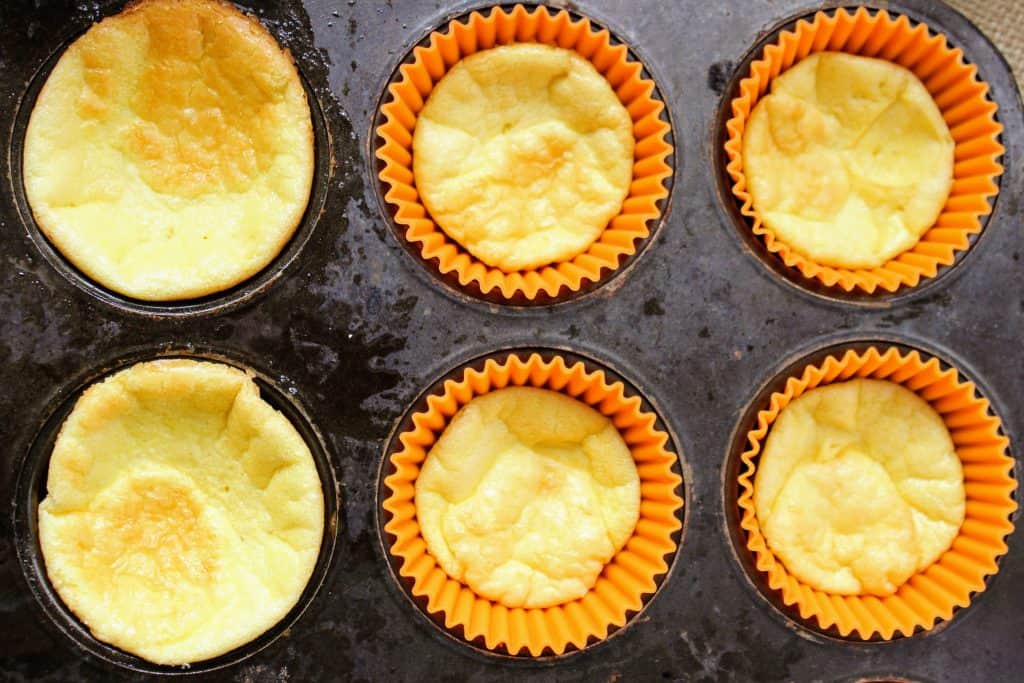 Try the original full pan sized Keto German Pancake, too!
If you look at the photo above, the two cups on the left have no silicone liner, and that's the ONLY thing I did differently between the two sides.
If easy breakfasts are your thing, try this Keto Rommegrot (keto porridge)!
And that's just fascinating to me! While both ended up fluffy and delicious, with the same texture, the muffins without the liners seemed to fluff up more. It's like the silicone was too slippery for the batter to climb up the edges.
***Don't look too closely at my nasty pan. I literally just bought myself a new one after shooting this recipe because I was so disgusted. I've had it since I was a newlywed. And we bought it for like 50 cents from a thrift store in a college town where it had probably been through a million other newlywed couples before us. I think the only thing in my kitchen heavier than this muffin pan is my cast iron skillet. And it also had rust back then. Yep.
Try these other keto breakfast ideas!
I LOVE old fashioned stuff as much as the next girl, but this is a bit too far.
Soooooo, moving on… Now that you all know how long (15 years) I'm willing to put up with nastiness in the name of frugality…
Buttering the muffin pans for mini keto Dutch babies
When you get ready to make your keto Dutch baby muffins, there's a super easy way to butter the muffin pans.
You could always melt your butter and pour it into each cup evenly, but doesn't that sound messy?
So how do you butter muffin tins the easy, mess-free way?
This is how I do it:
1.Preheat the oven to 375°F.
2. Slice one tablespoon of butter, but don't remove it from the top of your butter cube. Also, use grass fed butter, like Kerrygold if you can. It really takes the flavor up a notch and has a healthier ratio of omega 3 fatty acids.
***And just as a side note, do you want to know how I can tell Kerrygold–and probably other grass fed butters, though I've only had Kerrygold–is better than regular butter? You can slice it straight out of the freezer! My guess is that this is because it has a much lower water content so it doesn't freeze as hard, but if you know the actual scientific reason or have a different theory, please share in the comments!
3. Slice vertically and then horizontally through the top of the cube of butter, creating a grid of four 1/4 tablespoon squares of butter.
4. Place one square of butter in each muffin cup.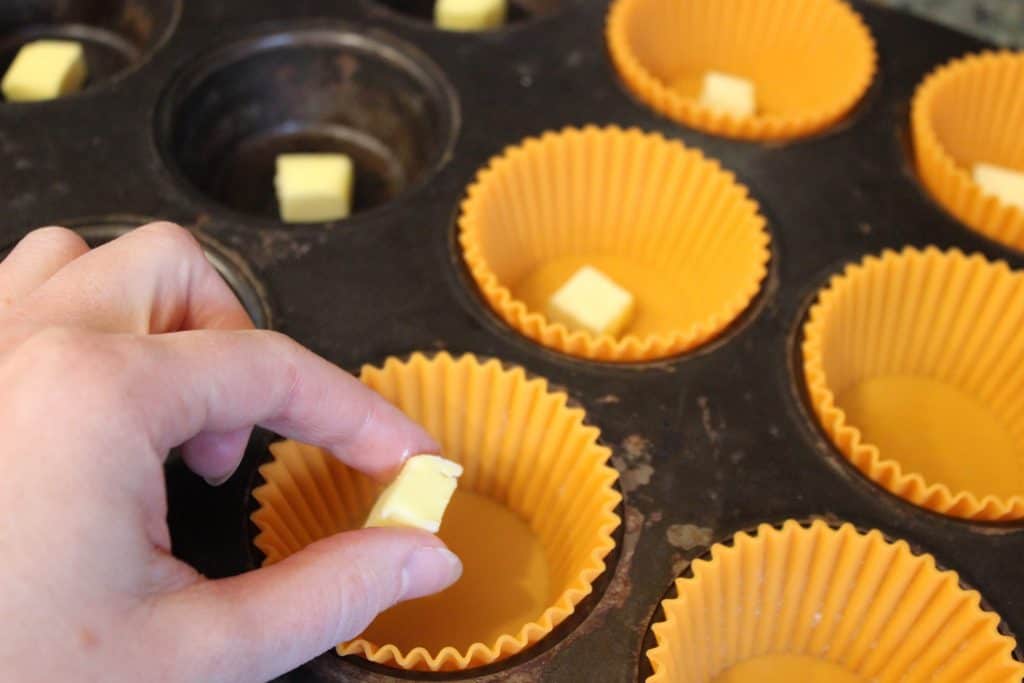 5. Place the muffin tin in the warm oven and leave the pan there just until the butter is melted.
This last step should take less than 5 minutes and in the meantime, you can be getting the pancake batter done in the blender.
Need something to top your Dutch Baby Muffins? Try this Sugar Free Strawberry Topping!
But be sure you keep an eye on that butter!
I know by experience that it's not fun to redo the butter when you burn it–yikes! Set a timer if you have to. On the bright side, we might just be bosom buddies if you're as careless as I am, ha!
What can I top my Keto German Pancake Muffins with?
There are so many great options for toppings for keto pancakes! Anything that you would use to top regular keto pancakes and waffles would also great for these Low Carb Dutch Baby Muffins.
Here's a short list of keto pancake and waffle toppings:
And check out my ULTIMATE keto pancake topping list, too for more ideas!
Low Carb Dutch Baby Pancake Muffins
All the tasty flavor of a dutch baby or German pancake miniaturized into a muffin! These Low Carb Dutch Baby Muffins are gluten free AND flourless, but you won't be able to tell. Add some sugar free jam, keto confectioner's sugar, or some sugar free buttermilk syrup!
Ingredients
4 ounces cream cheese
5 eggs
5 Tablespoons unsalted butter
Topping Suggestions
Instructions
Preheat oven to 375°F.
Add 1/4 tablespoon butter to each muffin cup (or silicone muffin cups, if using--don't use paper muffin cups). Place muffin tin in oven just to melt butter and remove immediately after melted. (This is 3 T altogether--you will have 2 T butter left to go into the batter).
Add all remaining ingredients (including the remaining 2 T butter) to a blender and process till smooth.
Divide batter evenly among the muffin cups.
Bake in 375°F oven for 13-15 minutes until slightly golden. The muffins will pop up like popovers in the oven, but they will collapse as they cool, leaving a nice hollow to put butter, jam, syrup, or other fillings in. Serve immediately and enjoy!
Nutrition Information:
Yield:

12
Serving Size:

1 muffin
Amount Per Serving:
Calories:

106
Total Fat:

10g
Cholesterol:

100mg
Sodium:

80mg
Carbohydrates:

1g
Net Carbohydrates:

1g
Fiber:

0g
Sugar:

0g
Protein:

4g
More Keto Breakfast Ideas!
Looking for more low carb breakfast ideas for the keto diet?
These Low Carb Mini Dutch Babies are flourless and grain free!Look above the recipe card for a list of low carb topping suggestions for these keto dutch baby muffins.
Keen for Keto keto recipes blog is a participant in the Amazon Services LLC Associates Program, an affiliate advertising program designed to provide a means for sites to earn advertising fees by linking to Amazon.com. We appreciate your support!