Keto friendly pizza with the best low carb pizza crust and topped with tomato-free balsamic pizza sauce and prosciutto, goat cheese, and arugula!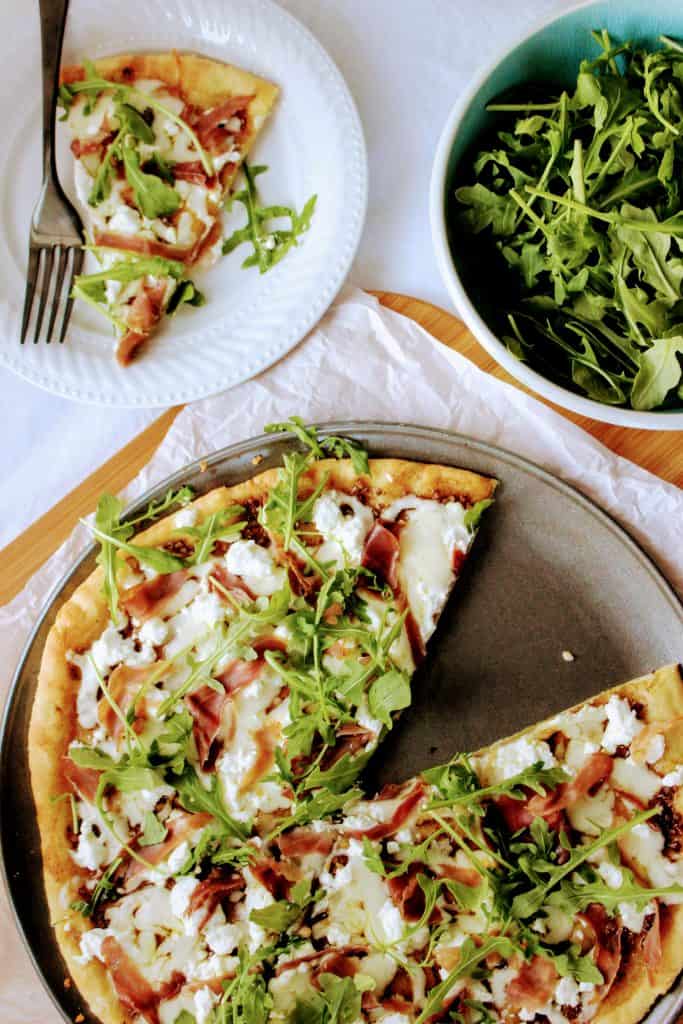 This post may contain affiliate links. As an Amazon Associate I earn from qualifying purchases.
This pizza has a story.
(So if you're one of those "Ugh, why do bloggers have to write so much?" people, you probably should keep on scrolling. Glad you're here, but this part isn't for you. If you're into the stories, yay! Thank you, thank you, thank you for supporting me and my family–your slow scrolling generates income for me based on the ads.)
One summer day, there was a storm. The storm damaged our family's roof.
Never miss a new recipe! Sign up for our newsletter and get a FREE Keto Grocery List Cabinet Cheatsheet!
The insurance company put us up in a hotel while the roofing company fixed it, because it was in the bathroom. The only bathroom we had.
Being the overly positive mom I am, I decided we were going to make this into a staycation.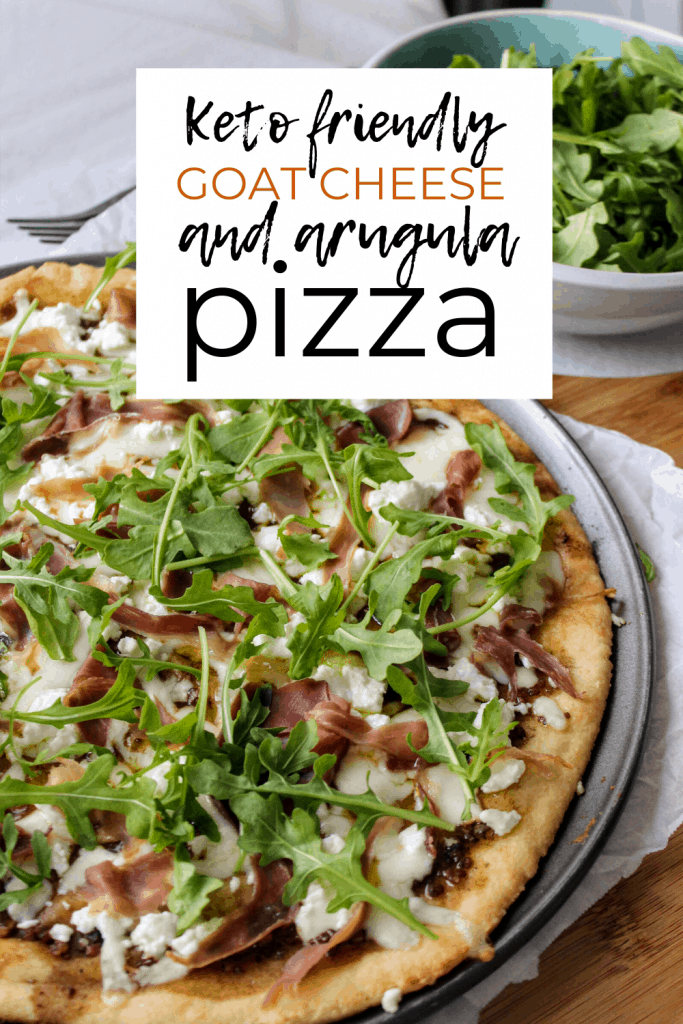 Why not? We were living in an air-conditioned hotel in our town for three weeks, with a pool, a food budget to eat out every meal, and someone else was doing the housekeeping!
So what if everyone got sick the second week?
So what if all 6 of us were sleeping in two adjacent rooms and everyone got woken up when one person just rolled over in bed?
So what if we almost got kicked out for our boisterously noisy kids acting like they were at home? [Gritting teeth into a forced smile] It was great!
More keto pizza ideas for you!
Meatball Pizza With Alfredo Sauce and Arugula
Enter: The Magical Arugula Goat Cheese Pizza
Eating out was both a blessing and a curse. We lived in a small town, so most of our options were fast food (gag me).
And even when we ate out at a sit-down restaurant, our kids didn't like any of the offerings and ordered hamburgers. I'm guessing this is what led to the illnesses the second week…
Anyway, there was ONE restaurant near the hotel that served more exciting and creative gluten free dishes, and that's where I ended up wanting to eat most of the time.
One of their gourmet pizzas was an arugula and goat cheese pizza that I don't think they even serve any longer (why???). It was fantastic.
It took me a few years to get around to it, but I've recreated it here. And every time I make it, I am SO grateful to have a home and I'm not living in a hotel eating burgers every day!
Love arugula and goat cheese? Try this Keto Breakfast Bowl with arugula, goat cheese, Gouda, and caramelized onion and mushrooms!
Turning the gourmet pizza keto-friendly
The hardest part about remaking this pizza is that it had been a few years since I'd had it, and the restaurant changes its menu sometimes, so I couldn't just go try it again.
I'm pretty sure the restaurant used dates to sweeten the pizza and contrast the tangy cheese and slightly bitter arugula, but I really can't be sure. And I don't remember any prosciutto on their pizza.
And I have no clue what sauce they used, whether it was white, red, or an olive oil sauce like this one.
So I ended up making my own recipe based on what I could remember and followed my taste buds for the rest!
By the way, my kids would still prefer burgers over this keto prosciutto pizza. More for me!!
Balsamic Vinegar Pizza Sauce? It's Tomato Free Pizza Sauce!
Yes! If you've never tried this before, it's amazing. Personally, I'm just a huge fan of balsamic vinegar on almost anything, but as a pizza sauce, it's great!
Add a little oil, vinegar, garlic, and whatever else you like to a dressing shaker (I LOVE this one!–see the pic below), shake it up, and you're good to go! It's a tangy-sweet taste that pairs well with so many flavors, but especially goat cheese.
Plus, tomatoes are great, but they have a lot more carbs than oil and vinegar. I love this tomato free pizza sauce version!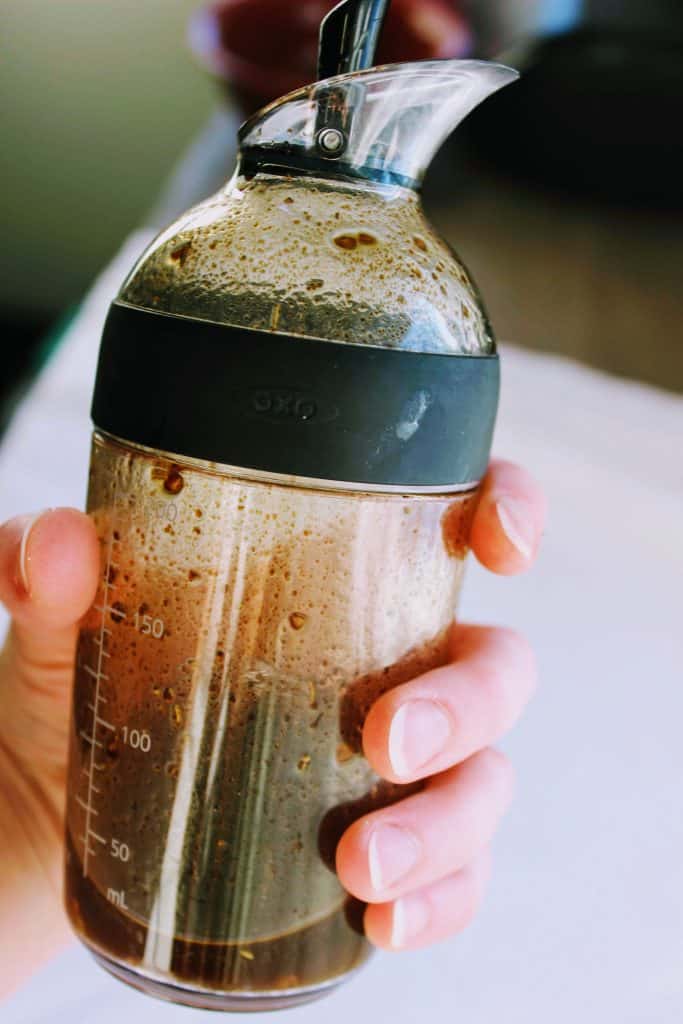 Try these keto recipes if you love balsamic vinegar and olive oil!
Tip for Eating Keto Arugula Pizza
Notice those photos of the finished pizza? Yeah. That's not how I eat mine. If you look at my plate when I eat this pizza, you won't see pizza.
I eat mine with a HUGE pile of arugula on top, with a side bowl of arugula, just in case I need to add more. I'm sure the pizza tastes great without arugula, but I wouldn't know.
Also, Pinterest might go crazy on me if I pinned a picture of a barely visible pizza slice hiding under a mountain of green leaves and called it "pizza."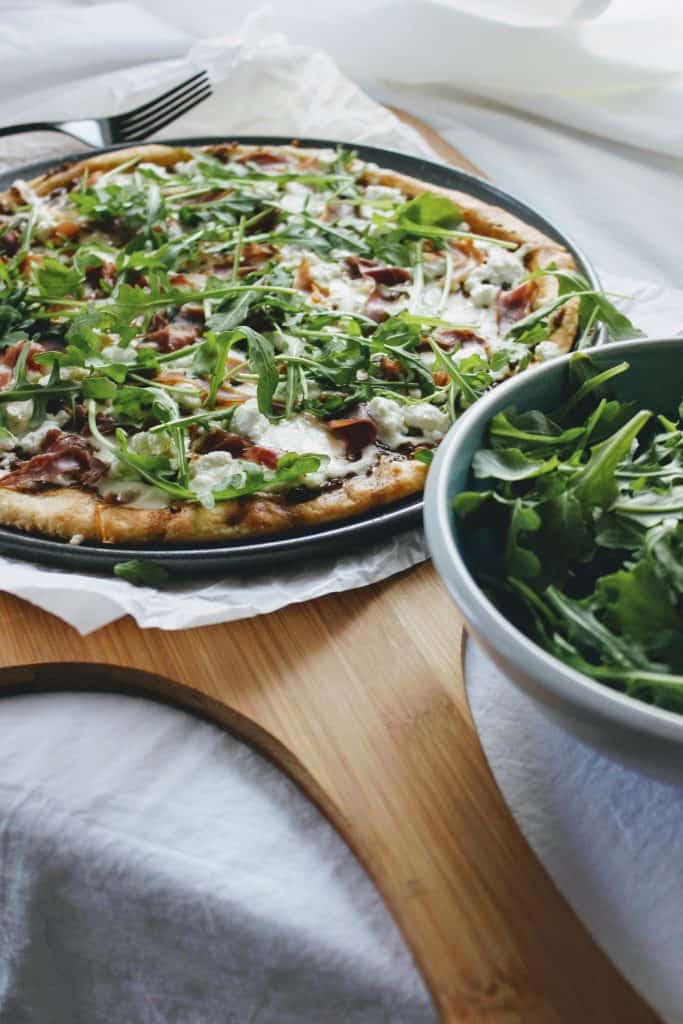 I hope you love this Keto Goat Cheese Pizza with Prosciutto and Arugula!
Enjoy your keto pizza recipe! If you love this, please don't forget to give it a 5 star rating below!
Keto Goat Cheese Pizza with Prosciutto and Arugula
This keto piza on fathead dough with olive oil and balsamic pizza sauce and topped with goat cheese, mozzarella or gouda, prosciutto, and fresh green arugula will rock your world! It's the best pizza for the keto diet!
Ingredients
Keto Fathead Pizza Dough
1 Cup shredded mozzarella cheese
1 Tablespoon cream cheese
1 egg
Olive Oil and Balsamic Pizza Sauce
3 Tablepoons olive oil
1 Tablespoon balsamic vinegar
5 drops of sweetleaf stevia drops sweetener
Pizza Toppings
2-3 slices prosciutto, torn into bite-sized pieces
4 ounces of goat cheese, crumbled
3/4 Cup shredded mozzarella or gouda
1 cup fresh arugula (or more)
Instructions
Keto Fathead Pizza Crust
Preheat the oven to 375°F. Butter a pizza pan.
To make the dough, add the mozzarella and cream cheese to a microwave safe medium-sized bowl.
Microwave the cheeses for 60 seconds and stir with a fork. Immediately return to microwave and cook it for 30 second intervals as many times as needed until cheese is melted and stretchy.
Add the almond flour, baking powder, salt, and garlic powder. Knead into the cheese until all ingredients are incorporated.
Knead the egg into the dough, using wet hands if it's sticky. This should take about 3 minutes to get the egg completely kneaded into the dough.
Place a large piece of parchment paper on a flat surface. Roll the dough out 1/4" thick on the parchment paper to the size and shape of your pan.
To put the flattened dough on your pan, place the pan upside down on the dough. Place one hand on top of the bottom of the pan and one hand underneath the parchment paper. In one swift movement, flip the dough and pan so that the dough is on the pan. Gently peel the paper off the dough.
Bake at 375°F for 8-10 minutes until the dough is slightly golden.
Make the Balsamic Pizza Sauce
Add all of the sauce ingredients in a dressing shaker or sealed container and shake until thoroughly combined.
Spread evenly over the pizza crust immediately before the oil and vinegar separate, using the back of a spoon.
Top the Keto Pizza and Bake!
Sprinkle the mozzarella (or gouda) on the pizza crust evenly. Place the prosciutto evenly spaced on the cheese. Sprinkle the goat cheese on the pizza.
Bake at 375°F for 8-10 minutes or until the cheese is melted.
Remove from the oven and sprinkle with arugula. Cut into 8 slices and serve with extra arugula, if desired.



Nutrition Information:
Yield:

4
Serving Size:

2 slices (1/4 pizza)
Amount Per Serving:
Calories:

516
Total Fat:

43g
Cholesterol:

129mg
Sodium:

861mg
Carbohydrates:

9g
Net Carbohydrates:

7g
Fiber:

2g
Sugar:

1g
Protein:

29g
This post may contain affiliate links. As an Amazon Associate I earn from qualifying purchases.
More Keto Dinners to Try!