Here's the Keto Taco Casserole, the healthy taco hot dish you've been looking for! Lightly steamed, tender cabbage is combined with super keto taco meat (or your own favorite taco meat), low carb salsa, cheese, and green onions and baked until the flavors mesh perfectly, and then topped with sour cream and more green onions—the perfect Keto Taco Casserole!
This post may contain affiliate links. As an Amazon Associate I earn from qualifying purchases.
Never miss a new recipe! Sign up for our newsletter and get a FREE Keto Grocery List Cabinet Cheatsheet!
Keto Cabbage Casserole
Cabbage is an underrated vegetable. Did you know it's in the same family as broccoli, cauliflower, kale, and Brussels sprouts? Yep. And when you learn a few tricks, you can make a low carb cabbage dish that will be so incredibly satisfying.
Looking for more keto casseroles? Try this Keto Tamale Pie or this Instant Pot Keto Loaded Turnip Casserole! Or try this Low Carb Ground Beef Stroganoff Casserole with Cabbage (also uses shredded cabbage as a base!)
Ingredients for Keto Taco Casserole and Why Cabbage is Good For The Keto Diet
What ingredients do you use to make Keto Taco Casserole?
This casserole recipe combines shredded cabbage, super taco meat, low carb salsa, cheese, green onions, olive oil. Toppings are optional, but recommended: sour cream, guacamole or diced avocados, and chopped green onions.
And the main ingredient in this healthy taco casserole?
The main star ingredient in this taco hot dish is shredded cabbage. I was NOT a huge cabbage lover before, but after this keto taco casserole, I've been thoroughly convinced.  Who would have thought that there would be ketogenic cabbage recipes out there worth trying! Great keto replacement for rice in any Mexican dish!
Do you cook the cabbage before adding it to the keto taco casserole?
I'll let you in on a little secret…when I've been in a hurry, I haven't precooked the cabbage. It turns out delicious that way, too! But yes, I do steam the cabbage first.

When cabbage is steamed, it loses some of its strong, sulfury flavor. My kids definitely like it better steamed first. Before adding the shredded cabbage to this keto taco casserole, I steam it till it's tender, but not completely cooked. You definitely don't want soft or mushy cabbage in your taco hot dish.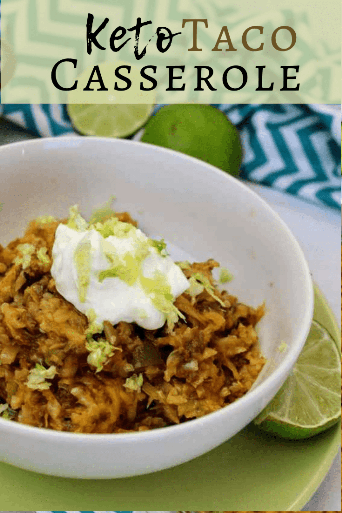 What size cabbage should I use for this keto casserole?
I purposely measured my shredded cabbage in cups because cabbages vary so much in size. There's a lot of wiggle room here, so feel free to add or subtract a cup of cabbage if you choose.
How do I steam the cabbage for this keto taco casserole recipe?
When your cabbage is shredded, you'll need to steam it before adding it to the keto taco casserole. There are two ways to do this: the "correct" way and the lazy way.

The correct way is to put a little water in a pot, boil it, add a steamer basket to the pot, fill it with your cabbage, cover, and steam for 5-6 minutes.

The lazy way (my preferred method) is to just fill a pot with about 1 inch of water, boil it, add the cabbage, cover, and steam for 5-6 minutes, stirring once or twice. I say that I prefer this method because 1) sometimes I choose a huge cabbage that doesn't fit in my steamer, and 2) it's easier to just use a slotted spoon to get most of the cabbage out and then use a strainer to dump the water into and catch the rest of the cabbage. It seems a bit messier with a steamer because of how small the cabbage is shredded.
Need more KETOGENIC DINNER IDEAS? Or some ideas for your keto diet tacos?
How to create a low carb taco casserole
Shred your cabbage in a food processor

Be sure to shred your cabbage very finely. You can definitely do this by hand, but it will be more tedious and you'll want to avoid the tendency to just leave bigger pieces. Smaller pieces of cabbage will absorb more taco seasoning and have less of the strong cabbage flavor.

Steam the cabbage

Using a steam basket (or my lazy steaming method), steam the cabbage.

Toss cabbage with seasonings and olive oil

Add steamed cabbage, olive oil, taco seasoning, and salt to large bowl (you may also do this right in the pan if your cabbage isn't too bulky) and toss.

Put your keto taco casserole together and bake!

Add keto taco meat (this recipe is the best!), low carb salsa, cheese, and green onions and toss thoroughly. Add more cheese on top if you like. Bake until melty, gooey, and hot!

Add toppings and serve it up!

You can serve this low carb taco casserole up with any keto taco toppings you like. Our favorites for this keto taco casserole are guacamole, sour cream, and chopped green onions.
Keto Taco Casserole
Cabbage shines in this Keto Taco Casserole! It's a taco hot dish to make your low carb (or not) friends and family sing your praises, while also being a super comfort food and very easy with only 6 main ingredients. 3 net carbs per serving!!
Ingredients
Keto Taco Casserole
¼ cup chopped green onions (and more for serving)
1 ½ cups shredded Mexican blend cheese
Sour Cream
Green onions, chopped
Instructions
1. Preheat oven to 350°F.
2. Using a steamer basket, steam shredded cabbage for 5-6 minutes, or until tender but not soft (it will cook more in the oven).
3. In a large bowl, combine the steamed cabbage, olive oil, taco seasoning, and salt (if your taco seasoning doesn't contain salt). Toss to cover cabbage completely.
4. Add taco meat, low carb salsa, cheese, and green onions. Toss.
5. Spread casserole ingredients evenly in the bottom of a 9"x13" glass baking dish. Sprinkle more cheese on top if you like.
6. Bake at 350°F for 20-25 minutes or until cheese is melted and slightly golden.
7. Serve with a dollop each of sour cream and guacamole, with a sprinkle of chopped green onions.
Nutrition Information:
Amount Per Serving:
Calories:

240
Total Fat:

21g
Cholesterol:

38mg
Sodium:

366mg
Carbohydrates:

3g
Net Carbohydrates:

2g
Fiber:

1g
Sugar:

1.5g
Protein:

11g
More Mexican Keto Meals!
Looking for more Mexican-inspired low carb recipes? I've got you covered: