This sugar free strawberry sauce is great for cheesecakes, but you can also pour it on your ice cream or pancakes! It's only 3 ingredients and comes together in about 10 minutes!
You've already got a great keto or sugar free cheesecake recipe, but now you're looking for something to top your cheesecake? How about this yummy Sugar Free Strawberry Sauce for your cheesecake!

Keen for Keto keto recipes blog is a participant in the Amazon Services LLC Associates Program, an affiliate advertising program designed to provide a means for sites to earn advertising fees by linking to Amazon.com. We appreciate your support!
Never miss a new recipe! Sign up for our newsletter and get a FREE Keto Grocery List Cabinet Cheatsheet!
Sugar Free Strawberry Sauce
Making this sauce always brings back such great memories of watching my mom make homemade strawberry jam every summer.
The whole house was filled with a sweet, warm strawberry smell for an entire day.
Related: Strawberries on the Keto Diet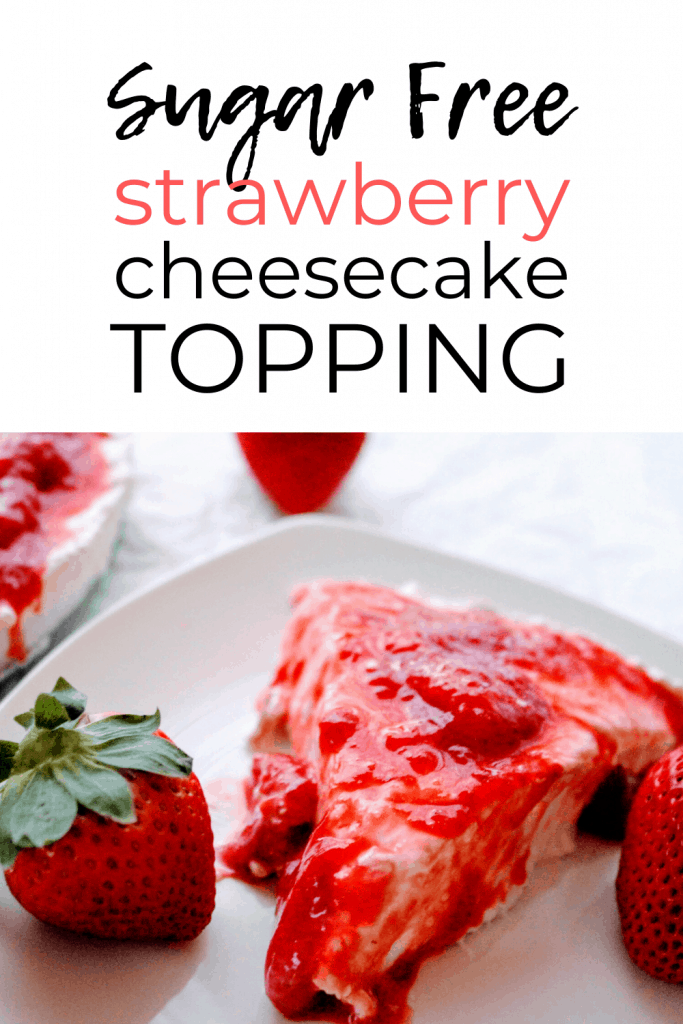 Sometimes mom would let us stick our fingers in the syrupy foam that she skimmed off the top of the jam before putting it into jars to set.
Making this keto strawberry sauce is a nostalgic event for those of us who remember making jam with mom or grandma growing up!
Looking for more keto strawberry recipes? Try these:
Keto German Pancake with Strawberries
Sugar Free Strawberries and Cream
Love no bake keto desserts? Try these other No Bake Keto Cheesecake Recipes!
Strawberry topping for cheesecake using frozen strawberries
Can I use frozen strawberries for this sugar free strawberry sauce?
Yes! In fact, for recipes where the strawberries are cooked, I prefer frozen strawberries instead of fresh. This is because frozen strawberries are actually healthier than fresh, if you can believe it!

Frozen strawberries are flash frozen right from the field, so they don't need a bunch of unhealthy preservative sprays to keep them fresh-looking.
What can I use this keto strawberry sauce on?
The possibilities are endless! Try it on crepes, pancakes, waffles, these yummy Low Carb Dutch Baby Muffins, yogurt parfaits, scones, keto English muffins, this German Pancake, keto ice cream, cakes, and of course, cheesecake! Try it on these cute little No Bake Mini Cheesecake Cups.
If you're using the strawberry sauce for ice cream, you'll absolutely want to try these yummy, crispy keto waffle cones!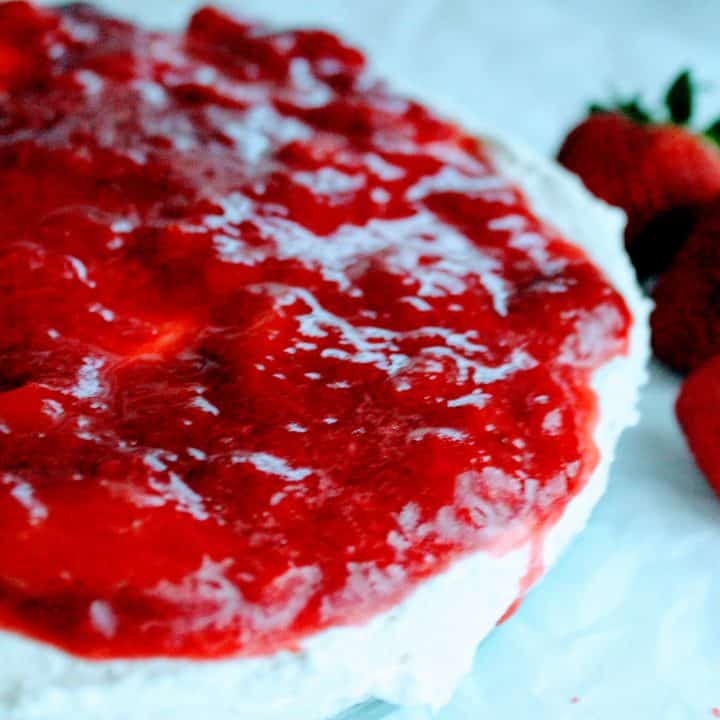 Sugar Free Strawberry Sauce for Cheesecake
There's nothing better than freshly homemade keto strawberry topping for your cheesecake, pancakes, or ice cream! Try this easy sugar free strawberry sauce for cheesecake and you'll see.
Ingredients
1 Cup sliced strawberries (thawed, if using frozen)
2 tablespoons water
Instructions
Add the strawberries, sweetener, lemon juice, and water to a medium saucepan. Bring to a boil while stirring occasionally. The strawberries will begin to release their juices--this is normal and makes the sauce!
Reduce the heat to a simmer. After the strawberries have released their juices a little, sprinkle the xanthan gum on top of the sauce and stir in. Do not just dump the xanthan gum, or it will clump.
Simmer for about 10 minutes (or longer if you prefer thicker sauce). Stir occasionally.
Remove from heat and enjoy on top of cheesecake, pancakes, or ice cream! Save any leftover sauce in a sealed container the refrigerator for up to one week.
Notes
Sugar free strawberry topping will thicken in the refrigerator.
Nutrition Information:
Yield:

8
Serving Size:

1/8 cup
Amount Per Serving:
Calories:

52
Total Fat:

0g
Sodium:

0mg
Carbohydrates:

1.5g
Net Carbohydrates:

1g
Fiber:

.5g
Sugar:

2g
Protein:

0g
If you like this keto cheesecake sauce, you can also try Mixed Berry Sauce for Cheesecake or Peanut Butter Dessert Sauce. Both are also great on ice cream!
Related: Keto Pancake Toppings!
Sugar Free Dessert Ideas
Looking for some low carb sugar free dessert ideas? Try one of these!
This post may contain affiliate links. As an Amazon Associate I earn from qualifying purchases.